X-Rite's ColorMunki Photo; A Unique And Compact Color Management Tool Page 2
Printer profiling is where ColorMunki really breaks new ground (#7). Typically, a high-quality printer profile uses 1000 or more color patches to generate a profile for a particular paper and ink combination. The Datacolor Spyder3Print is able to produce high-quality profiles with about 500 color patches (including the extended grays target to improve black and white print quality).
7. One of the most impressive features of ColorMunki is the ability to create a high-quality printer profile from only 100 color patches. You start off by printing and measuring a set of 50 patches. ColorMunki then determines the next 50 patches that need to be read and you'll print that chart to measure. The scanning process only takes about 30 seconds, although you should let each print dry for 10 minutes before scanning. ColorMunki has a progress bar to indicate how long you should wait before reading the patches.
ColorMunki, on the other hand, breaks the profiling process into two parts. It creates a 50-patch chart which is printed and measured (#8), and based on the results of that measurement, creates a second 50-patch chart. So, you're scanning a total of 100 patches. The scanning process itself takes only about 30 seconds to complete, although you do have to allow time for your prints to dry prior to scanning. So, plan on about 25 minutes from start to finish for a printer profile. When the profile is complete, ColorMunki will automatically set that as the default print profile for Photoshop, InDesign, or QuarkXPress if you want.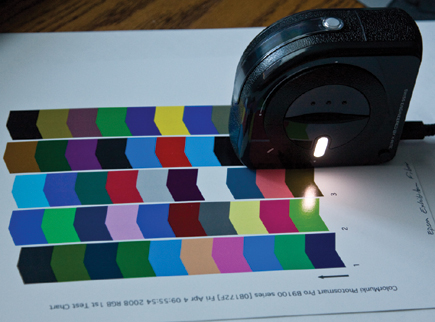 8. Charts are read by sliding the ColorMunki along the color patches. You'll see on-screen verification that the chart was read correctly. If you make a mistake, you just scan that row again.
What amazed me was the accuracy of these profiles. I've used small patch targets before with less than acceptable results. Usually there is much less shadow detail and colors go out of range earlier than with a high-quality target. The ColorMunki surprised me by being almost identical in quality to what I was able to generate with the i1Photo LT and ProfileMaker combination (#9). Remember that we're now talking about a $499 product vs. the $3500 products I've been using.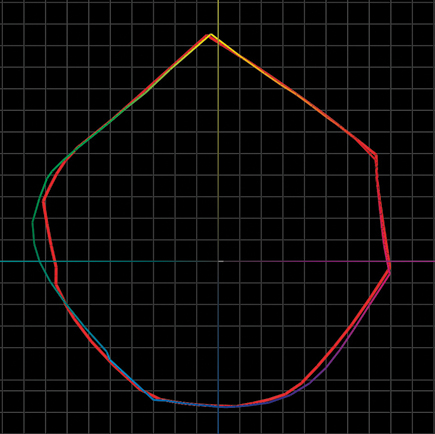 9. The solid red line indicates a profile I made using an i1Photo LT and ProfileMaker 5, a $3500 combination. The hue line is the profile made with the ColorMunki. While there is some difference in the greens, in actual prints this is virtually identical in output.
The ColorMunki Photo adds a few more features as well. You can also create CMYK profiles and do spot color measurements. Finally, if the generated profile isn't completely to your liking, you can optimize the profile by using an image of your choice. The software will analyze the selected image and generate another 50-patch chart for measurement. So, if skin tones are critical, or you're doing extensive black and white work, you can create a profile that is tuned to that type of output. This optimization process can be repeated with different images to continue to optimize the profile.
Other Features
While monitor and printer profiling are the key elements for most users, additional features in ColorMunki Photo will be of interest. DigitalPouch (#10) is a way to bundle images along with their embedded profiles into a color managed viewing application (most e-mail clients and web browsers don't understand embedded profiles and will default to using sRGB; if your documents are in a different color space, they may look very different than intended). After adding your images, click on the Create button and a self-contained viewer is created that you can send off to clients or publishers.
10. DigitalPouch is a way for you to package up images to send to clients or others. It puts your images into a color managed viewing application to ensure that your images are being seen the way you intended and it protects your images from being copied.
Photo ColorPicker (#11) allows you to create palettes of complementary colors based on any image. When you select an image in the browser, all the primary colors will be displayed. Selecting any one of those patches shows you the related colors in Harmony, Variations, or Similar groupings. This is helpful for designing around an image. Although probably not an everyday need for the typical photographer, anyone in design or layout will appreciate how much easier this makes color selection. You can also use ColorMunki to capture the color value of literally anything you can place the device on, including skin and fabric.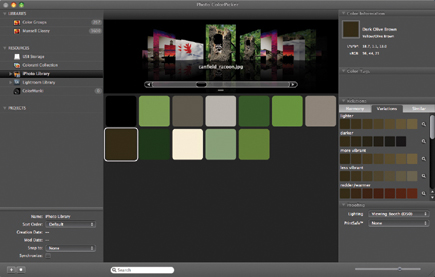 11. Photo ColorPicker helps you build palettes of complementary colors by selecting an image. The color patches shown are all linked to several different libraries. You can also use ColorMunki to do spot measurements of anything the device can be placed on, including skin.
Conclusion
X-Rite has a real winner with the ColorMunki Photo. Combining monitor calibration with printer profiling at a reasonable price, the ColorMunki should take care of all your color management needs. The additional features, like the ability to optimize a printer profile for specific needs, and the DigitalPouch for sharing and viewing color managed images, are intuitive and go a step beyond what anyone else has available.

The process isn't foolproof, though. You still need to pay attention to printer settings in order to get the most from ColorMunki or any profiling solution. With the wrong options set in the printer driver, you can create a profile that is unusable. X-Rite has done everything on their part to make the process easy, but you have to do your share.
Requirements
· Windows XP or Vista (32 and 64 supported)
· Macintosh OS X 10.4 or later
· Powered USB port
· Network connection

For more information, contact X-Rite Incorporated, 4300 44th Street SE, Grand Rapids, MI 49512; (800) 248-9748; www.xrite.com, www.colormunki.com.
Jon Canfield is the author of several books on digital imaging and printing. A popular instructor at BetterPhoto.com, Canfield also teaches workshops for the Panasonic Digital Photo Academy (www.digitalphotoacademy.com). You can reach Canfield via e-mail at: jon@joncanfield.com.

LATEST VIDEO

SPONSORED VIDEO
Testing Tamron's SP 150-60mm G2 lens while capturing birds and alligators in Apalachicola, Florida.