Workshop 101
Getting The Most For Your Dollar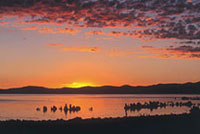 Sometimes you just get lucky. The entire class had assembled at O dark hundred hours and we were rewarded with this spectacular sunrise over Mono Lake. Don't blame the instructors if it doesn't work out like that though. However, with a good workshop the instructor(s) will usually have a Plan B and often a Plan C, a Plan D.
Photos © Joseph A. Dickerson, 2000
In the last several years photographic workshops, seminars, and photo tours have proliferated. There are a number of reasons for this. First, more people are willing to spend the time and money to improve their skills by attending these classes. Secondly, more universities, colleges, and private organizations have recognized this growing need and are offering photographic tutelage in varying forms. Also, more of today's leading professional photographers are willing to spend some of their time sharing what they have learned, often the hard way, with less skilled photographers. How can you be sure that the class you're planning on taking is really relevant for you? Once you've committed to a workshop how do you get the most out of it? After years of teaching workshops and semester length college courses I think I can help answer those questions and offer some advice to help you make your next workshop experience more enriching.
As the saying goes, "Nothing is guaranteed except death and taxes." As true as that may be you can at least stack the odds in your favor by answering a few simple questions and doing just a bit of homework before you sign on any dotted lines.
First, make sure that you really understand what the workshop or photo tour is all about. Several years ago I attended a workshop taught by noted West Coast photographer Morley Baer. It was described as a Napa Valley Heritage Workshop and most of the participants were serious large format photographers looking to photograph the architecture and history of this picturesque wine growing region. Except two elderly, point-and-shoot toting couples who didn't read past the Napa Valley part and thought they had signed up for a wine tasting tour. As you could imagine, they didn't make it through the week.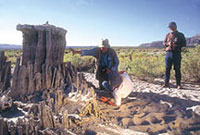 Nature photographer/instructor George Lepp helps a student get down and dirty shooting sand tufa formations at the George Lepp Mono Lake Workshop. This hands-on approach is what makes small workshops so valuable.
While you're checking out the workshop, find out as much as you can about lodging and meals. This is not a big deal if it's a weekend workshop as most of us can deal with almost anything for a couple of days but if it's longer your personal comfort becomes a serious issue. Are rooms included? Are they single occupancy or will you be sharing with a stranger? Is camping an option or perhaps even part of the experience? If the workshop includes camping, and you're not a camper, I really don't suggest borrowing some gear. Chances are you'll be miserable and wind up making those around you miserable as well. If you have a camper or trailer are there sites that will accommodate it? How about meals, are you a vegetarian or perhaps you have other special dietary needs? Beyond the basic need for food I find that mealtimes can be an important part of the workshop experience. Much of the bonding and sharing of knowledge between participants takes place during meals.
Does the course description clearly state what will be taught? If you have doubts or questions, call the instructor. Everyone I know who teaches workshops, would rather spend half an hour on the phone clarifying the class goals and itinerary than have someone sign up for a workshop that will be inappropriate for them. If possible get a list of past participants and call some of them to see whether the instructor(s) really relate(s) to the students and if there is some structure. Please don't expect outdoor workshops to run with military precision. There are just too many variables, weather and the difficulties of finding suitable subjects among them. But the agenda, what you can expect to learn, should be clearly stated. If you have signed up for a workshop you have the right to expect the instructor(s) to spend most of their time teaching, demonstrating, or otherwise working with the students. On the other hand, if it is a photo tour you can expect some help but you'll spend more time shooting on your own.
Another important consideration is the student per instructor ratio. In a workshop environment a ratio of more than 10-to-1 is, in my opinion, simply too high. Last summer I attended the George Lepp Mono Lake Workshop, and the ratio was an ideal 3-to-1. This allowed the instructors to work with very small groups, and the groups could easily rotate to different instructors so that each could concentrate on demonstrating his area of expertise. Later the class would reform to shoot subjects like the sunrise over Mono Lake, the ancient Bristlecone Pines, or watch equipment demonstrations in the campground.
Now that you know what to look for, where do you look? A good place to start is your local community college, adult education office, or the university extension. There are also a number of web sites that feature photo workshop listings. Some even included participants critiques of the workshops. However, I think you need to take these with a grain of salt. For some reason disgruntled folks always seem to have more time for posting grievances on the web, or writing letters to the editor, than do the happy campers of the world. Santa Fe Photo Workshops, Maine Photo Work-shops, and Palm Beach Photographic Centre are three organizations that specialize in workshops. There are others as well, many of which can be found listed monthly in Shutterbug's Coming Events.
OK, you've done your homework, selected one that sounds good, called past participants, signed up, so now what? Well, there are a number of things that are incumbent on the workshop participant that will greatly enhance his/her experience. The first is preparation. Check your equipment to make sure everything is working. As simple as that sounds I have had a number of people show up with tripods that were missing mounting screws, cameras and flash units with dead batteries, broken flash cords, lenses that were literally falling apart, and equipment that was otherwise, nonfunctional.
Bring spare batteries for everything. Film, lots and lots of film. Nothing is more frustrating for you, and downright aggravating for everyone else, to have to go begging film from your colleagues just as the sun is peeking over the horizon. It goes without saying that your gear should be organized in your case(s) so you can find what you need when you need it. This is easily said but not all that easy to accomplish. Organized people and creative people are seldom the same people but do try; it's really worth it.
Ask questions. Any instructor worth his/her salt welcomes them. Questions let us know how we're doing. It's instant feedback on how our lecture or demonstration is going that lets us know whether we need to try a different tack. But do try to keep the question relevant. Oh yeah, one other thing, stay with the group or let the instructor(s) know where you're headed if you're going off on your own. Every instructor I know has horror stories about time lost looking for someone who decided to do their own thing without letting anyone know about it. Some of these stories involve calling in governmental agencies to assist in the hunt for someone who went for coffee.
After all, as Robert Frost said, "Education is€hanging around until you've caught on." And that is what it's all about.
Getting The Most From Your Workshop
Do your homework.
Make sure the class is really for you.
Make lodging arrangements well in advance if necessary.
Come prepared. Equipment checked out and with your mind open.
Take notes or record lectures if it is OK with the instructor(s).
Participate and follow the instructor(s) suggestions. You're there to learn and this is often facilitated by trying new things.
Stick with the group. This is not the time for exploring on your own. You'll probably be given time to do that at some point. That's the time to see what's over the hill.