Windows In Time
The Art Of Daguerreotypes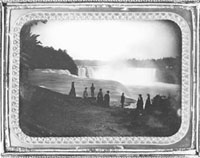 Niagara Falls whole plate daguerreotype (61/2x81/2") by Platt Babbitt. Value $12,000. © 1894 (Photo Courtesy Naylor collection.)
"This is the Daguerreotype!...
Here, in truth, is a discovery launched upon the world, that must make a
revolution in art."
The New Yorker,
April 20, 1839
In today's heightened market of fine art photography, daguerreotypes are among the most sought after collectibles. Posh galleries and private collectors are ever on the lookout for those unique gems from that time long ago when photography was in its infancy.

The well-known Boston collector Jack Naylor holds the largest collection (over 2000) of daguerreotypes in private hands in the world, housed in a private underground museum. "Good daguerreotypes are becoming almost impossible to find," he says, "and prices are going up at an alarming rate." Naylor refers to an early daguerreotype by John Plumbe Jr., which shows the White House while it was under construction. It recently sold at Sothebys for $185,000. Another, portraying a cat looking at an empty birdcage, went for $80,000. "A daguerreotype that would have cost $150 a few years ago," he says, "may now cost as much as $10,000. By my estimate there were at least 20 million daguerreotypes made in this country in the period between 1840 and 1860. Close to 92 percent of them were individuals posing while just sitting in a chair. The other 8 percent are the interesting ones."

The Naylor collection is enormously beautiful and valuable. Although most daguerreotypes are small and precious, his collection includes a mammoth plate, 11x13", of a US senator from Maine with his family. It is the only plate of its size acquired by a private collector in the past 30 years, Naylor says.
Mammoth plate daguerreotype (11x13") by John Adams Whipple, Boston. US Senator from Maine, his wife, their children, and spouses. Value $100,000. © 1850 (Photo Courtesy Naylor collection.)
Newly surfacing among the dealers in daguerreotypes is Larry Collins, associate director of the Schoolhouse Center for Art & Design in Provincetown, Massa-chusetts, who is assembling what promises to be an outstanding collection for his patrons. Collins became interested in cased-images while a professor of art and an antique dealer in New York in the early '80s. "I look for the unusual in daguerreotypes," he says, "such as the attributes a sitter may have--their working implements, articles of clothing or jewelry that might be different. The size and condition of the image also determines the value. Occasionally I am able to identify a sitter by something that was written and slipped behind the matte. Once I found a beautiful inscription in a portrait of a 17-year-old Civil War soldier. It was from his family; who he was and when he died and how they loved him and sent him off to heaven."

Both Naylor and Collins would agree that people often purchase a daguerreotype simply because it is beautiful. The choices are becoming more subjective and a beautiful portrait is often more valuable than one which is less so. "It's wonderful to think the intrinsic value of a photograph is increased because of its beauty," Collins says as he points out an especially appealing image of a child in her best patent leather shoes, her dress off her shoulders in the popular style of the time. Her cheeks are delicately hand painted and one arm is slightly blurred, showing the typical inability of a child to hold still for the one minute exposure.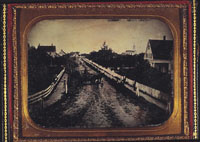 Half plate daguerreotype. Main Street, Centerville, Massachusetts (Cape Cod). © 1855 (Photo Courtesy Schoolhouse Center.)
In the Naylor collection a particularly elegant example shows a lady in black mourning garb sitting against a black background. Her face is framed in white lace. "She is not young," says Naylor, "but she is beautiful. That is quality." One of my favorites is of General Tom Thumb standing on a chair. He had just returned from England and is wearing a watch and chain given to him by Queen Victoria. He was age 10 at the time the photograph was taken in 1848 and it is a wonderful image, one of the very few pictures taken of him. Its present value is about $20,000.

"People who come to the gallery," says Collins, "often don't know what they are looking at but they respond to daguerreotypes as exotic objects. There is a certain look to these images that we have never seen again in photography--exquisite detail, fine middle tones, a silvery look unlike any other process. And, of course, they are a valuable part of the history of photography."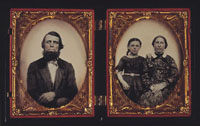 Quarter plate size ambrotypes (relivio variant a.k.a. white ambrotype) in Union Cafe. Father, mother, and daughter. © late 1850s (Photo Courtesy Schoolhouse Center.)
The silvery look he refers to begins on a copper plate that has been electrocoated with silver, then polished until it becomes a mirror. It is then sensitized with iodine and put into the camera. The photograph is quickly exposed to light, removed from the camera, and held over a bath of mercury fumes until the image appears. Removed from the camera, the image goes through another bath of sodium thiosulfate and a fixer. "However," Naylor explains, "the image is transient and only fixed if it is protected. If I take the glass off and rub a cloth or my hand over it, the image will disappear--it is really just resting there."

I am standing with Naylor in his lab and watching him as he uses a vacuum cup to remove the glass from a portrait. Glass in the 1800s had all sorts of acids and negative properties that would quickly damage the image so it never rested directly on the photograph but was placed on a decorative matte. The glass that Naylor has removed is thick and dirty. He is readying this image to be cleaned at another lab he maintains nearby where he has the chemicals and machinery to remove the corrosion. "There are only three or four people in the country doing this," he says, "and it is dangerous to work with the toxic fumes, but I had a machine built that sucks the fumes out through the window. Done properly most of this corrosion will come off and the print will be gorgeous."


Sixth plate daguerreotype. Julia Fisher. © 1850s (Photo Courtesy Schoolhouse Center.)
The value of a daguerreotype is not only based on the image. Many are in elaborate cases ranging from wood and velvet to mother-of-pearl. Some are lacquer painted or, in rare instances, cameos are carved in the wood. The most perfect presentation Naylor says he has found is an 8x10" case of mother-of-pearl with an illuminated painting inside. Another outstanding setting is a mahogany frame holding 48 sixth plate daguerreotypes from 1855, surrounded in different shaped mattes cut in the styles of the day.

Naylor and Collins have both honored their collections by housing them in special cabinets. In the gallery a lovely oak piece serves as display, while in Naylor's museum an old dental cabinet, its tiny drawers perfect for the delicate images, holds a part of the collection which, since it is so extensive, spills into all of the rooms. Original photographs and Speed Graphic negatives taken in 1937 of the Hindenburg explosion surround one grouping while others are collected in boxes.

Nearby are Naylor's daguerreotype cameras which utilize a sliding box design and were made by opticians and instrument makers and, in some cases, by the photographer himself. On the shelves, carefully out of reach, are bottles containing the actual chemicals from 1845 along with a Daguerreian iodizing box where the plates were sensitized. Alongside is a photographer's coloring kit, its porcelain dishes still showing the dry pigment.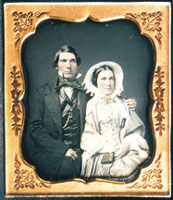 Quarter plate daguerreotype of bride and groom by John Adams Whipple, Boston. Value $1200. © 1850 (Photo Courtesy Naylor collection.)
The age of a daguerreotype is not based on the image alone. Often it can be determined by the posing of the subject. Many of the earliest subjects looked scared to death, their eyes transfixed with fright as photographers were learning how to pose them and deal at the same time with the primitive equipment and chemicals. When the process was first developed in 1839 by Jacques Daguerre, the exposure time was 30 minutes in noon sunlight but was soon reduced to less than one minute.

"It was the noted Boston photographers Southworth and Hawes who developed the techniques to pose the model," Naylor says, "and often their photographs are recognizable by the props they used; a particular column, a flower, or a chair." A portrait of two women standing in front of a bookcase, done in England in 1843, is valued between $6000-$7000, Naylor says, because they were so beautifully posed and the bookcase in the background is a rare prop that gave a sense of place to the photograph.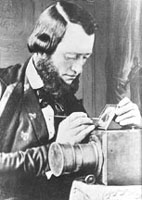 Quarter plate daguerreotype of photographer with chamfered box daguerreotype camera. He retouches image. By W&F Langenheim, Philadelphia. Value $3000. © 1845 (Photo Courtesy Naylor collection.)
It is the clarity of a daguerreotype that seems unbelievable today and few photographs done now can surpass them. The perfection has attracted over 850 members to the Daguerreian Society which includes dealers who make their living exclusively on daguerreotypes and sell them to museums. "They are the world's first images," says Naylor, "and they are unique. Each one is one of a kind and there is always the element of history as well as a wide interest in owning the first of something."

"Some education is needed for people to get used to seeing these things," Collins says. "Aside from their historical importance it takes a fine eye and a discerning mind to know their value. These images have an uncanny way of connecting with people--most of the subjects are staring right at you in a dead-on look and it is that connection that really grabs you. There is something very intimate about daguerreotypes--they're small and it's like having a conversation with someone."

FEATURED VIDEO