Wi-Pics; Wireless Image File Transfer Page 2
What's The Diff?
If you're the owner of any EOS digital SLRs that have a DIGIC II processor (-1Ds Mark II, -1D Mark II N, -1D Mark II, 5D, and 20D) you may be wondering how Wi-Pics compares to Canon's WFT-E1A. Comparisons with Nikon's WT-2 were not possible because I didn't have the technical details as we went to press.

A basic Wi-Pics setup retails at $1700 vs. the WFT-E1A's $999. The WFT-E1A is significantly smaller and lighter than the Wi-Pics transmitter and is attached directly to a compatible camera, while the larger and heavier Wi-Pics transmitter cannot be attached directly. The WFT-E1A connects to the compatible camera through the camera's FireWire or USB interface using standard cables. It's designed exclusively for transmitting image files from the camera to a computer and has a 512MB internal buffer memory, whereas the Wi-Pics device can be matched with an optional 40GB hard drive and/or removable memory cards for storage.

The bottom line is that the Wi-Pics device is compatible with almost any digital camera--regardless of manufacturer--that has a CompactFlash card slot. And that's a good thing.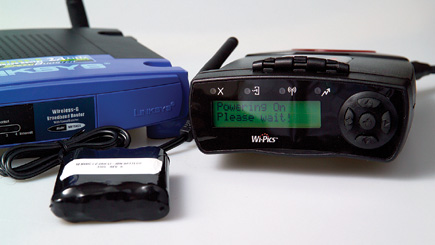 Wi-Pics units allow immediate transmission of image files from the camera to editing stations, servers, or FTP sites via network access points. The unit can be configured with up to 40GB of built-in storage and has an Ethernet interface for studio use.
For Geeks Only?
The initial configuration of Wi-Pics requires that it be connected to your local network (or directly to a wireless router) using a standard (Category 5) Ethernet Patch Cable connected to its Ethernet port and any available port connected to your local network (or available port on the wireless router). If you're not familiar with all this geeky stuff, the Wi-Pics manual suggests that "for more information on connecting Wi-Pics to your local network, consult your local network administrator."

More geekspeak: Both Wi-Pics and Canon's WFT-E1A are compatible with IEEE802.11b/g (http://grouper.ieee.org/groups/802/11/) and Ethernet, while the Wi-Pics claims compatibility with IEEE802.11a as well.
Wi-Pics Specifications
Camera Host Interface: CompactFlash Type II slot on camera
Camera Interface Cable: 5-ft camera cable included; optional 15-ft camera cable available
Wi-Pics Module: Intel XScale processor; polycarbonate construction
Weight: 20 oz with optional hard drive
Storage: Dual CompactFlash Type II slots; optional internal 20GB hard drive (hard drive storage is browser configurable for FAT 16 and FAT 32 compatible cameras)
Network: Internal 10/100MB/sec Ethernet; Conexant PRISM 802.11b/g wireless LAN; Integrated 2dBi WLAN antenna; 17dBm maximum power output
User Interface: Remote-mountable user interface pod; 2x16 character LCD shows status and configuration menus; five-way navigation pad for configuration; configuration via web browser
Transfer Protocols: Image transfer via UNC (Uniform Naming Convention) or FTP; password-protection
Wireless Security: Industry standard WEP encryption; 802.1x EAP-TLS RADIUS certificate-based; authentication (via Microsoft ISA server) compatible with concealed network SSIDs (Service Set Identifier)
Power: Lithium ion rechargeable battery (tested to 5+ hours), charger, a 110-240v with power adapter

For more information, contact Dice America, 7676 Netlink Dr., Ste. A, Victor, NY 14564; (585) 869-6200; www.wi-pics.com.

LATEST VIDEO

SPONSORED VIDEO
Testing Tamron's SP 150-60mm G2 lens while capturing birds and alligators in Apalachicola, Florida.