Fall Photography Tips: Here's When Autumn Foliage Reaches Peak Color in Your Area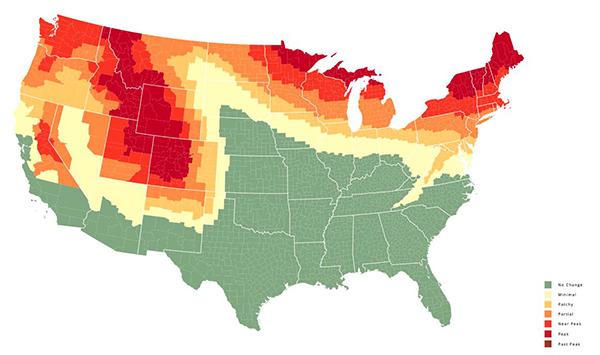 It's an annual event that never fails to please. Across most of the country, the leaves on deciduous trees do their fire dance, wither and fade, and then finally surrender to the sway of the autumn wind. It's a great time to be a photographer, but capturing the fall color explosion at its peak can be frustratingly difficult. Right? So do what we do—take a look at this interactive leaf color predictor.
To find out when the autumn leaves are at the peak in your area, check out this super helpful interactive fall foliage map of the USA provided by Smokey Mountains and with any luck you'll never again hear those seven deflating words, "You should have been here last week."
After you open the website, adjust the slider under the map to select the date of your excursion. While there is no way to predict such things with 100% accuracy, this map offers useful guidance. If you're planning a trip that requires extensive travel or an overnight stay, do the smarter thing and call a local for a color status report.
And by the way, if there's a student in your family who's learning why leaves change color and fall, the Smokey Mountain website also has some info that explains the roles chlorophyll, beta-carotene, anthocyanins and flavonols play. Sounds like the ingredient label on a health food snack. But it makes for a nice family learning opportunity.
For a recommendation of what filters to use to enhance and enrich autumn hues, check out this article from a couple years back.
—Jon Sienkiewicz

FEATURED VIDEO