Western Digital's My Book Studio Edition II; Backing Up Is Easy To Do Page 2
The Studio Edition II is a quad interface drive. You can use USB 2.0, FireWire 400 or 800, or, if you have the ability, eSATA. It includes a USB and FireWire 800 cable, and an 800 to 400 converter cable so it's ready to go out of the box. Looks wise, it fits right in next to my Mac Pro with a brushed aluminum finish. You can daisy chain multiple drives together if needed.
One thing that I really like about the Studio Edition II is the silence. There are no fans to distract me, and after some of the external drives I've used, this is a welcome relief. This device is one of WD's GreenPower drives, which use about 33 percent less power than a typical drive and has a power saving mode. While I wouldn't make a buying decision based on energy use, it's nice to know that I am using less energy than previously.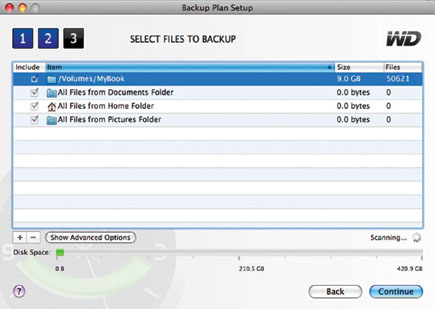 On the outside of the enclosure is the usual lighting scheme to let you know the drive is powered on. WD did add a nice touch, though, using this light to let you see at a glance how full your drive is--the higher the light bar, the more you have on the drive. When the drive is in use, the light cycles to let you know it's being written to; if you shut your computer down when not in use, the drive will also power down.

Although it's pre-formatted for Mac, the included CD has software for PC users to reformat and configure for Windows systems. It's available in two configurations: 1TB and 2TB. The 1TB version costs $349, while the 2TB version runs $599. The only addition I'd make would be to include a network interface for shared storage.

There are less expensive drives available, but I've had more than my share of problems with some of them. I can honestly say I've never had a failure with a WD drive, so for my money, it's an excellent value. Storage doesn't get any easier than this. With the ability to add larger drives in the future, along with the whisper-quiet operation, WD has produced a product worthy of your consideration.
RAID 0 And RAID 1 Configurations
RAID is short for Redundant Array of Inexpensive Disks (or Redundant Array of Independent Disks depending on who you talk to). Basically, it's a way to use two or more drives together to improve reliability, performance, and/or capacity. The two most commonly used types of RAID for the desktop user are RAID 0 and RAID 1.

With RAID 0, multiple drives show up as a single large volume. Performance increases because the writing task is split across multiple drives--the computer doesn't need to wait for the disk to spin around to the correct location to keep writing. The drawback is that you have no backup of your data. Just like a single disk drive, if a drive goes bad, you've lost it all. Videophiles often use this configuration because of the faster speed.

With RAID 1, your computer sees only one drive. If you have two 1TB drives configured as RAID 1, only 1TB is available to store data on. The second drive contains an exact duplicate so that if either disk fails you have a backup. In this configuration, just replace the bad drive and the RAID is rebuilt with no data loss. This is the one for still photographers.

For more information, contact Western Digital, 20511 Lake Forest Dr., Lake Forest, CA 92630; (949) 672-7000; www.westerndigital.com.
Jon Canfield is the author of several books on digital imaging and printing. A popular instructor at BetterPhoto.com, Canfield also teaches workshops for the Panasonic Digital Photo Academy (www.digitalphotoacademy.com). You can reach Canfield via e-mail at: jon@joncanfield.com.

LATEST VIDEO

SPONSORED VIDEO