Wedding Photography With A Difference; Faces Of Today's Wedding Photography
"The gift of real love is having someone who'll go the distance with you. Someone who, when the wedding day limo breaks down, is willing to share a seat on the bus."—Oprah Winfrey
The first wedding I remember attending was my Aunt Rose's when I was just a cute (I know, it's hard to imagine) 7-year-old who got drafted into being ring bearer. A few photographs were made at the church but on the way to the reception at a local Union Hall the limo stopped at the photographer's studio for traditional, "formal" poses; many years later when my younger sisters were married photographers were still using that same approach. Not anymore. Color, monochrome, infrared, and even HDR images are part of today's brides' choices and contemporary wedding shooters have combined digital technology with greater mobility to produce creative photography that reflects this millennium's tastes and trends. What follows is a look at the websites of four of the best wedding shooters in the country.
www.willamettephoto.com
Sandra and Juan Carlos Torres are a husband and wife team who are in love with photographing weddings and it just shows in their work. Juan Carlos is a passionate romantic whose passion is exemplified in the images appearing in the slide show that kicks off this site. The Portfolios section includes his favorites along with entire weddings and the images in these portfolios are lush and elegant, filled with dramatic touches that occasionally echo the innovative images produced by the late Rocky Gunn.

The portfolios include real live album pages that demonstrate an inventive design sense and clear understanding of the use of color—outside the photos—that is rare in wedding album design. Yet, even Juan Carlos's monochrome images contain a richness and warmth you don't see much of these days. Don't miss his blog that contains samples of recent work, including a portrait session with a bride wearing a red wedding dress that makes a brilliant counterpoint to some of the monochrome photography that's also featured. Juan Carlos's approach to wedding imagery combines the best aspects of traditional photography liberally seasoned with a sprinkling of fresh, new spices, creating a hybrid that must be a hit with clients who want what's old, yet new at the same time. Juan Carlos calls himself an artistic journalist and while that's a fair description, I think there's a far greater emphasis on the artistic quality of these stunning wedding images.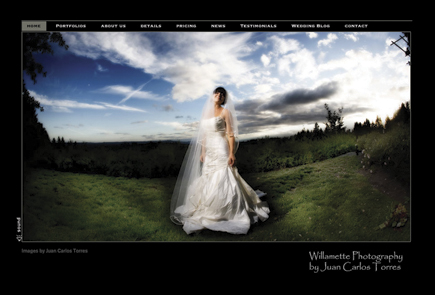 © 2009, Willamette Photography, All Rights Reserved
www.seanflaniganphotography.com
Tacoma's Sean Flanigan is a wedding photographer with a distinctive style. While that may be an overused phrase when describing photographers, especially wedding shooters, a quick glance at his portfolios and blog tells you that you're not in Kansas anymore. It would be glib to describe his work as fashion influenced but that's clearly not—to overuse another phrase—Flanigan's style. Nope. He sees each couple as individuals and instead of a cookie-cutter, checklist approach creates images that reflect them and maybe just a little bit of himself, too. His methods are carried into the web design. Clicking to select and double-clicking to hold lets you navigate using "back" and "forth" text instead of arrows. A small thing, but it's an accumulation of all the little things that make Flanigan's photographs big.

While scrolling through the images in his three wedding portfolios I doubt that you'll find any images you've seen anywhere else, which, to me, is amazing, especially considering all of the traditional "somethings" that are borrowed or blue and pass for wedding photographs these days. Flanigan has opted for something new. What makes it even more interesting is that his style is hard to define in a few words other than fresh and innovative, yet it captures that je ne sais quoi that's perfect for today's young people and must drive his competitors in the Pacific Northwest crazy when trying to figure out how to copy his work. They can't because Flanigan and his wedding photographs are one of a kind.
© 2010, Sean Flanigan Photography, All Rights Reserved
www.craigmitchelldyer.com
The Pacific Northwest must be a hotbed of creative wedding photography because so far all three shooters have come from that area! It wasn't planned; the sites were selected because of the quality and diversity of the imagery but it's curious, nonetheless. Portland's Craig Mitchelldyer does more than shoot weddings but that's the theme this month and I'll let you explore his other galleries while I jump into weddings.

Mitchelldyer started as a photojournalist and that influence is clearly present in his wedding photography. If you assume that's all he does you'll be selling him short because he seems at his best when creating dramatically lit, highly stylized images where the couple is small in the frame, placing them within a context that creates a mood that is often cinematic. His site also offers video clips that combine photographs with live video and are edited together like a real movie, not just a bunch of clips and stills tossed together like a Caesar salad with audio as dressing. Mitchelldyer mixes live sound and the voices of the couple's vows to create something that will bring a tear to the eyes of brides' mothers everywhere. But his still photographs are the stars of the show and they range from spontaneous to formal but are always full of rampant color and action. These are wedding photographs in the best sense of the word where the emphasis is on the interaction between the couple, families, and people at the reception. It is the people who are the stars of these images, not the photographer who just happened to be there. Mitchelldyer's considerable talents don't just capture the moment; they elevate it occasionally into the realm of art.
© 2010, Craig Mitchelldyer, All Rights Reserved
www.andrewcollings.com
What sets Chicago's Andrew Collings apart from other weddings photographers is his ability to capture special moments of tenderness, quiet, and even humor. In that way, some of his work reminds me of Elliott Erwitt, such as the photos of a ring bearer sweeping up rose petals, a groom adjusting a tie, and a dad singing to his daughter while dancing with her. All brought a smile to my face while simultaneously tugging at the old heartstrings. Collings's group photography abounds with a style and naturalness that shows he's a delight to work with. His site, like some others here, features images other than weddings and you should peruse them as well, but pay special attention to the portfolios of individual weddings, such as Lauren and Ryan's that was shot or at least presented in monochrome. While my Aunt Rose didn't have any other choice, today's brides do and Lauren has opted for black-and-white coverage that captures the event starkly with the emphasis on the people, not on what they're wearing. Collings has also brought Chicago itself into the mix often in startling and stylish ways.

Michelle and Nick's wedding photographs combine color and monochrome and once again Collings proves when it comes to wedding groups nobody—as the lady sang—does it better. The group on the bridge is amazing in black and white but another group with a fire engine in color is even better, if possible. Collings says he practices photojournalistic wedding photography but he's more than a recorder of events. His dynamic photographs celebrate the day and capture the mood and feelings of the participants in ways they will always treasure.
© 2009, Andrew Collings, All Rights Reserved