Web Ways; Selling Stock On The Web; Royalty Free, Rights Managed, And More
The web has opened the door to many business opportunities for photographers that never existed before, one being the ability to sell photos via websites that specialize in marketing "stock" photography. Stock photography finds its way into a multitude of fields, including publishing, advertising, business presentations, and web design.

The stock industry has changed considerably in the last few years with the creation of companies like iStockphoto.com, which is widely believed to be the first website designed for the exchange of single photos (instead of photo collections). Stock photography was no longer limited to a small group of photographers. Now, anyone could participate.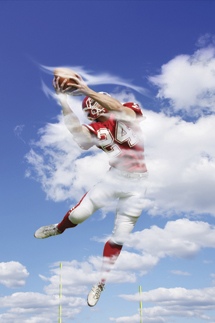 © 2010, George Peters, All Rights Reserved
Originally, iStockphoto was simply an online database where members could exchange photos free of charge. The business opportunity soon became apparent, and iStockphoto began charging for the use of its photos, with a commission going to the photographer. With this, the business of microstock photography was born, giving birth to numerous similar sites.

If you think you want to get involved with this business you first need to understand how licensing for images is generally broken down. There are two general categories: royalty free and rights managed.
Royalty Free Stock Photography
Royalty free does not mean that a photo can be used unconditionally. Instead, it means that the photo can be used without paying a new licensing fee each time it is used. Most microstock websites include reasonable restrictions in their royalty free contracts, to ensure that the royalty free concept remains fair to the photographer. Typical restrictions may (or may not) include a limit on how many times a photo may be reproduced, on its use in photo collections (on CD or DVD, for example), or in mass-produced products that use the photo, such as T-shirts, mouse pads, calendars, and coffee mugs. In addition, photos are priced according to their size, with small resolution images going for less (sometimes considerably less) than larger resolution images.
Web Stock Sampler
iStockphoto—iStockphoto.com sells royalty free photos for $1-$24, although buyers might get a volume discount. For the photographer, royalties are structured at 20 percent. If your photos become popular, and you agree to sell exclusively to iStockphoto, royalties can go as high as 40 percent.
Fotolia—Fotolia.com is a rapidly growing microstock photography site, attracting both clients and photographers with a combination of lower prices and higher royalties. Fotolia charges as low as 75 cents for a small image size download, which can drop to 14 cents for volume users, although larger image size downloads get more. For the photographer, royalties begin at 33 percent for non-exclusive photos, and 50 percent for exclusive photos.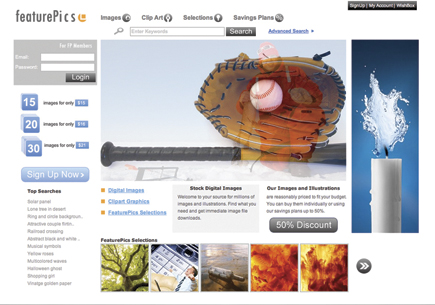 FeaturePics—FeaturePics.com has a unique business model. The photographer sets the price and licensing (royalty free vs. rights managed) for each photo. For rights managed images, the buyer makes a series of selections (such as print run and usage options) and the website calculates the price. Photographers receive a royalty of 70 percent, which is one of the best royalty rates in the microstock industry.

LATEST VIDEO