Web Profiles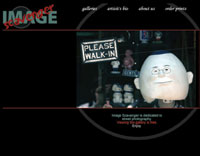 Merrill C. Anderson has collected images that he has made over the past 25 years on the street and collected them in six different galleries sorted kinda like a photo essay.
© 2003, Merrill Anderson, All Rights Reserved
Scavenging For Images
Ya gotta love a site named Image Scavenger (www.imagescavenger.com). Behind its whimsical homepage, photographer Merrill C. Anderson has collected images that he's made on the street for the past 25 years and arranged them in six different photo essay galleries covering such diverse venues as New York, Des Moines, and Toronto. The site requires Flash Player 6 (www.macromedia.com) but even on my soon-to-depart dial-up connection it loads fast.

At the top of each gallery's screen you see a horizontal scrolling display of generously sized thumbnails. The animated, scrolling thumbnails are nice, kinda like strolling through a gallery, and clicking on any of them loads an image (this does take some time on dial-up), but it's only slightly bigger than the thumbnail, so why the wait? What You'll discover is a colorful urban landscape populated with signs, reflections, and arresting graphic compositions, but few human beings--although there's a horse in one shot. Limited edition archival prints are available in the Order Prints section.

Anderson's visual style reminds me of Herman Krieger (www.efn.org/~hkrieger), a Leica-toting classical documentary photographer with "a sense of humor and a wry perspective," only in knock-you-over-the-head color. The most colorful, yet less successful collection is Scavenging. Street Art made in Toronto, which is mostly literal copies of found street art that could have benefited from the even the most causal placement of a few human beings, if only in silhouette. But hey, Anderson is obviously a dude who likes to have fun with his photography, so don't be too hard on him.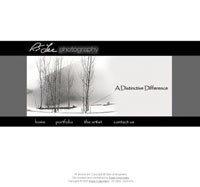 Dr. Buddy Lee's site is built around an elegant interface and superb design that's a pleasure to navigate. The site contains four mostly monochrome collections, simply named People, Still Life, Fauna,
and Places.
© 2003, R.E. Buddy Lee, All Rights Reserved
A Distinctive Difference
And now for something completely different. Dr. Buddy Lee's site (www.releephoto.com) is built around an elegant interface and superb design that's a pleasure to navigate. The Portfolio section is divided into four mostly monochrome collections, simply named People, Still Life, Fauna, and Places. Dr. Lee clearly doesn't want to be creatively pigeonholed. Since I didn't see any people on the last site, I rushed to the first collection, clicking away. Five small thumbnails now filled the space the homepage image occupied. Clicking the More button takes you to the next page to view more images.

Each image is titled and ranges from no-nonsense portraits to documentary images to fine art, all in the space of five thumbnails! Clicking on one takes you to a slightly larger image, but no other information about the image is displayed other than the title, which you already knew. Still Life, while sparsely populated, contains the haunting "Icons Of Times Past." Fauna has a few images of birds and animals--is that a skunk?--and the most adorable West Highland Terrier that is screaming to be a best-selling poster. Dr. Lee calls it "A Mind Of His Own," but "Whazzup?" would be a much, much better title. Places contains the most and only color photographs along with some snowy winter images that are clearly Dr. Lee's best work and obviously his passion. There's not a lot of images on this site, but Dr. Lee has clearly chosen his faves to share with you; so don't miss them.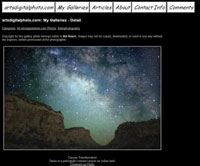 Space may be the final frontier and Art Rosch's site takes you there with an out of this world homepage featuring an image you may have only seen in one of the better "Star Trek" movies.
© 2003, Art Rosch, All Rights Reserved
Where Few Photographers Have Gone Before
Space may be the final frontier and Art Rosch's site (www.artsdigitalphoto.com) takes you there with an out of this world homepage featuring the kind of imagery you might have only seen in one of the better (the even-numbered) Star Trek movies. Rosch's site contains astrophotography and terrestrial images, a review of his music CD, and some poetry. He's a real Renaissance man--his fiction has been published in Playboy--but it's his images that will capture your attention. There are the most images (36) in the Astrophotography collection that contains his signature image "Hiway to the Skyway," a falling-over beautiful landscape that shows the night sky in a way that simply took my breath away. And unlike the trend toward smaller, "large" images, Rosch's amazing photographs fill the screen so you can almost count the stars.

Just when you think you've seen everything, you scroll down the page with lots of captions and big thumbnails, too, and uncover another masterpiece--"Lone Tree in Utah"--and this is just during the first nine images in the gallery. OK, so now I'm speechless. But he keeps throwing dazzling images at me, such as "Comet Over Water" and "Meteor in the Tall Rocks." If you are not moved by the beauty and power of nature in the images in this gallery, you don't have a pulse.

The most "normal" of the images are found in the Nature and Landscapes collection, which is offset by the creative and wacky images found in the General Gallery. Wait, there's more: Pets, People, along with the scoop on the kind of photo gear he uses is also showcased here, but it wasn't until I scrolled through the l-o-n-g page that includes the galleries and accompanying text information that I realized that this wasn't just caption and descriptive data. Rosch had written poems for each section. (Sigh.) And by the way, don't even think about right-clicking anything on this web site.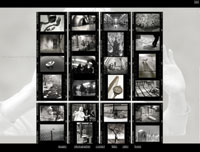 Mike Pobega's site is filled with crisp, new millennium street photography.
© 2003, Mike Pobega, All Rights Reserved
Contact Sheet
Mike Pobega's site (www.pobega.com) opens with a contact sheet-like montage of introspective monochrome images that foretells you're in for something special. Those contact sheet images are not graphics; they're thumbnails and consequently the entire page takes some time to load on a dial-up connection. Here are a few browsing tips: First Internet Explorer users (on Windows) should click the F11 key to maximize the amount of screen space for the thumbnails to display. When clicking to open, right-click to Open Link in New window so you can see the enlarged and large image of the thumbnail in a separate window. That way, after you've finished admiring the photographs, you can close the window and all of the thumbnails are sitting underneath dutifully waiting.

What you have here is your urban street photography--with people--along with shots made with fisheye lenses and a breathtaking, sepia-toned panorama of the Big Apple as seen from the Brooklyn Promenade (2000). I won't tell you where but look where Pobega has cleverly integrated his copyright notice into this scene. While you will see iconic street photography images including smiling kids, broken windows, graveyards, and a cute dog, you'll also find a lost umbrella in the rain at Coney Island that proves that every picture is worth more than 1000 words. Archival fiber-based double-weight prints of Pobega's work are for sale at modest prices. This is a great-looking web site with crisp, new millennium street photography; don't miss it.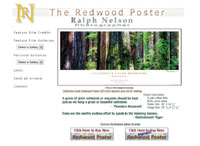 Ralph Nelson's web site has a section allowing you to purchase a California Coast Redwoods poster, which was made when he was working on the Jim Carrey film "The Majestic" and features a subtle, textural interplay of light and nature.
© 2003, Ralph Nelson, All Rights Reserved
Around The Web
Ralph Nelson (www.ralphnelson.com) is not only one of the most talented photographers I've ever met, he's also one of the nicest. His web site
contains dramatic examples of the still photography he does for motion pictures as well as personal images. Recently, he added a section allowing you to purchase posters of his work. The first one is California Coast Redwoods, which was made when he was working on the underrated Jim Carrey film The Majestic that features a subtle, textural interplay of light and nature. Click the Redwood Poster button on his homepage for more information.

As I write this, Take Your Camera to Work Day (www.takeyourcamertoworkday.com) is history and next month, I'll give a full wrap-up. In the meantime, if you'd like to recommend your own or a friend's web site, please e-mail me at editorial@shutterbug.net.