Web Profiles
Each one of Joe Constantino's photographs is a "short story." His Street collection showcases images ranging from the mundane to the extraordinarily beautiful that clearly transcends the genre and moves into what most of us would consider art.
© 2002, Joe Constantino, All Rights Reserved
Joe Constantino's web site (www.joecphotography.com) is an eclectic collection of four galleries wrapped around a killer, low-key design by Jay Groden. The site is exclusively in black and white, with hints of tan in its motif. The Nostalgia collection contains sports and big band jazz subjects that Constantino photographed during the 1970s. There are also Street and Wildlife (in living black and white) collections, but for me the attraction is the falling down gorgeous Infrared section that shows a master's skill in the technical aspects of handling this material and an artist's touch using it to tell beautiful stories.

Each gallery contains a collection of properly-sized thumbnails; with back and forth arrows that let you see more. Clicking on any thumbnail opens the image in an ample-sized separate window. In one, an aesthetically abandoned antique car sits among bushes glowing with internal white infrared fire. In another, entitled "Stairway to Heaven," a couple ascends steps, apparently going into the sky, to create a heavenly metaphor. He is obviously leading her; who is he and where are they going? Like Harry Chapin said, each one of Constantino's photographs is a "short story." The Street collection showcases images that range from the mundane to the extraordinary. I would not classify the Walk to Paradise Garden-like "Out Of The Mist" as "street photography," since it clearly transcends the genre and moves into what most of us consider art. Similarly, the storytelling "What's Down There?" combines the finest elements of photojournalism with a bit of whimsy.

Nostalgia contains performance images of many legendary jazz artists and are interesting, primarily from an historical perspective, and the Wildlife section contains images that, while black and white and of animals, might best be described as documentary. However, some of them, notably "Infrared Tiger," are category busters, and combine the best of Constantino's artistry with subject matter unique to these techniques.
Ton Koene is a travel photographer with a difference. He takes you to places that most of us will never see and introduces you to the people and their culture using photography as the truly universal language it is.
© 2002, Ton Koene, All Rights Reserved
Compassionate Documentarian
Ton Koene (www.koenephoto.com) is a documentary photographer based in The Netherlands whose work focuses on humanitarian and refugee issues, but his compassion is not limited to making photographs. He also works as a relief coordinator for Medecins Sans Frontieres in countries such as Tajikistan, Uganda, and Mongolia. The site's no-frills, yet attractive design focuses on images arrayed in 21 collections. All but two are labeled geographically--Animals and Art--the latter was "under construction" the last time I visited.

I always thought of myself as a pretty good geography student but had never heard of Kyrgystan, so naturally visited that section first. Like the rest of the collections, clicking on a "title slide" takes you to a group of thumbnails, and clicking on any one of them opens a larger image, which I wished appeared in a separate window. But hey, that's what the back arrow is for. The images are in classic National Geographic mode combining tender moments between native peoples with portraits and wide angle images showing the environment and landscape. While some of the obviously posed portraits in the Tibet section are appealing from an anthropological point of view, Koene is clearly at his best in Cartier-Bresson moments and casual portraits, such as the one of a Tibetan woman smiling while holding a young goat. Koene is a travel photographer with a difference. He takes you to places that most of us will never see and introduces you to the people and their culture using photography as the truly universal language it is.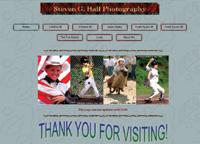 Steven G. Hall's unabashedly patriotic web site offers a slice of pure Americana that web surfers in big cities such as New York and Los Angeles may find as exotic as Tajikistan.
© 2002, Steven G. Hall, All Rights Reserved
Back In The U.S.A.
Steven G. Hall's unabashedly patriotic web site (www.stevespix.com) offers a slice of pure Americana that web surfers in big cities such as New York and Los Angeles may find as exotic as Ton Koene's Tajikistan. Out here, in what many think of as the real America, you'll find wholesome images of little league baseball, junior rodeo, and kids in cowboy hats wrapped in the American flag. Hall's web design may be on the basic side, but click The Fun Gallery button to see contemporary Huck Finn images of kids having fun, rolling in the mud, dancing in native costumes, or ("Zooming Along") in carnival rides at the County Fair.

To show that posed portraits don't have to look cookie-cutter, visit the Children #2 gallery: It contains portraits where Hall never told the kids to smile, but you'll find black and white and color images that will make you smile, such as "Esta & Friends," showing a young girl, her horse and dog. Take the time to click on all of the galleries and discover images, such as "Bubble Gum Blower" and "Happiness is a Mud Puddle" that seems like it came directly out of the Lil' Rascals--only in color. Yup, there's everything here but Sheriff Andy in these photographs and as someone who also lives in a similar town of this kind of vanishing America, I'm glad that Hall is sharing his images with all of us.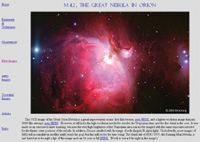 Bert Katzung's web site contains galleries of terrestrial images but the heart is the dramatic night sky and astronomical photographs made by this talented amateur astrophotographer.
© 2002, Bert Katzung, All Rights Reserved
Out Of This World
Bert Katzung's web site www.astronomyimages.com contains galleries of "daylight" (what the rest of us would call terrestrial photography) images but its heart is the dramatic night sky and astronomical images made by this talented amateur astrophotographer. There is so much here that my best advice is doing what the web is all about and surf through anything that captures your interest.

The dramatic thumbnail of IC 1396, a large emission nebula in Cepheus, stopped me cold. That sounds like I know what I'm talking about, but Katzung provides excellent caption information--against all current trends--and provides details on the location of the objects in the sky as well as information on how the image was made. While not exactly a dark and stormy night, Katzung tells that it was windy with "poor alignment and tracking."

I don't care; the photo is drop-dead gorgeous. His captions even provide links to similar images, such as a monochromic image made using hydrogen alpha light. (All technical details for this stunning image are provided in the captions.) Since the images open in the same window, I recommend you use your browser's Open in New Window command, so you don't get lost during all this astro surfing. Be sure to seek out the Planets section including the 2001-like Five lanet line-up. If you wanna know how Katzung does his magic, the Equipment and Techniques section contains the details, but it's the dramatic images of the heavens and his talent that are the stars of this site.
Around The Web
One of the first photographer's sites I featured in my old "Web Site Of The Month" column was Herman Krieger's (www.efn.org/~hkrieger), a Leica-toting classical documentary photographer with a sense of humor and a wry perspective on the world. Krieger's been busy since then and has added some new photo essays to his site. Don't miss it.

Everybody likes freebies; so if you're looking for some automotive-themed wallpaper for your computer, visit the Wallpaper section of www.joefaracesshootscar.com.

It offers six different designs featuring contemporary and classic cars spiked with some of the demented humor you have come to expect from me. Hey, the price is right and it beats the lame-o backgrounds Apple and Microsoft provide.

LATEST VIDEO