We Tried It
Cocoon Portable Difussion Device
Direct, raw electronic flash casts harsh shadows and darkens these gold colored pins. (Canon T-90 with Canon FD 100mm f/2.8 lens and 1800 close-up lens on Kodak Elite II 50 slide film.)
Photos © Robert E. Mayer, 2000
Lighting small reflective products, without the usual harsh shadows and distracting reflections produced by raw lights of any type, has always been a challenge even for experienced photographers. A new diffusion device makes it so simple and easy to light this type of product that practically anybody can successfully use it and produce excellent images every time.
The cocoon is an egg-shaped plastic cove unit comprised of four translucent white diffusion panels that fasten together with touch fasteners and zippers for quick, fairly easy assembly and take down for storage. There are three round holes for camera lens ports that permit photographing from directly overhead, at a 45 angle, and practically horizontally. It was designed for the angle of view and focus distance needed by a 55-60mm macro lens on a 35mm camera or the equivalent focal length lens on larger format cameras. The cocoon is said to graduate the light intensity which in turn minimizes the "blooming" highlights that often occur when using the even light produced by light boxes. The cocoon can be used with electronic flash, hot lights, full-spectrum fluorescent, and even outdoors in sunlight.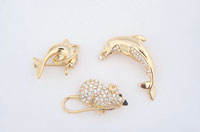 The same gold pins now placed inside the cocoon but lit with the same electronic flash units. Note the soft shadows and smoother rendition of the gold surface with gently curved highlights accentuating the shape of the pins. (Canon T-90 with Canon FD 100mm f/2.8 lens and 1800 close-up lens on Kodak Elite II 50 slide film.)
Practical Test Results. Since the interior as well as the base or floor is a rather shiny reflective plastic surface, you simply place a rectangle of the material you want as your background, or floor ground, inside the cocoon, then place your subject on that. You can gently push the material through one of the camera ports, or just zip open one top side seam to gain access to the inside. The product placement and additional adjustments needed for composition are done in the same manner.
The camera ports are strategically positioned for low, 3/4 down or vertical down camera angles, which should suffice for the majority of small product pictures. The top and bottom camera ports are each about the size of a saucer but the more often used 3/4 down port is about twice as big and elongated. I used two prime (non-zoom) lenses, a 50mm macro lens and a 100mm with close-up lenses and found these to be the proper focal lengths for recording small jewelry items inside the cocoon.
These old and new dollar coins were placed on blue material inside the cocoon. Note the excellent detail on the engraving with each letter practically edge lighted, but there was no need to adjust the lights up or down, the diffusion material took care of this. (Canon T-90 with Canon FD 100mm f/2.8 lens and Canon 240 close-up lens on Kodak Elite II 50 slide film.)
I purposely took views of a variety of objects first by raw, direct electronic flash, then inside the cocoon for comparison of the two types of light. I was surprised that there was at the most only 1/2 f/stop light loss from flash meter readings of the same products illuminated by raw electronic flash units and a reading done inside the cocoon with the lights in the identical position. Most light diffusion or softening devices cut the flash intensity much more than this unit does.
Positioning of the two or more lights outside the cocoon is not particularly critical since the light is drastically diffused once it hits the white material. I found I did have to adjust the lights from a conventional 3/4 down, straight into the sides to nearly straight in and closer to the front for some glassware, but in general, the light position is not nearly as critical as is normally the case when the lights are used raw on the subject.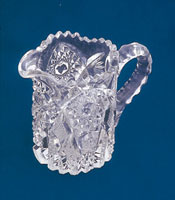 This small cream pitcher has excellent cut glass detail, which was brought out without any distracting glare by simply placing it inside the cocoon. (Canon T-90 with Canon FD 100mm f/2.8 lens and Canon 240 close-up lens on Kodak Elite II 50 slide film.)
I photographed small, reflective jewelry such as pins and bracelets without having to critically adjust the lights to achieve the amount of reflectance on chrome surfaces. Bringing out the fine engraved or embossed surface detail on coins was extremely easy. I also placed some small coins and glassware inside the cocoon, eliminating the need to bounce raw lights off a white flat or have direct light on the glassware, the normal method of lighting highly reflective objects. The two ports not being used did allow some dark spots to show on chrome, but this could be minimized, or eliminated, by simply placing a piece of white paper over the ports not actually being used.
Only color slide film was used since it has the least latitude and shows color shift best. All of my E-6 film was processed by Accu-Color Lab., Inc., Fort Wayne, Indiana.
The cocoon sure simplified lighting small products, especially items with fine detail and reflective surfaces such as chrome and glassware, and would be a very helpful lighting accessory for any studio.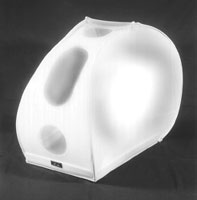 Instant, simplified soft lighting for small products of all types is provided by the cocoon diffusion device. Available in three sizes, it is easily set up and zipped together, along with some hook and loop fasteners, then disassembled for storage in a supplied bag. It can be used with any type of lighting and has three camera lens port angles so you can achieve most any viewpoint of the small subjects placed inside.
There are three different sizes offered. The smaller Cocoon 40 for products up to 5x7", the Cocoon 70 for items up to 9x12", and the Cocoon 130 for products up to 16x22". The suggested list prices are $80.50, $143.50, and $294.50 respectively. The cocoon is made by RedWing Imaging Concepts International and is distributed by Brandess-Kalt-Aetna Group, Inc., 701 Corporate Woods Pkwy., Vernon Hills, IL 60061; (847) 821-0450; fax: (847) 821-5410; www.bkaphoto.com.

FEATURED VIDEO