Vivitar Series 1 70-300mm AF Zoom Lens And 840 AF Zoom Flash
Stadium security kept me from getting any closer to this Zydeco performer, but Vivitar's Series 1 70-300mm zoom adequately pulled in the subject at 200mm.
Photos Tom Fuller, 2000
My first encounter with a Vivitar Series 1 lens goes back more than 15 years to the 600mm "Solid Cat," one of the slickest super-telephotos ever made. In addition to great optics, the lens featured an overall length and diameter of--and I'm not joking--around 5". As enthralled as I was with the revolutionary design that fit virtually every SLR via a beefed-up T-mount, the portrait work that kept me eating didn't afford this focal length much use and I sold it to buy a much-needed '74 Chevy gearbox. Talk about extremes of engineering finesse.
My second experience came not long thereafter in the form of my wife's Series 1 28-105mm f/2.8-3.8, a manual-focus zoom that to this day is a staple in her Olympus OM system. It offers a practical focal length range, excellent performance, and nearly indestructible construction in a barrel just over 41/2" long and weighing about 22 oz. Therefore, while I was impressed to see that Vivitar engineers packed the new Series 1 70-300mm f/4.5-5.6 AF Zoom into a 6" package weighing under 20 oz, I was not at all surprised.
Once I started shooting with this lens, available in Nikon AF-D, Minolta AF, and Canon AF mounts, I found it to be a far more versatile "people" focal length than I had originally thought. The 70mm end is nice for full-length and three-quarter shots, and while the 300mm position is a little too long for head-and-shoulder work in the studio, it's perfect for those outdoor applications where you simply can't move in closer to your subject. While every photographer has his or her favorite spot on any zoom, I found myself working most of the time at or near, you guessed it, 300mm!
The exceptionally lightweight lens let me handhold the Canon EOS Rebel 2000 test camera at shutter speeds I wouldn't have dreamed of in most situations and, when the light level really fell, brace myself only with a small monopod. Coming from the Goliath Tripod School and being far from anatomically steady, it was very liberating to wander about with a devil-may-care attitude and still get very sharp images on ISO 100 film. Although the Series 1 70-300mm uses polycarbonate extensively in its barrel and mount, the design and construction are well executed. And, having dropped the unmounted lens a good 8', watch it bounce off the edge of a bleacher and still show no change in performance (which is not part of our usual test procedure), I have no doubt about its ruggedness.
This Vivitar offering produced excellent sharpness throughout its entire range, performed well at maximum aperture, and yielded image contrast that was remarkably high for such a moderately priced lens. The AF mechanism was fast, smooth, quiet and, most important, dead-on accurate. Nice touches include a reversible bayonet lens hood; finger-friendly rubber zoom and manual focus grips; and infrared focusing index marks for the 70mm, 100mm, 135mm, and 200mm marked focal length points. My only gripe is that the barrel "creeps" to 300mm with the camera slung over the shoulder, but that niggling point aside, the Series 1 70-300mm is a quality medium-telephoto that will not break the bank or back of any demanding user.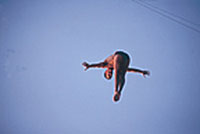 The light was falling nearly as fast as this high diver, but I captured him at 300mm, wide-open. This sharp 1/30 sec exposure was made possible by the featherweight Series 1 design, a monopod, and lots of luck.
I also tested the Series 1 840 AF Zoom Flash with the Canon EOS Rebel and was equally impressed. Powered by four AA alkaline or NiCd batteries, this shoe-mount flash surpasses previous models by automatically adjusting the position of the flash reflector within the head to produce the exact angle of illumination needed as the camera lens is zoomed. In addition to evenly distributing the light for short focal lengths, the motorized head concentrates it as needed for normal and longer lenses, thereby not wasting any of the flash power. The 840 AF covers a range of 28-80mm and is available in dedicated AF versions for Canon, Nikon, Minolta, and Pentax.
The controls consist simply of a Power Switch, Ready Light, and Test Button. With the Power Switch set to TTL, the unit works directly with the Program mode circuitry of the camera for trouble-free snapshots. MH (Manual High) and ML (Manual Low) power options override the TTL system and allow manual exposure control at full or 1/16 power output, respectively. The automatic zoom feature is retained in both manual settings, with ML being especially useful for close-ups. In addition to its normal function, the Ready Light serves as an exposure confirmation by blinking after each TTL exposure if the film received sufficient light.
The head tilts upward to 45°, 60°, 75°, 90°, and 125° bounce positions, the last facing it backward by 45°. Built-in circuitry turns the unit off if no activity is sensed within 11/2 minutes, but lightly touching the camera shutter release or pressing the Test Button resumes normal operation. A large, screw-action lock wheel holds the dedicated foot firmly in the camera accessory shoe, yet loosens without obscenities or a pair of pliers. The red AF Auxiliary Light, effective to about 20', activates as needed in low-light situations. While recycling time depends upon many factors, the Auto-Thyristor controlled 840 AF is as fast as most models of comparable power. An optional Wide Panel snaps over the head for even illumination with lenses as short as 18mm.
For more information, contact Vivitar Corporation, 1280 Rancho Conejo Blvd., Newbury Park, CA 91320; (805) 498-7008; fax: (805) 498-5086; www.vivitar.com.
Technical Specifications

Vivitar Series 1 70-300mm AF Zoom Lens
Lens Type: Multi-coated 70-300mm f/4.5-5.6 autofocus zoom
Available Mounts: Canon AF, Minolta AF, Nikon AF-D
Aperture Range: f/4.5-f/22 at 70mm; f/5.6-f/28 at 300mm
Optical Construction: 12 elements, 9 groups
Minimum Focusing Distance: 3.3' (1.0 meter)
Minimum Length (From Camera Lens Mount, At Infinity): 5.3"
Maximum Length (From Camera Lens Mount, At Infinity): 7.5"
Maximum Barrel Diameter: 2.7"
Weight: Approximately 20 oz, depending upon camera mount
Accessory Size: 62mm
Vivitar Lens Case Size: Large
Manufacturer's Suggested Price: $349.95
Vivitar Series 1 840 AF Zoom Flash
Guide Number: 120 (ISO 100/feet) at 50mm
Auto Flash Range: 2.3-94' at 50mm
Power Zoom Flash Head Positions: 28mm, 35mm, 50mm, 70mm, 80mm
Vertical Bounce: 0, 45°, 60°, 75°, 90°, and 125°
Flash Modes: TTL, Manual Low, Manual High
Power Source: Four AA alkaline or NiCd batteries
Dimensions: 4.5x3x4.2"
Weight: 9.9 oz, without batteries
Compatible With: Canon AF, Nikon AF, Minolta AF, Pentax AF bodies
Manufacturer's Suggested Price: $249.95

FEATURED VIDEO