Visual Ideas Combined With Technology; It Takes A Wiki
"Even he, to whom most things that most people would think were pretty smart were pretty dumb, thought it was pretty smart."--Douglas Adams
Do you wiki? A wiki is a special kind of website that lets users collectively add and edit content. (Wiki wiki means rapidly in Hawaiian.) If you want to create your own online wiki take a look at Wetpaint (www.wetpaint.com) which combines the best of wikis, blogs, and forums, letting you produce a blank digital canvas where everyone gets to have their own brush to connect with people who are passionate about the same subject. If you want to set up a website about collecting model fire trucks, Wetpaint will help you do just that. Creating a site or contributing content is fast and intuitive and you don't have to learn anything new. You can see how easy it is in The Wiki Sandbox or just do it. It's free. I created a wiki called "Digital IR Photography" (http://irphotography.wetpaint.com) and Shutterbug readers interested in this topic are invited to visit and contribute.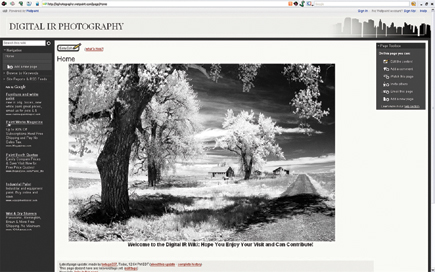 © 2007, Joe Farace, All Rights Reserved
www.noexpectations.com.au/
Kip Cole's site is a photographic blog but it's his images that really count. Cole is an Australian whose job responsibilities include Asia so while traveling for business he uses spare moments or weekends for shooting. "The greatest gratification comes from meeting people and cultures," he tells me, "but that's nearly matched by the opportunity of trying to capture what I see and feel with the camera." Gallery headings include Australia, Asia, World, Elements, and Events, or just scroll down the blog as I did and explore his images.

While an amateur, Cole's photographs are clearly professional in quality. His shots of New York City show familiar landmarks such as the Flatiron Building, Empire State Building, and Brooklyn Bridge in a fresh light and the blog format lets him include technical details about how each image was captured. But it's his trips to more exotic locales that will hold the most interest for Shutterbug's American readers.

Cole likes night photography and his 15-second exposure of the Singapore Esplanade adds drama to a scene that would be lost in the daytime. Switching to monochrome to capture misty, dare I say, romantic images of Halong Bay in Vietnam that while made in 2007 could have been photographed in 1907. Similarly, his expressive black and white images of tigers, locals, and bridges at night (Cole has a thing for bridges) in Kanchanaburi, Thailand, add an insightful dimension to what could easily be just another tourist's pictures. There are lots more images on the site. Just keep scrolling down. Nudity advisory: Cole's photography is eclectic and some of his studio sessions include tasteful black and white nude images. He provides a warning on the site but if this sort of thing bothers you, don't look.
© 2007, Kip Cole, All Rights Reserved
www.arthermanphotography.com
Art Herman is an old school photographer who works in black and white film and occasionally with digital imaging. His site is old school, too; no Flash, no video clips, just thoughtful, well-crafted photographs that reflect inspirations from the work of Berenice Abbott and Ansel Adams. The "Moods" gallery is mostly monochrome but the lone color photograph "Contemplation" steals the show because although it, too, is mostly monochrome a red umbrella adds a dash of "essence" that makes the picture go BAM!

The "Nature's Beauty" gallery most noticeably shows the Adams influence and contains small thumbnails on the left that when clicked open into larger images (but when horizontal not so much). Hey Herman, bigger versions of your photographs, especially "Blown in the Wind," would be awesome. After all the subtle imagery, clicking on the "Stone and Steel in Living Color" gallery contains a literal explosion of color. Here Herman shows his forté unencumbered by the creative baggage of other photographers, displaying a personal vision that is visually stimulating and just plain fun. The biggest compliment I can pay any photographer is to say, "I wish I had made that photograph," and that's how I feel about all of the images in this collection. In "Playgrounds, Parks, & Schoolyard I and II," Herman continues playing with color, creating more formal Mondrian-like images. I loved 'em.
© 2007, Art Herman Photography, All Rights Reserved
www.photomerchant.com
In past issues when I mentioned how hard it was to find amateur photographers' websites, Cynthia Lee Katona e-mailed "that's because most of us are posing as professionals." Pro, schmo, it doesn't make any difference to me, and Lee Katona's dynamic photography proves my point but her site design makes you work to see it. Tiny thumbnails, when clicked, bring up small photographs in separate windows but oh, what photos. One of her images, "Man, Dog, Pacific," appeared in the "Picture This!" section of the October 2003 Shutterbug.

The Portfolio section of her understated site contains an eclectic collection where urban landscapes such as "SF Breakdancer" find themselves juxtaposed with nature scenes such as "Saguaro." Portfolio depicts a three-by-two grid of thumbnails where photographs depicting kinky goings on such as "High Stepping" (nudity advisory) sit above an image called "Rural America," featuring a horse and a barn straight out of Normal Rockwell. I don't think I've found a website that showcases images from San Francisco's Folsom Street Fair alongside photographs of a night baseball game. If you're game for a collection of colorful images of the usual and the unusual, you'll want to check it out.
© 2007, Cynthia Lee Katona, All Rights Reserved
www.computerphotoarts.com
Proving that you don't need a high-paid designer to produce an attractive website, Rick McIntyre's site was created from a template that cost $200. When asked about the site design, McIntyre told me he has "absolutely no experience of that kind whatsoever." While most of the galleries are dedicated to manipulated imagery, his current exhibit, as I write this, is "straight" travel shots of Africa. But you don't go to a pancake house to get steak, so head on over to the eight collections of cleverly tweaked and massaged photographs. I really enjoyed the colorful images found in "Structures," although McIntyre's large watermark does detract from its complete enjoyment.

The "Botanicals" collection serves up some tasty images, including the mellifluously named "Picture 2-6" whose retina-searing reds leap off the screen. "Colorscapes" contains cleverly composed and rendered examples of McIntyre's trademark posterization style with the windmill a.k.a. "Picture 3-7," deserving of your careful attention for its kaleidoscopic interpretation. Similarly, the aesthetically abandoned vehicle captured and displayed in "Artifacts" is worth a look. The "Scenics" collection bursts with color with so many interesting images, all of which would make wonderful large wall prints. There's lots to see here, so click on an image, select the "Slideshow" option, and sit back and enjoy the entire collection!
© 2007, TMGI, All Rights Reserved