Video Killed The Radio Star; From Camcorders To SLRs, It's Only Just Begun…
"In my mind and in my car, we can't rewind we've gone too far."—The Buggles
At a friend's urging I added a video clip to JoeFaraceBlogs.com and even though the clip was produced with iMovie and I used iWeb to produce the blog that's hosted by MobileMe (formerly .Mac), the video clip would not play on Apple's iPhone or iPod touch. None of the Apple store geniuses could explain why, "It just is." On the other hand, they told me videos hosted by YouTube (www.youtube.com) should work and since iMovie lets you export clips directly to YouTube I gave it a try, only to get an "error at YouTube" message. Digging into iMovie export options, I created a "mobile" version of the video clip and as a test embedded it into my Blog en Español, only to get an error message and then the blog wouldn't display anything, even after deleting the clip. So you need to use YouTube to make Internet video visible on an iPhone but YouTube wouldn't accept my iMovie file, and creating a "mobile" file and placing it in iWeb destroyed my blog. So I was further behind the eight ball than when I started and now my Spanish language blog was unusable. There is a lot to like about video on the web but I'm not sure what it is.

P.S. I finally got my Spanish language blog back but had to re-upload (start counting megabytes, Comcast!) all of the content from all three of my blogs to MobileMe and let the service reconstruct the sites from el scratcho.

P.P.S. Check out The Wrong Trousers version of that Buggles tune on YouTube.
© 2008, Joe Farace, All Rights Reserved
www.vimeo.com/1185346
With all the hullabaloo surrounding the ability to shoot video with Canon's EOS 5D Mark II or Nikon's D90 D-SLRs, take a look at a video clip called "Light-Paint Piano Player" to see what Ryan Cashman created using an EOS Digital Rebel and classic light-painting techniques. I'm pretty sure he knows you can't shoot video clips with this camera, but what is video other than a series of still images running at 30 frames per second? Film director Tim Burton knew this, which is why his stop-motion animated feature film Corpse Bride was shot using a Canon EOS-1D Mark II, not a motion picture camera modified for single frame capture—which is the way it's been done since 1925 by pioneers such as Willis O'Brien. Not only did Cashman shoot all of the frames in the video clip, he also composed the original music.

The "movie" was shot at night with what Cashman calls the lovely "I-5" and San Diego skyline in the background with moving traffic adding yet another element of motion to the clip. All of the frames in the video were photographed with 20-30 second exposure times and he used a small green LED keychain light to draw the lighting effects on each frame. Once all the positions were photographed the frames were strung together and synchronized to his music using Adobe's After Effects video software. This delightful video clip shows what somebody with unbridled talent, such as Cashman, can do with a D-SLR that's not designed for video capture.
© 2008, Ryan Cashman, All Rights Reserved
www.larryshapirophoto.com
Larry Shapiro is a bromoil printer. Making a bromoil starts with a normally developed silver bromide print that is then chemically bleached and hardened. The gelatin containing the darkest tones is hardened the most while highlights remain absorbent to water. This print can then be inked like an oil print. If it sounds simple it is not and involves gobs of technical skill and artistic talent, something Shapiro has in abundance. His website contains 10 galleries, featuring oil prints, bromoil, and bromoil transfers. Be sure to click "The Process" at the top of the site to get an inside look at the technical details involved, but process is nothing without vision and Shapiro delivers with a style that is wonderfully nostalgic one moment and delightfully contemporary the next.

In looking at images in his "Night" gallery, I was surprised to see some in color before I remembered this technique was used to produce color prints into the 1930s before color film was developed. I enjoyed his architectural images, whose aesthetics combine the elegant formality of the platinum prints of Frederick Evans with the urban whimsy of Atget. As someone who likes to photograph trees, I was blown away by the images in Shapiro's "Trees of Life Series" gallery that are a perfect synthesis of technique and visual inventiveness. Similarly, "Figures" (nudity advisory) is a wonderful mixture of new and old school, while "Flowers" takes a timeworn subject matter and mixes it with vintage photographic technique to produce something that's fresh yet traditional at the same time. In my book Creative Digital Monochrome Effects, I show how to produce a bromoil effect in the digital darkroom, but nothing I know how to do digitally compares to the original in its lightness, texture, and delicacy. It is an art, and Shapiro is one of the medium's finest artists.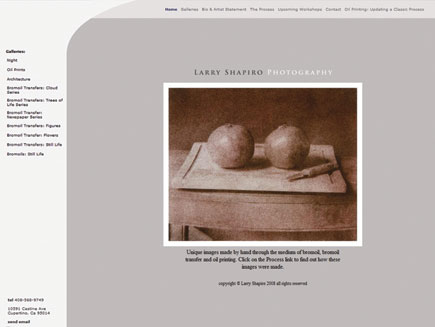 © 2008, Larry Shapiro, All Rights Reserved

LATEST VIDEO

SPONSORED VIDEO
Testing Tamron's SP 150-60mm G2 lens while capturing birds and alligators in Apalachicola, Florida.