Tripods, Heads, And Monopods; Lightweight Materials Lead The Way
Perhaps the most exciting news in tripods is the first four-legged support. Yes, you read that correctly. In theory, it's a more stable approach—just think of the pyramids. Aside from this innovation, there is a growing trend toward lighter-weight metals in tripods big and small—and that is certainly welcome. While carbon fiber, as a lightweight material, still has the advantage of better vibration absorption than metal, you do pay a hefty price. But that price doesn't seem to be stemming the tide of these bantamweights, which have entered the tripod arena aggressively.
I have to begin with this item, only because it's not a tripod, but an accessory that you won't want to be without. Interfit now carries the Seculine Action Level (under $40 without sound; under $50 with sound) and the two-way Action Level Cross. The Action Level is an electronic spirit level that operates by way of LED indicators, instead of a floating bubble. You can adjust sensitivity and it mounts in the camera's hot shoe. It weighs next to nothing and operates up to 30 hours on one battery. A dummy slave accessory for the two-way level lets you monitor status when the camera is inconveniently positioned, such as too high up. That said, here's the latest on camera support and steadying devices:
Acratech's new GP Ballhead ($399), like other ball heads from this company, weighs less than 1 lb. It works as a gimbal head with lenses up to 400mm f/4. This head features a quick-release clamp, fully adjustable tension control, and laser-engraved dual-degree markings. It fits all 1⁄4" and 3⁄8" thread tripods, is compatible with various quick-release plates, and boasts a satin black anodized finish, long-lasting stainless steel hardware, and a solid precision feel. And the head, which supports loads to 25 lbs, will not stray from position, owing to positive-locking knobs.
Cullmann (RTS Inc.) showcased the new Magnesit and Nanomax series, with a total of 14 products. The use of high-strength magnesium die-cast parts and carbon-tripod legs in the under 5 lb Magnesit 532C ($375 street) guarantees stability under a nearly 20-lb load. A newly developed tripod leg clamping assures further stability. Ergonomically-designed push buttons give you control over leg angle adjustments, down to nearly 12" for ground-level exposures. These tripods are equipped with adjustable steel spikes, a separable center strut, as well as a foam padding on the upper tripod legs. The foam-padded anodized aluminum Nanomax tripods encompass three models and come with a three-way head. The new three-way heads on the Nanomax 250 ($58) and 260 ($74) are made of die-cast aluminum and support a nearly 7-lb load and are equipped with a quick coupling system.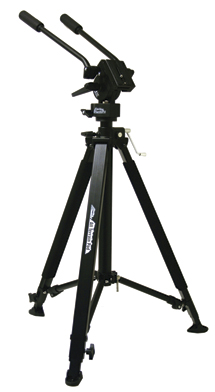 Davis & Sanford ATPG with FM18 Head
Davis & Sanford (The Tiffen Company) has new All Terrain Pod (ATP) and All Terrain Geared Pod (ATPG) tripods for the outdoor enthusiast who expects to confront all kinds of conditions. They feature weather-resistant aluminum and stainless steel construction. Pivoting flat/pointed feet adjust to any terrain. Both the ATP and ATPG have a black anodized finish and two section legs, with the ATP sporting an easy glide reversible centerpost and the ATPG a geared centerpost. Both the ATP and ATPG have an adjustable centerpost brace for low-level shooting or shooting at a maximum height of 66". The ATP comes with the new FX10 three-way head, which has a 12-lb capacity. The ATPG comes with the FM18 fluid head, which has an 18-lb capacity. A tripod bag is included. The ATP/FX10 combo retails for $199; $244 for the ATPG with FM18 head. A kit will also be available that will include the ATP with FX10 head and the TrailTrekker Monopod with shock absorber for $229.
| | |
| --- | --- |
| | |
| | |
Dot Line's STX-PRO656 ($119 street) has a maximum tube diameter of 28mm, quick release with safety pin, multi-angle locking legs, and a maximum load capacity of 8.8 lbs. Weighing 4.5 lbs, the three-section tripod comes with a carrying case and closes down to 28", reaching a maximum height of 64". Other features include spirit level, reversible center column, three-way pan-and-tilt head, and compass. The four-section Model STX-PRO62 ($99) also comes with a case, supports 5.5 lbs, reaches 65", and weighs just over 3 lbs. It comes with a ball head and compass.
Giottos MG Classic Magnesium/Carbon Fiber Tripod

LATEST VIDEO

SPONSORED VIDEO