Tripods, Heads, And Monopods; Lightweight Materials Lead The Way Page 2
Giottos (HP Marketing Corp.) aims at lighter weight with the MG Classic Magnesium/Carbon Fiber Tripods (prices start at $335), with twist leg locks, in two models: the MG8240B (four sections, folds down to 18.5", maximum height of 54.3", load capacity of 6.6 lbs, and weighing under 2 lbs) and the slightly larger and heavier MG8250B (with an 11-lb load capacity). Each tripod features magnesium castings and carbon-fiber leg tubes, multi-angle legs, and classic lift center column with safety lock. Adding to their outdoor-worthiness are water- and dust-resistant leg locks. Also new are the MTL Classic and Professional Lever Lock Tripods with flip leg locks. These include aluminum and carbon-fiber models, from just over 2 lbs to under 5.5 lbs. The pro models feature a multifunctional center column that converts to a universal three-way head. This center column has 180? vertical and 360? horizontal rotation.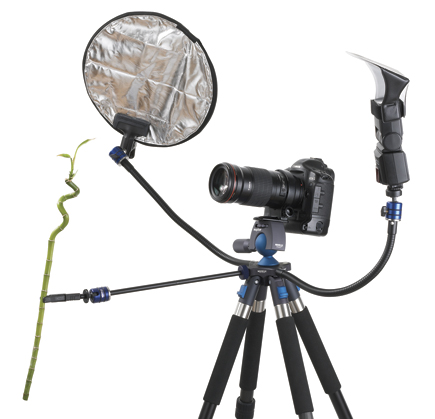 Novoflex (HP Marketing Corp.) has redefined the tripod with the QuadroPod, the world's first four-legged tripod. Modular construction leads to a veritable cornucopia of leg variations. Aluminum or carbon-fiber legs with three or four sections are available. Working heights from 2.8" up to 70.9" are possible with the current leg types. Moreover, additional leg types are under development, enabling working heights up to 91". In addition, the different leg versions can be combined with each other and supplemented with clips/clamps, suction, and screw-in accessories.
The QuadroPod is currently available in three versions (prices TBA): without center column; with center column; and as a variable model with adjustable leg support angles. Thanks to the fourth leg, carrying capacity reaches an amazing 110 lbs. The fourth leg may provide an added advantage over uneven terrain. Whether or not this added leg would do away with the need for an extra leg under an ultra-long fast lens is to be seen. Since the legs can be separated from the tripod column, the individual parts can be stowed conveniently for travel and hiking, and lighter-weight legs can be carried for long treks on foot. Additionally, the tripod column has three tapped holes to mount various accessories.
| | |
| --- | --- |
| | |
| | |
SLIK (THK Photo Products) has the new PRO 340 BH ($149 street), which stands up to 58" tall and folds down to 21", and weighs a mere 2.5 lbs. This four leg-section tripod comes with speed release leg locks to facilitate set up/collapse and uses aluminum-magnesium-titanium alloy in the leg tubes for lighter weight while adding rigidity, making it a cost-effective alternative to carbon fiber. The tripod features a two-section center column, facilitating ground-level use when the multi-angle leg locks are engaged and the legs splayed out. Another nice feature is the new SBH-200DQ all-metal ball head with cork-surface quick-release plate that comes with it (dual bubble levels and 6.5-lb capacity). Also from SLIK is the SPRINT PRO-II-series travel tripod ($89). At under 2 lbs, it features padded leg wraps, speed-release leg locks, quick-release ball head, and is supplied with a carrying bag. Fully extended this tripod reaches 65" and folds down to 19". Other features are similar to the PRO 340 BH, with multi-angle leg locks and two-piece center column, except that this is aluminum and handles up to 4.5 lbs. There is also a pricier twist-lock version of this in carbon fiber (PRO 614: $260), for heavier loads to 6 lbs and weighing under 2 lbs. Finally, we have the SLIK S-POLE II all-aluminum monopod ($69). The camera mounts directly to the monopod or to an optional ball head. When inverted, it can be accessorized with a set of legs to make it freestanding.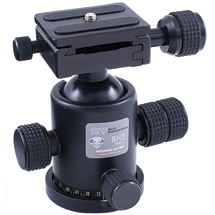 Smith-Victor Model BH2 Ball Head
Smith-Victor (Promark International) has a slew of new camera support products this year, largely in the Black Diamond line, with carbon-fiber tripods and monopods, along with ball heads. Model CF1 Black Diamond tripod ($169 street) reaches to almost 54" when fully extended on its four-section, multi-angle legs (folding down to just over 19"). Rubber twist grips lock and unlock the legs, which have retractable spikes. The rapid sliding center column is reversible, and secures with a twist-lock winged collar. A short, 3" column is provided for low-level photography, and the column accepts 3⁄8" and 1⁄4" threaded heads. Weight is just over 2 lbs for this tripod that will hold loads to 6 lbs. A padded, heavyweight nylon zippered carrying bag is included. While some models in this series come with a ball head, you can add the new Model BH2 Black Diamond ball head ($39) on your own. When matched with the right tripod, it will support loads to 18 lbs. It features separate lock and tension knobs and a quick-release plate. The base diameter is just over 2" and the head adds almost 4" to the maximum tripod extension. It weighs 14 oz.
Sunpak Pistol Grip Tripod
While Sunpak (ToCAD America) made several announcements at photokina (see the January 2009 issue), among them several new PRO X Series carbon-fiber tripods, what caught my eye most recently was the Pistol Grip Tripod ($424 MSRP). This carbon-fiber design features the removable Pistol Grip QR (Quick-Release) ball head that lets you adjust camera angle practically single-handedly. It features padded legs and reversible 1⁄4-20/3⁄8" threaded screw, a second short center column for low-level photography, retractable leg spikes, and a built-in bubble level. Weighing in at under 4 lbs (with head), this tripod can hold loads in excess of 6 lbs. Maximum height without center column is 52.5", adding another 12" with fully extended column (actually, for utmost stability, the center column should never be fully extended). Minimum height is 15" and it collapses down to 26.5" with its three section legs (leg diameter .87"). The tripod uses flip-lever locks for speedy set up. And it comes with a padded case. Other interesting camera supports from Sunpak include the tri-monopods, which are tripods that readily convert to a monopod.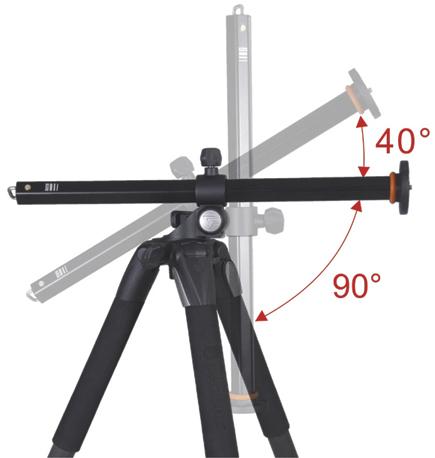 Uni-Loc tripods are now distributed by Veach Company, the company that also brings you Jones flash brackets. Uni-Loc tripods follow the same principle as Benbo, with a cantilevered center column for variable angles and reverse leg section tubing that allows the tripod to be partially immersed in water without ill effect. Prices start at $206 MSRP.
Vanguard's Alta Pro tripod features a cantilevered center column post that provides utmost flexibility in camera angle and positioning. An Instant Swivel Stop-N-Lock System lets you securely reposition the central column quickly, in one simple movement. Additional features include multi-angle leg positioning, which allows practically ground-hugging photography. The hexagonal center column is said to provide added stability. And the tripod has nonslip, spiked rubber feet. Alta Pro is available in three models, with the carbon-fiber Alta Pro 283CT ($349 street) supporting loads to 17.6 lbs, with three leg sections that extend to 66". Other models are made of aluminum alloy. Also new is the Alta+ series, with tripods as light as 2 lbs and as compact as 13.5", with vari-angle legs. These are available in carbon-fiber and aluminum versions. Of course, you'd want to top off your new Alta tripod with just the right head, and that may be one of the new SBH series of lightweight magnesium alloy-constructed ball heads.


LATEST VIDEO

SPONSORED VIDEO