Tripod Add-ons; In The Field, Accessories Can Make A Difference Page 2
Being a long lens enthusiast, I was interested in the Really Right Stuff Long Lens Support package. For those who may have a super telephoto without a vibration dampening system, this may help. Supporting the lens both on the rotating collar and up front behind the objective lens makes sense and should improve your photos. Using a "Y" support that is adjustable, it can accommodate most any long lens.

Over the years, one of my favorite ball heads has been the Studioball from Graf. In the field, its brawny dimensions make it a natural for larger D-SLR bodies and longer lenses if time does not permit me to switch to a gimbal head. The Studioball has an overall height of 6", a diameter of 31⁄2", a main adjustment knob measuring 21⁄4" across, and a front-end locking device that keeps your camera from sliding off if you did not secure it properly.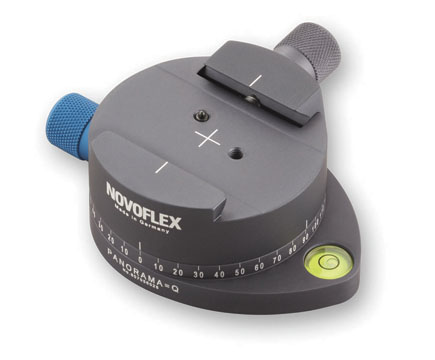 Novoflex PANORAMA=Q plate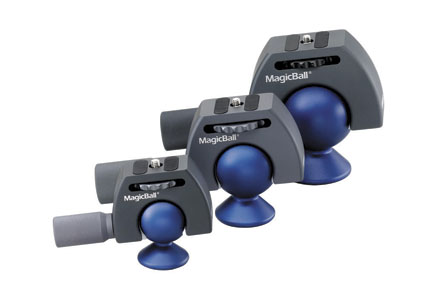 Novoflex MagicBall series
Kirk is widely known for its wide range of accessories and I'm partial to their "L" brackets for all of my Nikon D-SLR cameras. They are all well made, fit perfectly, and available for a wide range of cameras. Their BH-1 ball head is part of my gear and when I have to travel light and small, their King Cobra bracket is the perfect support for my longer lenses and attaches easily to the top of any pro-system tripod.

Combining Novoflex's PANORAMA=Q plate with the VR system assures the photographer that turning the camera and lens around the nodal point will make the perfect panoramic photo. The plate assures a good balance in adjustments while the VR system adds versatility to the whole shooting process. For ball heads, you find the usual configurations from Novoflex, but the high-tech-looking MagicBall seems to capture attention no matter where it goes. It provides a range of 120? in any plane, a large handle facilitates movement and security, and a knurled wheel makes camera mounting easy. For the long lens folks out there, their Forked Joint makes for an interesting rest when using such a lens without attaching or detaching it from a gimbal mount.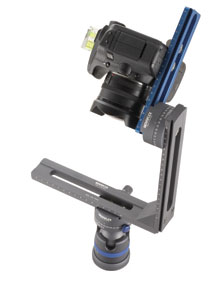 Novoflex PANORAMA VR system with Q plate
Novoflex GAKO Forked Joint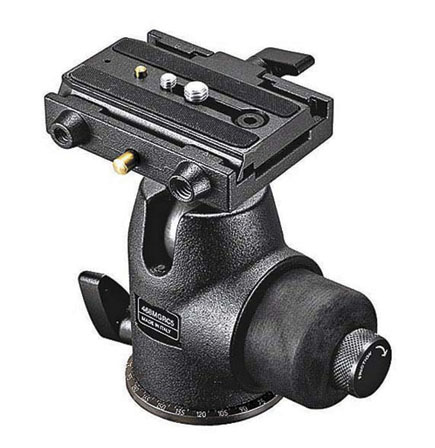 Manfrotto Hydrostatic ball head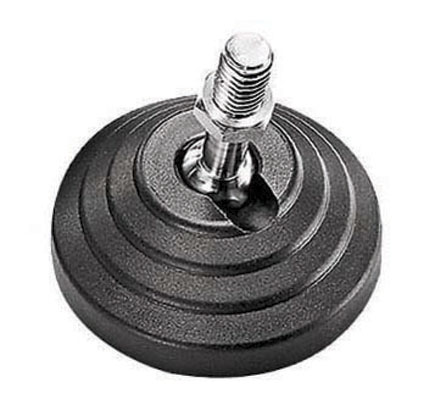 Gitzo "Big Foot" leg attachment
The new Manfrotto Hydrostatic ball head uses "the fundamental criteria of the hydraulic laws" wherein locking the camera in a very secure position gives the photographer the feeling that "it has become one solid part of the head."

Gitzo, on the other hand, has what they call the "Big Foot" that attaches to the bottom of each leg to keep their rigs from sinking into just about any soft surface. They have a clever tripod strap that has been designed for their tripods with an easy on, easy off feature that can be left on the tripod during shooting if desired. Finally, if you don't have a leveling bubble on your tripod, they make one that simply fits over the tripod column, fitting flush with the top of the tripod platform.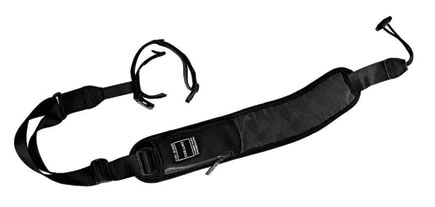 While this is not a complete roundup on what's available, it is a good starting point on products that you might never have thought existed. Running through the websites here, it's easy to find tripod accessories that suit your particular needs or requirements for perhaps a specialized theme or a project you have in mind.
Sources
• Acratech Inc.
www.acratech.net

• Bogen Imaging, Inc.
(Gitzo, Manfrotto)
www.bogenimaging.us

• HP Marketing Corp.
(Giottos, Novoflex)
www.hpmarketingcorp.com

• Kirk Enterprises, Inc.
www.kirkphoto.com

• OP/TECH USA
www.optechusa.com

• Really Right Stuff
www.reallyrightstuff.com

• R.T.S. Inc. (Graf)
www.rtsphoto.com

• Wimberley, Inc.
www.tripodhead.com
Stan Trzoniec is a frequent contributor to "Shutterbug." His two new books "Autumn in the Country" and "Digital Outdoor Photography" are available through his www.outdoorphotographics.com website. He can be reached via e-mail at: fotoclass@aol.com.

LATEST VIDEO