A Trio Of Tamron Zooms; SP AF17-50mm F/2.8 XR Di II LD Aspherical [IF], AF28-200mm F/3.8-5.6 XR Di Aspherical [IF] Macro, And AF70-300mm F/4-5.6 Di LD Macro 1:2
Because of the increasing popularity of digital SLR cameras, Tamron has been upgrading their line of lenses to the "Digitally integrated" (Di) standard, employing methods discussed in our Technology sidebar. Some of the new products (Di II series) were designed exclusively for digital cameras with the typical APS-size sensor, while others (Di) are multi-platform lenses. The latter are fully compatible with all types of 35mm and digital SLR cameras in the pertinent mounts. Recently, I had an opportunity of testing both types of new Tamron lenses, a fast Di II "standard" zoom and two entry-level telephoto Di zooms, while shooting stock photos with a Canon EOS Digital Rebel XT.
SP AF17-50mm

AF28-200mm

AF70-300mm
Tamron's 17-50mm Di II Zoom
This 17-50mm f/2.8 Di II model is an ideal alternative to the inexpensive 18-55mm or 18-70mm f/3.5-5.6 kit lenses. While it's larger, heavier, and pricier, the lens offers several benefits for the serious digital photographer. These include a superior optical formula with three Extra Refractive (XR) glass elements, one piece of Low Dispersion glass plus two aspherical elements.

That combination was intended to control all types of optical aberrations for superior edge-to-edge sharpness while the aspherical elements also minimize barrel distortion (the bowing outward of lines near the edge of the frame). Other aspects of interest include more rugged construction, internal focusing, and a much wider, constant f/2.8 maximum aperture. The latter is a definite advantage in low light, particularly at longer zoom settings for faster shutter speeds and more reliable AF performance thanks to the extra light that's transmitted to the camera.

A nicely finished (digital only) lens with a wide zoom ring but narrow focus ring, this one includes highly visible distance and focal length scales. The internal barrel extends 1" when zoomed to the 50mm position and the large, very effective hood also adds to the overall length. This lens feels solid and its mechanisms are smooth and well damped, with enough friction for convenient operation. A zoom lock mechanism is available to prevent "zoom creep" while it's pointed upward or downward; frankly, this was not necessary since the zoom action is adequately stiff.

Although the focus ring rotates during AF operation, response is fast but accompanied by a high-pitched whine. Thanks to the Internal Focusing mechanism, the barrel does not extend when focusing and the front element does not rotate; hence, the effect of a polarizing filter does not shift.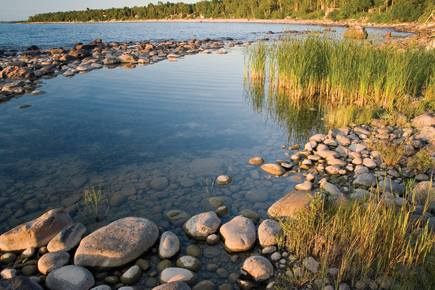 The 17-50mm f/2.8 Di II lens is quite affordable and lightweight compared to similar pro designated zooms but it's very competitive in terms of superb image quality. Adequately portable to be a fine choice for vacation outings it's just as suitable for more serious photography. (Canon EOS Digital Rebel XT at a +1 in camera sharpening level; Hoya super multi-coated polarizer.)
All Photos © 2006, Peter K. Burian, All Rights Reserved
Evaluation: The AF17-50mm f/2.8 zoom produced numerous excellent images at all focal lengths with high sharpness, remarkable resolution of intricate detail, and snappy contrast. Even at f/2.8, central sharpness is very high at all focal lengths, a sign of superior design. For optimal edge sharpness, it's worth stopping down to f/4 (or smaller apertures), a tactic that also minimizes light falloff at the edges of the frame. Still, there's no compelling need to use mid-size apertures as with many other zooms.

On bright sunny days, flare was very well controlled, a real benefit in extreme sidelighting. While some slight barrel distortion is visible in images made at short focal lengths, it's slight, relevant only for serious architectural photographers. Overall, I found this zoom even better--and more versatile--than Tamron's highly rated 17-35mm f/2.8-4 Di model. My best digital images made for 12x18" inkjet prints of exhibition quality. In my estimation, the 17-50mm f/2.8 Di II zoom would be an ideal choice for any serious digital photographer who wants to upgrade from a kit lens without paying the higher price for a "pro" designated lens.
Tamron's 28-200mm Di Zoom
Ever since 1992, a 28-200mm zoom has been one of the two best-selling models in the Tamron line. The latest version is the first to bear the Di designation, so it's the most suitable for digital capture. Tamron also makes an 18-200mm f/3.5-6.3 Di II (APS-C sensor only) zoom, with more high-grade optical elements and shorter focal lengths; that lens would be preferable for digital SLR owners who love wide angle photography. But this 28-200mm Di model has two advantages: although it's equally portable and focuses just as close, it's a multi-platform lens and it sells for about $100 less.

Similar to the 17-50mm zoom in style, features, and mechanisms--but missing the zoom lock switch--the 28-200mm lens is actually smaller and lighter. However, when zoomed to 200mm, the internal barrel extends by a full 2". While it does not feel quite as rugged, and features smaller maximum apertures, the longer zoom employs a quieter focus motor. As well, the optical formula is entirely different. It includes three aspherical elements to minimize distortion and to improve edge sharpness at wide angles, as well as an XR element. The latter was intended to correct chromatic aberration at long focal lengths for higher sharpness and better color rendition.
A 28-200mm zoom is certainly versatile when used on a digital SLR camera since it offers focal lengths ranging from moderately wide angle to fairly long telephoto. Because image quality is optimal at the shorter focal lengths, use the 150-200mm range only when necessary. (At 28mm and 200mm focal lengths at f/8; Canon EOS Digital Rebel XT with a +1 in camera sharpening level; Hoya super multi-coated polarizer.)