Travel Photography Accessories; A Shopping List For When You Hit The Road
If there's any secret about making great travel photographs it's that using your camera has to be instinctive because when a photo opportunity presents itself you may only have a few seconds to get a shot. There's no time to think about what menu to use, or how to turn on continuous AF, or what Exposure mode you're in. As the scouts say, you must be prepared, but as important as knowing your camera inside and out is what "stuff" you need to bring along to make sure that the images from the trip are as vivid as your memories.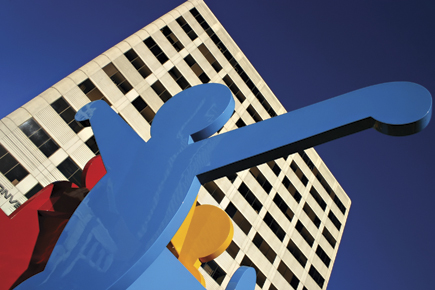 Look for colorful graphic elements when traveling even if you have to "cheat" with the exposure a bit. I photographed this sculpture in San Francisco while attending the Macworld Expo. Camera used was a Canon EOS Digital Rebel with an 18-55mm lens at 18mm. Exposure was 1/500 sec at f/13 with a minus one-stop exposure compensation to saturate the colors.
© 2006, Joe Farace, All Rights Reserved
Being Prepared
Aside from the advice your mom gave you about comfy shoes, a hat, a small umbrella, and, depending on the climate, some sunscreen, don't forget batteries—lots of batteries—including some rechargeable AAs (or whatever your gear requires) and a battery charger. My choice is the Energizer (www.energizer.com) Rechargeable 15-Minute Charger, which can simultaneously recharge from one to four AA or AAA Ni-MH rechargeable batteries in 15 minutes. The charger costs $32.99, and includes a pair of both AA and AAA rechargeable batteries along with a free car adapter.
The Energizer Rechargeable 15-Minute Charger recharges batteries using power from an AC wall outlet or your car using the free car adapter that's included. The charger is packaged with two AA and two AAA 2450 mAh batteries that will hold a charge for up to six months.
Tip: Before plugging anything electronic into any outlet in any foreign country, make sure the current requirements of your charger and that outlet are compatible. Research the power situation at your destination and if you need a converter visit Magellan's (www.magellans.com) to find the right adapter to save you from frying those batteries and maybe the charger, too.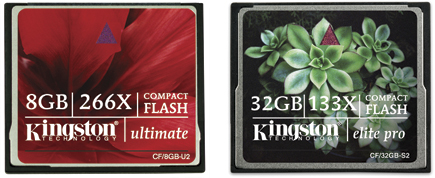 As Popeye may have said about memory cards, "Ya pays yer money and takes yer cherce." In this case Kingston offers big cards and they also sell high-capacity cards. My solution is to take both kinds on a trip; I use the fast cards when I know I'll be shooting raw+JPEG files and I want to shoot fast and larger capacity cards when I don't want to change cards during the day. Tip: The travel photographer's old rule of thumb may have been "one roll per day," but I've updated that to mean one memory card a day. Just select the capacity that fits your shooting style.
Pack lots of memory cards. You may not be able to find a card or even a Wal-Mart in the mountains of Bhutan or may be surprised to learn that the prices in Tokyo's Akihabara are a lot higher than your friendly neighborhood camera store. In addition to bringing enough cards you should ask yourself this important question: more bigger cards or fewer smaller cards? The common wisdom on the smaller capacity cards is that if you lose one you'll also lose fewer images than if you were using a larger capacity card, but the real truth is that if you lose any size card it's going to make you mighty unhappy. My personal solution is to shoot with large-capacity cards, such as Kingston's (www.kingston.com) Elite Pro 32GB, and later use my laptop computer to download all of that day's image files onto an external, portable drive. (Which one? Hang in there, it's coming.)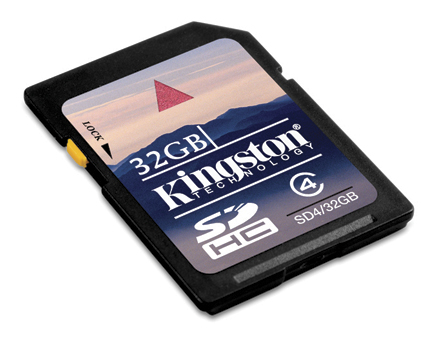 With cameras such as the Nikon D90 that use SD cards and let you capture video, you want to use high-capacity SDHC cards such as Kingston's Class 4 that has a 4MB/sec minimum data transfer rate. Class 6 cards are faster (6MB/sec minimum data transfer rate) but Kingston's maximum capacity for these cards is 8GB.
Speed matters, too, especially if you're capturing video clips or raw+JPEG at the same time. Then you'll need a high capacity, fast card such as Kingston's 266x Ultimate memory cards that have twice the minimum sustained write speed of previous Ultimate cards and offer capacities up to 16GB. Kingston's Ultimate CompactFlash cards include free MediaRECOVER data recovery software that can act as a recovery tool to restore lost, deleted, or corrupted image files if the unimaginable happens.
The other side of image capture is on-the-go storage. Here you have some alternatives: you can copy images to your laptop computer's hard drive then back them up to CD or DVD for safety. One of the problems with most laptops is they usually have relatively small hard drives, so I typically travel with one of Western Digital's (www.wdc.com) My Passport Studio portable drives and download each day's take onto it. That minimizes the whole "lost card" syndrome. These drives are designed for Mac OS or Windows users, weigh 5 oz, and are available in 320GB ($179.99), 400GB ($189.99), and 500GB ($199.99) capacities. The drives can store thousands of photos or video clips and feature a Capacity Gauge that lets you easily see how much space is available. When I get back home, I plug the My Passport drive into my Mac Pro's front panel and copy the files onto its 2.5TB of storage. Because I am a "belt and suspenders kind of guy"—learned it from my dad—I'll burn a CD, DVD, or Blu-ray disc of all the images from the trip that will be kept in cold storage. Just in case.
Equipped with FireWire 800/400 and USB 2.0 interfaces and formatted for the Mac OS (but can easily be reformatted to work on a Windows computer), Western Digital's My Passport Studio external hard drive is part of a family of drives that are essential tools for the traveling photographer who wants to provide a place to store travel images while on the go and easily transfer them to a desktop computer, or network drive, when returning home.
More Essential Gear
A tripod is a useful device that will help you capture sharp images when the light is low. Unless you're a die-hard even the lightest carbon-fiber model doesn't make the best traveling companion—if you prefer to travel light. When traveling by car you might consider a window-clamp tripod, allowing you to shoot photographs from within your vehicle, which is especially useful to prevent you from being eaten by lions while on safari. Even if you're planning on a friendlier road trip such as actually photographing the Bridges of Madison County (www.madisoncounty.com/bridge.html) a window-mounted support is a good idea. The Giottos (www.hpmarketingcorp.com) Professional Heavy Duty All Metal Car Window Mount has a pivoting head, allowing for a full range of motion. The window mount attaches to any car or truck window with a padded clamp and won't scratch the glass yet provides a steady shooting platform. The heavy-duty window mount accommodates most cameras and features a rugged all-metal construction yet the whole megillah costs less than $55.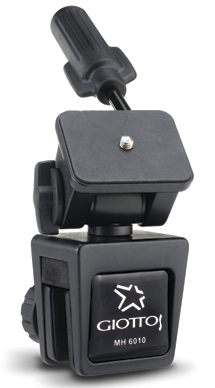 The Giottos Professional Heavy Duty All Metal Car Window Mount is designed for use with all spotting scopes, cameras, camcorders as well as other tripod adaptable accessories. The window mount attaches with a padded clamp but won't scratch the glass on your Range Rover. Smooth pivot and tilt adjustments allow for viewing at any angle.

LATEST VIDEO