Travel & Location Photography: Let's Get Away From It All
I'm spending the next few days working with Tim Fiedler (
www.dracophoto.com
) on the latest incarnation of my how-to blog (
www.joefaraceblogs.com
). This new version features a WordPress (
http://wordpress.org
) structure and theme. WordPress originally started as a free blogging system but soon evolved into a full content management system, including access to thousands of plug-ins, widgets, and themes. In January, my blog was restructured to feature a different topic for each day and since this issue's theme is Travel & Location Photography be sure to check in on Tuesday. There are subjects for the rest of the week, too, including Macro Monday, Landscape Wednesday, Automobile Thursday, and Portrait & Glamour Friday.
www.robertleon.com
Robert Leon's compelling travel photography is showcased in a site that gathers his images into 21 galleries along with two slide shows that highlight his commercial and photojournalistic imagery. There is so much in the galleries to choose from that I'll start with the first gallery and then hit the last. His Cuba gallery includes images of a place where Leon, as a Canadian, has easy access, but it takes more than just access to be able to create photographs that tell such powerful stories. Not content with such images of power and beauty, Leon provides detailed—the best I've seen—caption information.
Leon's image "Old Cuban woman with Statue of Santa Barbara" may contain echoes of James Abbott McNeill Whistler's mother but here it's visualized in a uniquely contemporary Third World setting. In the last gallery, North American Legends, Leon takes us into Edward Curtis territory with stunning monochrome images, such as "Mohawk Elder Mike Phillips or Kanentakeron, Kahnawake," that offer a quiet, yet intense look at native peoples in traditional dress. Some, such as "Mohawk man, Albert Stalk, flying like an eagle," transcend everything you've ever seen depicting Native Americans. As a wonderful contrast to his warm, sensitive images of the people of Cuba, Leon shows a proud, oft-beautiful photograph that blends mythology with modern-day imagery (don't miss "Mohawk girl in cornfield holding sun"). And this is just two galleries—there are 19 more! Leon is an amazingly talented travel photographer who has pushed the genre from "pretty pictures" and beyond photojournalism to create images of unexpected beauty and power. Don't miss a single photograph.
www.darioendara.com
Miami-based Dario Endara's beautifully designed website/blog includes a portfolio that showcases his travel photography and also features other categories, including one titled "Random" that displays dynamic and romantic images made when he was a photographer for Windjammer Barefoot Cruises. His Travel gallery offers 24 (count 'em) collections of images made 'round the world, including a set of wonderful images of the people and cars of Cuba. Exhibiting a style that I would call chic photojournalism, his camera embraces the people with a sympathetic eye as well as a strong sense of design and color. Want to see that same touch in spades? Look no further than In Touch with Nepal, made during a 10-day trip to the country that explodes with color as well as compassionate photographs of the people and passionate images of colorful details.
In Winter in Romania, Endara's images take on a more monochromatic look, with one photograph presented in glorious black and white. And since I knew you would ask, while Endara was visiting Brasov he took a train to the town of Bran where the famous Bran Castle sits and where supposedly Vlad the Impaler (a.k.a. Dracula) once lived. What's nice about all of Endara's Travel collection images is that he also includes text with some wit and sensitivity that enhances the photographs. One clever feature found on some of his images is the ability to "drag to share." Just click on an image and drag it onto icons for Facebook, Twitter, and other social networks to share with fellow photographers.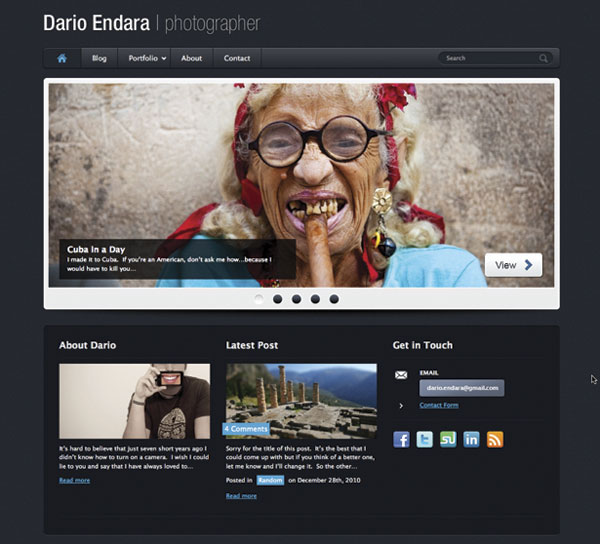 www.marcpagani.com
Marc Pagani's goal in showing his images is "to transport you to a place you have never been or to help you see something you have seen 100 times in a different way." He does this with an intense but personal website that includes an interesting mix of subject matter, from rock climbing to music. Start with his Mountain gallery and you'll be amazed at the places he's photographed. From Vietnam (who knew?) to the French/Swiss/Italian Alps, he focuses his camera on capturing the beauty of the landscape while mixing in photojournalistic touches to produce adventure travel photography at its finest. He even has a few images made on one of Colorado's "14ers," a group of 58 peaks that exceed 14,000 feet of elevation (www.14ers.com). The images in his Travel gallery include photographs made all over the globe from Iceland to Tibet to (keeping a theme going) Cuba.
The Tibet/Nepal collection includes exotic images with a decidedly documentarian approach that gives you a peek into the lives of the people in these remote locations while taking the time to focus on its beauty as well. Whatever you do, don't miss his Mardi Gras images tucked away in the Events/Music gallery where you will be treated to the most colorful, dramatic, and skillful images I've ever seen of this event that totally captures its bacchanalian spirit. Similarly, the Ski/Ride images in the Sport gallery are captivating in their use of color and wide-angle perspective to create spectacular images of skiers and snowboarders. Don't miss any of it.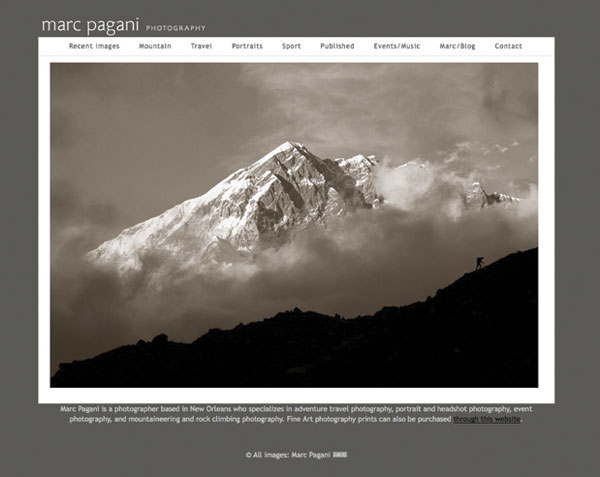 http://blog.kenkaminesky.com/
Ken Kaminesky's travel photography blog smacks you "upside your head" with its stylish design and his off-the-chart imagery. The design is by Nikola Lazarevic (http://webexpedition18.com) and is as much fun to explore as Kaminesky's images are to look at. Since it's a blog, the main photographs I'm looking at right now may be different from when you visit but Kaminesky has kindly provided a "Categories" area in the right-hand sidebar that lets you find images by place name. All you have to do is click "Alberta" and you're whisked away to his photographs of, for example, Lake Louise in Banff National Park. When you get there you're treated to a large but delicate image of the mist-covered lake. You'll also be able to read a mini-essay on how Kaminesky came to create this image.
Scrolling down the same page you will see an image made on the same lake sans mist but with a subtle explosion of color, and if you've ever wondered how an image can be subtle but explode, Kaminesky's photograph shows you how. Washington, DC must be one of the most photographed cities in the world but a series of posts shows that Kaminesky's vision is open to new interpretations, from a snowy Capitol that you've never seen before to his photographs of the Enterprise at the National Air and Space Museum that makes it look more like a starship than the space shuttle it is. This is travel photography and HDR imagery at its best.

FEATURED VIDEO