Top News: Getting Lighter
Tripods are important, but for most people they tend to blur together. The most important news is always that tripods are getting lighter. There are many more companies offering carbon-fiber tripods, increasingly with magnesium-alloy metal work. And while Gitzo's Basalt range gives a more modest savings in weight, it has the same desirable "deadness" (damping) as carbon fiber.

There is also a profusion of new, little tabletop tripods, some with multi-section legs, some in bright colors, some with ball-and-socket heads, some with pan-and-tilt. Sure, they cannot replace "real" tripods--except when "real" tripods are too big, or too heavy, or banned, and then they are a lot more useful than no tripod at all.

In between there are lots of very good, classic-style workhorses. It just comes down to which features you need most to suit your particular applications.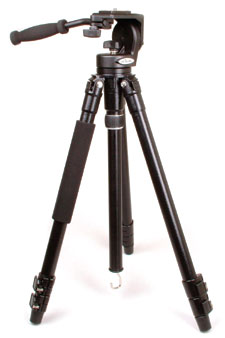 When carbon-fiber tripods were first introduced they were very expensive. They still command a premium, but the price is coming down. For example, I saw one from Smith Victor which retails for just over $200. It has three-section legs, two-position click stop leg splay, a split center column, goes to 65", and weighs 2.1 lbs.

Others showing carbon-fiber tripods were Davis and Sanford; OSN; and Slik. The Davis and Sanford tripod has a magnesium head and a 10-year warranty. OSN's offering includes four sizes with over-center locks and three-position legs. The largest goes to 65" and the center column is die-cast magnesium. From Slik there was a new carbon fiber which has a maximum height of 61.22" and weighs in at just 1.9 lbs. The grandest of them all is the Grand PRO CF 4 from Slik. The maximum height is a staggering 100" and it holds up to 30 lbs at more than 6 ft off the ground, but it does weigh 81/2 lbs.

Slik seems to be catering for really big equipment this year: another biggie is their TELE BALANCE 6 (just under 6 lbs), which is counterbalanced and can hold a maximum load of 22 lbs. The TELE BALANCE 3 (just under 3 lbs) is spring-loaded and can hold up to 15 lbs; and the Field Balance is a spring-loaded, pan-and-tilt head for field scopes.

Slik also miniaturized their pistol grip, the AF 100. This is a great boon for anyone with small hands. I have always found the Slik pistol grip far too big to use comfortably. This one is a lot easier and more comfortable.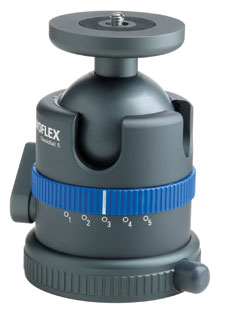 Even easier and more comfortable to use was a prototype of a new locking collar tripod head from OSN. It is most similar to a pistol grip head, but that description doesn't do it justice. As the design is still being tweaked, the best thing to say is "watch this space." Perhaps we will have more news on this in the Shutterbug Buyer's Guide.

Other new heads came from Novoflex (distributed by HP Marketing). The Classic Ball 5 is very quick to change from horizontal to vertical. Instead of one slot there are three. Quick-release plates also continue to be very important with Slik, Tiffen, and Novoflex showing new ones.

Often at a show like PMA you find things in unexpected places. Olivon specialize in spotting scopes but also have tripods. They will have a line of carbon-fiber tripods in a few months. But the tripod that caught my attention had a removable leg that can be used as a monopod.
The tripod/monopod was really innovative, but a bit more obvious than the mini tripod screwed into a pan-and-tilt grip for tripods from Davis and Sanford (Ranger and Explorer models), Kodak Gear, and Magnum--all, of course, distributed by Tiffen. The ball-and-socket head of the mini tripod sticks out of the end of the handle, so you can use it to extend the height of your bigger tripod; for awkward angles; or on its own as a stand-alone unit. This could be a real help if you are somewhere that prohibits the use of big tripods because you can almost always use a mini with no problem.

Supporting cameras doesn't end with tripods and monopods. OSN were well surprised with the response they have had to their metal car window mount; so surprised in fact they have brought out a plastic version.

Manufacturers/Distributors' addresses can be found on page 176.

FEATURED VIDEO