Our Top 7 Camera Straps and Photo Harnesses For Carrying Your Gear Safely in Style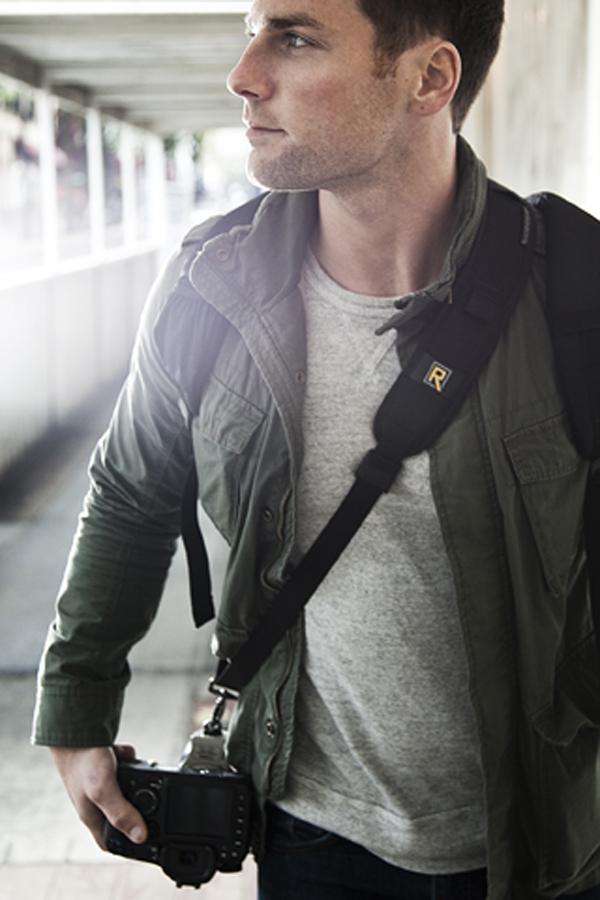 You don't compromise on the camera you choose, so why do that with the neck strap, sling or harness you use while shooting? There are a variety of attractive options that combine improved functionality with style, and here are seven of our favorites for carrying your DSLR or mirrorless camera.
Why Switch?
Let's start with the obvious: your neck and shoulders. Typical camera straps are either draped around your neck or hang from the shoulder. In either case, after a while the weight becomes a strain. Hanging off the shoulder, the camera tends to slide off despite the best of shoulder pads. Worse, you're now extending an open invitation for a snatch-and-grab.
And don't get me started about carrying two cameras. I remember one trip to San Juan, Puerto Rico back in my analog days, when I carried two cameras around my neck, one constantly bumping into the other—to the point where the surface coating was chipped away on one body. And to top it off, my neck and shoulders were in pain.
So let's find alternatives. What I recommend are the following options: a sling strap, a hand strap, a clip/holster—or a combination of two of these. And we even have solutions for wearing two cameras comfortably.
Whether you wear one camera or two, these solutions should accommodate the shooting style of practically any photographer—wedding, sports, travel, nature, wildlife, or street shooter. With the right choice you'll find that your camera becomes an extension of your body.
The Sling Strap
Since I wrote an article on ways to wear your DSLR stress-free back in 2013, I've pretty much aligned myself with the sling strap. The typical sling strap attaches to the camera at the tripod socket, with the camera hanging across your chest and over to the opposite side at the hip.
When I wear a sling, I keep a hand on the camera so I can effortlessly slide it upward toward my eye, ready to shoot, or simply to make sure it doesn't bounce around when I'm negotiating rough terrain or hurriedly crossing the street. That also lets me swing the camera out of the way in a crowd.
Unfortunately, this strap gets in the way when you want to use a tripod. However, a few slings now offer the option of attaching a modified quick-release (QR) plate to simplify tripod use with the strap in place. In fact, you can even find a universal plate that should fit sling straps from various manufacturers.
While not among the products featured, a typical sling strap attaches to the camera via one of the strap lugs or eyelets, right or left (try both methods to find your comfort zone). This way you easily get around the need to unscrew the strap from the socket when using a tripod.
1. BlackRapid Curve Strap (RS-7, $61.95), with Tripod Plate 70 ($44.95). From the originator of the sling concept, the Curve is contoured to rest comfortably on the left shoulder so the camera hangs on the right. I added the Spider QR plate for the obvious reason, but also because it allows the camera to rest flat on any surface (replacing the bulging fastener), which is especially important in a small camera bag/pack. The QR plate also lets me combine this sling with the Spider Pro Hand Strap (see below). The smaller Plate 50 may be better suited to compact cameras and select QR heads ($39.95). The strap is eminently comfortable and, detached from the camera, folds neatly to fit in a photo backpack or camera bag.
Caution: when using any strap or device that attaches by way of the tripod socket, check that the connection is tight before each use., and keep the applicable hex wrench handy. Also, if a rubber washer is used, periodically check the washer and replace when necessary.
The Dual-Camera Harness
Carrying two cameras can really wear you down fast if not worn properly. Manufacturers have effectively modified existing straps to reduce the wear and tear on your body. The majority of these harnesses are worn with a camera hanging off each shoulder—cinched front and back for stability.
2. BosStrap Dual Side Slide ($129.95, direct from manufacturer). The Side Slide adds a shoulder pad and a wraparound sternum strap to the original BosStrap, allowing you to wear the strap securely off the shoulder instead of across your chest. Now add a second Side Slide to the opposite shoulder, with a chest-plus-back strap system replacing the single chest strap, and you have the Dual Side Slide. The Dual Side Slide is fairly easy to assemble, surprisingly comfortable, and readily adjustable for most body types. This harness attaches to the strap lug/eyelet on each camera via a "Camera Tail," but a quick release lets you easily switch bodies (you can buy extra Camera Tails for additional camera bodies, $9.99 each). When not worn, the harness should fit in a roomy outside pocket on your backpack/camera bag.
3. Custom SLR Dual Camera Harness ($134.95, direct from manufacturer). What's different here is the camera is tethered to the tripod socket. This harness is comprised of two Glide One Straps (each with non-slip shoulder pad and quick-release connector) and a Dual Camera Strap (which consists of a chest strap and stabilizing back pad—and available separately if you already own two Glide Ones, $24.95). Easy enough to assemble, this harness proves comfy and practical in use (but may not suit all body types). Because of its bulk, you'll need to make room in your backpack or camera bag, or simply wear it to and from a shoot. The M-Plate Pro Universal Tripod Plate ($69.95) is a worthwhile addition if you plan to use a tripod intermittently.