Tools To Light Your Way: Modifiers, Add-Ons & Software, Too
"I always kept my equipment down to a minimum two cameras…a flash that would clip onto the camera body, and one assistant. I did not want to spend time thinking about hardware."
—Helmut Newton
One way that photographers can add variety to a portrait session is to shoot a few images in black and white. The way I like to do it is to put the camera in monochrome mode then shoot with Raw+JPEG capture, creating two files at the same time—one in color, the other in monochrome—that you can show your subject right away. I did this recently and the subject loved the look of the black-and-white portrait so much that we continued the session shooting that way. That said, since this is the lighting issue I'd like to start with some new items to light up your photo life.
Wafer-Thin Light Banks
One of my favorite light banks is the Plume Wafer. Designed by lighting innovator Gary Regester, the Wafer overcomes the biggest problem with big softboxes: as they get larger they also get deeper, taking up lots of volume, which can be a challenge working on location or in a small in-home studio like my 11x15-foot shooting space. For instance, the 53x37-inch HexOval Wafer shown in the photograph with Mary is only 14.5-inches deep yet produces deliciously soft light as might be expected from a large source.
The flattened Wafer profile results from using a combination of aluminum tent tube with fiberglass rods. Regester designed the six-sided, oval, hexagon-shaped light bank for fashion and portraiture because it matches the shape of a human face. An optional oval (masked) diffuser is also available and each of the two inner baffles has its own graduated pattern. The HexOval Wafers are available in 37.5x27.5- and 71x53-inch sizes as well and traditionalists can use any of the following rectangular models: 29.5x21.5-, 39.5x29.5-, 53x29.5-, and 75x53-inch sizes. Tip: Because the softbox uses six wands to create its shape, Plume softboxes must be used with the company's own speed rings, which are not included.
Helpful Accessories
It's not just big things like light banks that help you get work done in and out of the studio. Sometimes small items, like the Tether Tools Rock Solid Utility Arm used with a Rock Solid Master Clamp ($35.95), or any clamp that has a 5/8-inch Hex receptor, keep small accessories handy. Other clamps can be attached to the arm to hold additional gear. The 7-inch long Rock Solid Utility Arm is made from aluminum and supports gear up to 35 pounds. The male end has a Hex design that mates with the Master Clamp to eliminate rotation. The arm is available in non-reflective black for $21.95.
OmegaBrandess distributes OnSlot products, the company that makes the Original On-Hot Shoe LCD Cleaner. OnSlot is a cleaning system that uses a replaceable microfiber cleaning cloth to clean glass on a digital camera's LCD screen and attaches to your camera's hot shoe. It can also be used to clean screens on laptops, tablets, or smartphones. For $19.99, the OnSlot comes in Polished Rosewood with Black or White Pedestal; for $9.99, it comes in Piano Black or Piano White. With a minimum order and for an additional charge, you can even order a custom logo.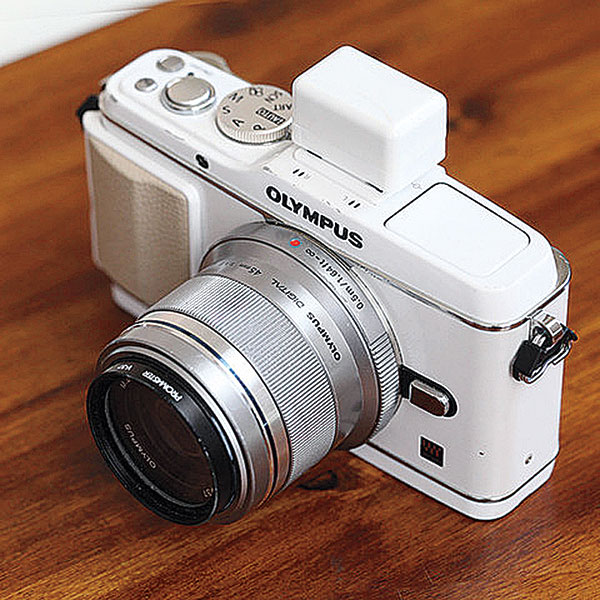 High-Key Patent?
A high-key image consists primarily of light tones, without dark shadows, and is usually produced by using multiple light sources with a subject photographed against a white background. Anyone who has ever shot a portrait has made or tried to make a high-key portrait, but now it seems like Amazon has patented high-key photography. It is patent number US 8,676,045 B1 entitled "Studio Arrangement" and includes a flow chart and lighting diagram producing a lighting ratio of 10:3, in case you don't already know how to shoot high key. Some (Internet) barristers hypothesize that the patent only applies if you duplicate their exact setup (85mm lens, f/5.6, and ISO 320) so I should be safe with, say, an 18-200mm f/3.5-5.6 lens at f/9 at ISO 200…or am I?
Exposure 6
Alien Skin's Exposure software continues to grow and improve and Version 6 lets you quickly produce even more accurate film and creative effects with some special features thrown in for good measure. The heart of the software continues to be based on analysis and emulation of classic films like Kodachrome, Polaroid, and Tri-X. Exposure 6 integrates color and black-and-white processing into a single interface so you don't have to switch between tools. Alien Skin's creative focus and lens simulation program, Bokeh, was rolled into Exposure, eliminating another need to jump between programs or plug-ins. A new control panel contains sliders for adjustments to areas such as exposure, contrast, clarity, and vibrance for faster editing, and there are more than 450 presets that can be applied with a single mouse click.
Exposure 6 can also add border and texture overlays and includes new lighting effects such as sun flare. It integrates with Adobe's Photoshop, Lightroom and Apple's Aperture but can also be used as a stand-alone application. System requirements are Photoshop CS6 or newer, Lightroom 5 or newer, and Aperture 3 or later; Mac OS users need OS X Mountain Lion (10.8) or later while Windows users need only Windows 7 or later.
Grids For LEDs, Too
Grids are useful accessories for any studio lighting system and when mounted on a reflector or softbox will alter the shape and intensity of the light, focusing it more directly on the subject. A grid provides a wider beam than a snoot so it's useful for focusing light on a particular part of the subject or lessening the amount of light falling on them. Because a grid blocks some of the light it produces less output, so you'll need to crank up your light source's power or increase the camera's ISO setting to maintain the same aperture as an "un-gridded" shot.
That said, it's not surprising that grids are now available for LED light sources such as Rotolight's Honeycomb Louver ($220) for its Anova LED lights. It fits all versions of the Anova, including the new V2 I'm currently testing. The Honeycomb Louver reduces the light beam angle to 40 degrees, directing and focusing the light onto your subject, and, like everything Anova, it's a rugged device with powder-coated steel frame construction.
Contacts
Alien Skin Software: www.alienskinsoftware.com
OmegaBrandess (OnSlot): www.omegabrandess.com
Plume Ltd: www.plumeltd.com
Rotolight: www.rotolight.com
R.T.S. Inc. (Rotolight): www.rtsphoto.com
Tether Tools: www.tethertools.com
Joe Farace invites Shutterbug readers to visit his blogs, including "Saving the World, One Pixel at a Time" (www.joefaraceblogs.com) and "Mirrorless Photo Tips" (www.mirrorlessphototips.com). Check for new how-to posts every day, Monday through Friday.

FEATURED VIDEO