Tokyo Used Camera Show; Big Crowds, Despite "Digitization"
Some 15,000 visitors attended the 29th Used Camera Show sponsored by ICS (Import Camera Society) at Matsuya department store's convention hall, in which 19 leading used camera shops in Tokyo participated earlier this year. According to the show's organizers, the show generated some 15 percent more traffic compared with last year, despite a predicted decline in the number of visitors due to the "digitalization" and consequent phaseout of film cameras, the mainstay of the used camera market.
© 2007, Ron Leach, All Rights Reserved
There is good reason to compare the camera market to the wristwatch market in Japan today, where the revival of a mechanical auto-winding watch, especially in the $3000-$4000 price bracket, is tremendous. Only a few years ago the quartz watch, in the price range of $100-$200, was on the throne and mechanical watches were merely a remnant of a purged and dying tribe. This "swing-back" symptom in watches is analyzed by specialists as a sign of consumers' repulsion against something too automatic, carefree, and inhuman. They simply do not constitute a target of affection in their daily life, despite their apparent convenience and economy; it is also interpreted as evidence of love for an "understandable mechanism" as opposed to an electronic black box.

We've heard that some professional photographers in Japan are "bored" by digital cameras, and many serious amateur photographers still take all the traditional deficits associated with film cameras for granted as a part of their photographic pleasure.

A glimpse across the convention hall reveals that the traffic has become more international compared with previous years, with many more foreign visitors, probably from the US and Europe; we frequently overheard Cantonese or Mandarin conversations. Of course, the Japanese visitors were the majority, coming from all corners of Japan.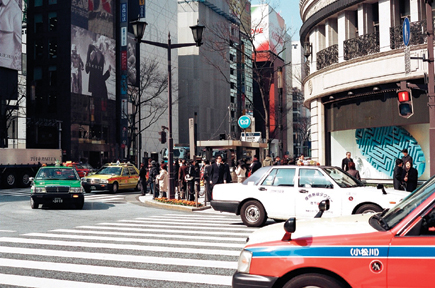 © 2007, S. "Fritz" Takeda, All Rights Reserved
The Matsuya department store is located in the heart of Ginza, a shopping street with very easy access by subway from major railway terminals. Department stores in Japan, including Matsuya, are different from their counterparts in the Western world, in that they are much more prestigious shopping places with many in-store boutiques, including De Beers, Cartier, Chaumet, Louis Vuitton, and other international brands. The store is patronized by very well-dressed ladies, but the crowd for the camera show is almost 100 percent male, making for a rather funny mismatch.

The main theme of the show this year was Leica M cameras and lenses, although the most expensively priced, at the pricey sum of $870,000, was a Nikon S3M (a half-sized camera, 18x24mm frame) in chrome with a Nikkor 50mm f/2 lens--followed by a Leica copy, Red Flag, made in China, with 50mm f/1.4, 35mm f/1.4, and 90mm f/2 lenses, in a set case and complete with original carton at $33,000. One of the most expensively priced Leicas was an M4 olive body with Elmar 50mm f/2.8 lens at $36,000--followed by an M3 body in black paint at $14,000.

Other cameras and lenses in a more normal price range included a Leica M3 body double stroke (Mint) $3200, (Ex+) $1800-$2700, and (Ex) $900-$1400. Leica M3 body single stroke cameras (Mint) were offered for $3600, (Ex+) $2300-$3200, and (Ex) $1400-$1800. Please see our sidebar for other offerings.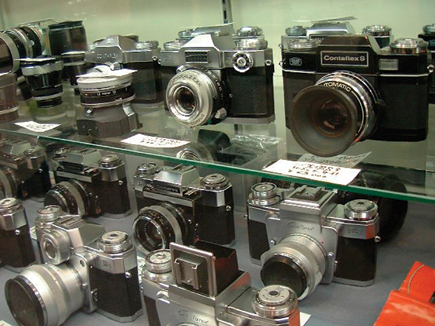 © 2007, S. "Fritz" Takeda, All Rights Reserved
Demand And Share At The Used Camera Show
Leica: 35.8 percent
Nikon: 11.8 percent
Hasselblad: 7.6 percent
Canon: 7.1 percent
Rollei: 5.4 percent
Kyocera: 3.2 percent
Pentax: 2.8 percent
Zeiss: 2.1 percent
Minolta: 2.0 percent
Voigtländer: 1.8 percent
Olympus: 1.7 percent
Mamiya: 1.2 percent
Kodak: 0.9 percent
Alpa: 0.8 percent
Exakta: 0.6 percent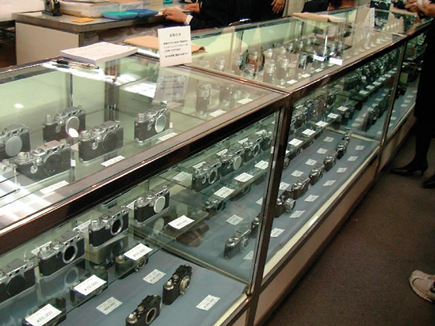 © 2007, S. "Fritz" Takeda, All Rights Reserved
Sample Offerings At The Tokyo Used Camera Show
Cameras:
Leica M2 body without self-timer: (Mint) $2300, (Ex+) $1400-$1800, (Ex) $700-$1200
Leica M2 body with self-timer: (Mint) $2300, (Ex+) $1500-$2000, (Ex) $700-$1200
Leica M2-R body without M2-R inscription: $3200, with inscription $2300
Leica M2-M body only: $2300, with motor winder $4500
Leica M4 body chrome: (Mint) $2700, (Ex+) $1600-$2200, (Ex) $1100-$1400
Leica M4 body black paint: $3600
Leica M4 black: $3600
Leica M4 MOT body without motor: $4100, with motor $6400
Leica M4 Fundus body: $8200
Leica M4-2 black body: $820-$1200
Leica M4-2 chrome: $2700
Leica M4-P body black: $900-$1400
Leica M4-P body chrome: $1100-$1500
Leica M5 body black: (Mint) $2300, (Ex+) $1600-$2000, (Ex) $900-$1400
Leica M6 body black: $1100-$1600
Leica M6 TTL body chrome: $1200-$1600
Leica M7 body: $1800-$2100
Leica MP body: $1800-$2300

Lenses:
Summicron 50mm f/2 collapsible: $550-$720
Summicron 50mm f/2 rigid: $630-$820
Elmar M 50mm f/2.8: $450-$500
Summilux 50mm f/1.4 late version: $1100-$1400
Noctilux 50mm f/1: $2100-$2400

It should be noted that these prices include the guarantee for repair valid for several months, varying by sellers.

FEATURED VIDEO