Tokyo's Used Camera Show 2006; Rare And Collectible Showcase Page 2
Japanese Prices Include Repair Service
The prices of the used cameras as quoted here might appear to Shutterbug readers in the US and other countries higher than what they would see in their home countries. It is important to remember that the prices of used cameras in Japan, whether at the store or at a show like this, include the guarantee for free repair service, usually for six months from the date of purchase. Some stores offer a free repair service even for one year for cameras priced over $420.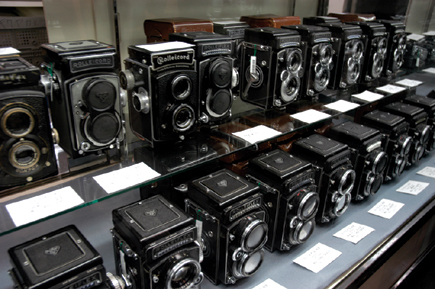 Another shot of the show in the exhibition hall of Matsuya department store.
The Source For Used Cameras
Once upon a time, used cameras came mostly came from the US. Buyers for used camera stores in Tokyo flew to New York to visit legendary used camera stores such as Ken Hansen's. They typically pointed with their fingers to two cameras placed far apart in a showcase, with many cameras in between, and bought "everything between these two." Millions of Leicas, Rolleis, Contarexes, and Exaktas thus changed their domiciles from New York and other US cities to Tokyo. Some US collectors were concerned about this uncontrollable outflow and issued serious warnings to the public. Nevertheless, this has never stopped, and after they cleaned out the US the buyers traveled to England and Germany. Right now Tokyo seems to be the hub for the used camera market in the world, but what if China, with its emerging middle class, one day awoke to the glamour of vintage cameras? They might start another buying round that can only bode well for the future of the quality used camera market.
The Matsuya department store from outside.