Tokina AT-X AF 28-70mm f/2.6-2.8 & AT-X AF 80-200mm f/2.8 SD Lenses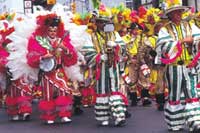 The 28-70mm Pro zoom is an ideal lens for street shooting and news photography as it is compact, highly responsive, "fast," and capable of producing fine image quality. (At 35mm; f/5.6; EOS-1N with 540EZ flash; Elite II 100 at EI 200.)
Photos © 1999, Peter K. Burian, All Rights Reserved
Tokina is not a manufacturer that seeks a lot of publicity, refusing to get involved in the old "sell the sizzle, not the steak" approach. And yet, they deserve greater recognition after producing lenses for over 40 years. Under the trademarks Tokina, Hoya, and Kenko, the company makes a wide variety of optics sold under its own name or incorporated in the products of other manufacturers. In some countries such as Germany, certain Tokina lenses are best sellers--among a population with a full appreciation for optical quality.

Tokina is dedicated to sophisticated design and engineering, particularly with its AT-X line, an abbreviation for "Advanced Technology-Xtra." These lenses--denoted with a gold stripe--include the most advanced technology, superior mechanisms, optics, and lens coatings. The two newly redesigned lenses provided for testing--Tokina's first Pro-designated zooms--get a bonus. In addition to the benefits of all AT-X lenses they feature a unique mechanism: a focusing clutch to improve manual and autofocus operation.
Though a bit heavy, the 28-70mm model is quite compact. It was a fine lens for vacation trips, producing sharper pictures than the featherweight zooms typically used for snapshooting. (At 70mm; f/11; EOS-1N; Tiffen polarizer; Sensia II 100 at EI 200.)
New Focus Clutch. Although Tokina has not published much information about the focusing clutch mechanism, here is how it works in practice. The wide manual focusing ring has a second role: it is a switch from manual to autofocus mode. For autofocus push the ring forward until it reaches the line marked "AF." Now the ring will not rotate during AF operation. Because there is less load on the focus motor, autofocus is smoother and quieter. You do lose the focusing distance scale as that is now covered but this is not a big deal.

For manual focus, pull the ring back (toward the camera) until it snaps into place at the line marked "MF." Autofocus is now disengaged, allowing for well-damped manual operation: more friction than in lenses whose focus ring rotates during autofocus. This provides a more familiar "feel" and more precise control, a definite benefit. (Moving the ring requires the lens to be set to infinity focus. With some brands of cameras, an AF/MF switch on the camera body must also be flipped to change focus mode.)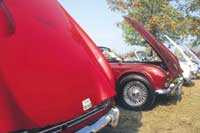 I worked with the 28-70mm Pro zoom with full confidence, regardless of the focal length, aperture, or focused distance. In addition to the superior image quality, both manual and autofocus response were excellent. (At 28mm; f/16; EOS-1N; Elite II 100.)
Autofocus Evaluation. My primary tests of the autofocus system were made with trucks barreling along a highway--approaching and pulling away from my position on a bridge overhead. More typical subjects included boats on a lake, architecture, portraits of costumed characters at a Renaissance festival, a marching band, and flower gardens. My overall rating of autofocus performance is "Excellent" for both Pro lenses. My specific findings are as follows:
· With stationary subjects, like King Henry VIII, focus was instantly achieved on the desired subject area (like the eyes).

· In comparison to the Tokina AT-X 80-400mm f/4.5-5.6 (used at the same time) autofocus was quieter and quicker with the Pro zoom with focus clutch mechanism.

· Even in low light around sunrise and sunset at a lake, AF operation remained highly reliable. This was understandable, as the wide maximum aperture of these Pro lenses transmits plenty of light to the AF sensors.
The close focusing performance of the Pro tele-zoom is excellent particularly in the mid range of apertures. This was achieved through the use of a floating element design. (80-200mm Pro zoom at f/8; EOS-1N; Sensia II 100.)
· Continuous tracking focus performance ranged from good to very good; the lenses were not always able to keep up with very erratic motion. However, neither set of focal lengths are generally used for action photography such as motor racing or pro sports.

· The focus motor was fairly quiet with a moderate high pitched sound--about half the sound level of the conventional Tokina AT-X AF lenses.

· The focus clutch mechanism is not as quick to operate as a simple "AF/MF" switch but its benefits outweigh this minor quibble.

Other Attributes. In addition to the focus clutch mechanism, the two Tokina Pro zooms have other similar characteristics, as follows:
· The barrels are built of aluminum alloy instead of "space age plastics" to withstand pro level abuse. This does increase weight somewhat but also increases the pride of ownership with a professional look and feel.

· Both offer a tough, scratch-resistant finish. The shorter zoom boasts a hardened alumite satin finish while the tele-zoom has a matte crinkle exterior.

· Multi-layer coating has been applied to more of the lens elements for superior light transmission, improved contrast, and reduced reflections or ghost images of the diaphragm in strong backlighting.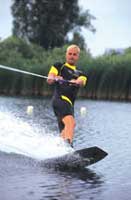 The very wide maximum aperture of these Pro lenses has definite benefits in low-light situations, especially with moving subjects. While shooting from a boat, I was able to use ISO 200 film instead of a more grainy fast film. (80-200mm Pro zoom at f/2.8; EOS-1N; Fujichrome Sensia II 100 at EI 200.)
· Both come with a screw-in lens hood that is deep and well flocked to minimize flare.

· When zooming and focusing, the overall length of the barrel does not change, so balance is maintained; this is especially important when using a tripod.

· Focus is not "internal" so the front element does rotate. However, filters do not as they are attached to the fixed barrel. This makes using a polarizer or special effects filter highly convenient: the effect does not change as you focus.

· Both are rotary (not push/pull) type zooms with moderately stiff mechanisms indicating precise machining tolerances. This stiffness assures that focal lengths do not shift accidentally.

· Smaller overall than average for lenses of these types, they are relatively compact in spite of the wide maximum apertures.

In addition to the above, the 80-200mm model includes a rotating (360°) tripod mounting collar. Strategically placed for optimum balance, this allows the lens (instead of the camera) to be attached to a firm support for two benefits: greater stability and less strain on the lens mount.

Optical Evaluation. As expected with Pro lenses, the two Tokina zooms incorporate premium grade optics. The 28-70mm includes HLD (High Refraction Low Dispersion) glass while the 80-200mm zoom includes an element of SD (Super Low Dispersion Glass). Both compensate optical aberrations for greater sharpness and better color rendition across the frame. The SD element causes all wavelengths of light to focus on the same plane: the film. This is most beneficial at the longer focal lengths and widest apertures.
With both of these "fast" lenses, focus acquisition was instant and highly accurate. (80-200mm Pro zoom; EOS-1N with 540EZ flash; Ektachrome Elite II 100.)
As the "fastest" zoom of its type in the world, the AT-X 28-70mm AF Pro II zoom has an unusually wide maximum aperture at f/2.6. While this shrinks slightly to f/2.8 at longer focal lengths, it is still ideal for low-light photography when a flash or a tripod is not practical. Press and travel photographers especially will appreciate this factor when shooting indoors. Its five star ("Super") rating by Germany's highly respected foto magazine suggests that this is indeed an exceptional lens in mechanical and optical quality.

AT-X 28-70mm AF Pro II. This lens deserves the European accolades as confirmed by my own tests. Under a 10x loupe, all slides are razor sharp. Even at the widest apertures, center sharpness is extremely high. By f/4 edge sharpness is excellent. From f/5.6-f/11, edge sharpness matches central sharpness at all focal lengths, an impressive achievement. Even in extreme close focusing, resolution is very high. Linear distortion is well controlled--just a slight bowing outward of lines near the edges of the frame at the widest focal lengths.

This wide to tele-zoom is capable of producing image quality adequate for a 16x20 print at all but the widest aperture at all focal lengths, particularly in the 35-60mm range. At f/2.6-f/8, you should still be pleased with 11x14 prints or a double page spread in a magazine. Aside from sharpness, contrast is excellent. At longer focal lengths the hood is not as effective so change your shooting position slightly if flare is apparent on the viewing screen. For the absolute sharpest images at any focal length, stop down to f/11 and the results will satisfy even the most critical photo buyer.

AT-X 80-200mm f/2.8 AF Pro. This tele-zoom incorporates a "floating element system"--elements move in proportion to the focus distance setting--to better correct astigmatism. This provides uniformly high image quality from infinity to the minimum focusing distance. Combined with SD glass the results were indeed excellent. Even at the 200mm end, at f/2.8, the image is sharp and there is no "color fringing" around subject edges. Center sharpness is very high, but stopping down increases edge sharpness. Close focus performance is nearly as impressive, especially between f/8 and f/11.

Overall, my optical evaluation is nearly identical to that of the shorter zoom prints. At all focal lengths, optimum results--superb--are obtained at f/8. Contrast is always high and flare is very well controlled. Clarity, resolution, sharpness, and definition of fine detail range from very good to superlative. At 80-150mm, this lens will produce sharp 16x20 prints at any aperture from f/4-f/16. At longer focal lengths, you can still expect very sharp 11x14 prints--or double page reproductions in a magazine--by f/4. Stop down to f/5.6 or f/8 and you'll get incredibly sharp 16x20 enlargements.

Final Assessment. Both lenses bayonet onto the body with an authoritative click, assuring a tight fit. As befits the Pro designation, they appear to be extremely well constructed; long term reliability seems probable. I filed only a single complaint: about the lens hoods. While they were effective, I would have preferred a built-in or snap on type. These Tokina lenses use hoods which must be screwed into the filter threads, a slow process. When removed, the hood does not fit nicely onto the lens in a reversed manner, so it must be kept separate in the camera bag.

Conclusion. While the lower-priced Tokina zooms--like the SZ-X series--tend to be the hot sellers in this brand, serious photo enthusiasts should definitely check out these Pro lenses. Their superior performance and wider apertures definitely warrant the extra dollars. Considering the high level of durability and technology, these AT-X models are still surprisingly affordable.

At these prices, can you still get a lens of rugged construction and fine imaging capabilities? I cannot vouch for every Tokina lens, but the answer is a definite "yes" for the two models I tested. They merit a place in the "best value" category of lenses likely to satisfy the discriminating photo enthusiast. If you're looking for a "fast" high-performance zoom, either of these models is certainly worthy of your consideration.
Technical Specifications
Tokina AT-X AF 28-70mm f/2.6-2.8 Pro II
Optical Construction: 16 elements in 12 groups
Angle Of View: 75-34°
Minimum Focus: 2.3' (0.7m)
Aperture Range: f/2.6-f/22
Filter Size: 77mm
Dimensions: 3.1x4.22" (79.5x109.5mm)
Weight: 26.6 oz (760 g)
Mounts: (AF) Nikon-D, Pentax, Canon, Minolta AF
Tokina AT-X AF 80-200mm f/2.8 Pro
Optical Construction: 17 elements in 11 groups
Angle Of View: 30-12°
Minimum Focus: 5.9' (1.8m)
Aperture Range: f/2.8-f/32
Filter Size: 77mm
Dimensions: 3.3x7.2" (84x184mm)
Weight: 47.2 oz (1350 g)
Mounts: (AF) Nikon-D, Pentax, Canon, Minolta

FEATURED VIDEO