TIPA Awards 2010; Technical Image Press Association Results Page 2
Best Entry-Level Lens: Sigma 17-70mm f/2.8-4 DC Macro OS HSM
Designed to be used on APS-C-sensor D-SLR cameras, this versatile zoom covers popular focal lengths with Sigma's stabilization OS function and autofocus HSM system. This modern, good zoom makes high-end optical features accessible to all.
Best Expert Lens: Sony 28-75mm f/2.8 SAM
This Sony zoom lens offers a constant f/2.8 maximum aperture and highly effective SAM fast autofocus technology for a reasonable investment. It also delivers sharp and well-corrected images.
Best Professional Lens: Nikon AF-S Nikkor 70-200mm f/2.8G ED VR II
The AF-S Nikkor 70-200mm f/2.8G ED VR II telephoto zoom lens incorporates a number of unique Nikon technologies, including the use of seven ED glass elements, Nano Crystal Coat, a Vibration Reduction (VR II) system that provides camera shake compensation equivalent to increases in shutter speed by four steps, and a Silent Wave Motor (SWM).
Best Expert Photo Printer: Epson Stylus Pro 3880
Using Epson's advanced, fourth generation UltraChrome K3 with vivid magenta pigment inks to deliver long lasting, high-quality prints in both black and white and full color, the Epson Stylus Pro 3880 offers fast, flexible printing suitable for a number of applications.
Best Multifunction Photo Printer: Canon PIXMA MP990
Developed with the idea of making photo printing easier, the Canon PIXMA MP990 has several innovative features such as Multi-Zone Exposure Correction, improvements in overall face detection, scene analysis, plus brightness and saturation correction. The MP990 printer utilizes the Auto Photo Fix II feature to help correct many common photo errors, such as underexposed images.
Best Large Format Printer: Canon imagePROGRAF iPF6350
The 24" imagePROGRAF iPF6350 features Canon's new 12-color LUCIA EX pigment ink system and innovative printing technologies to produce prints with increased accuracy and a wider color gamut. It features a color calibration function that uses an internal, high-performance multi-sensor sensor to achieve consistency of color reproduction.
Best Photo Kiosk: HiTi Mini Photo Kiosk P510K
The HiTi P510K photo printer provides practical stand-alone professional photofinishing with the smallest integrated roll-type dye sublimation printer. The P510K has a large 10.2" TFT LCD touchscreen, giving it great flexibility. It features a solid chassis, but it weighs only 18kg (39 lbs). It can either be operated through a computer or used as a stand-alone by shop customers.
Best Fine Art Inkjet Paper: Canson Infinity Baryta Photographique
Canson Infinity's Baryta Photographique 310gsm is a true baryta paper developed for inkjet technology and optimized for pigment inks. It consists of alpha-cellulose, acid free, pure white paper, coated with a layer of barium sulphate—the same coating used for traditional silver halide—and a premium inkjet color receiver layer. This museum-grade photo paper offers the look and aesthetic of the original darkroom baryta print and complies with the ISO 9706 standard for maximum longevity.
Best Expert Photo Projector: Panasonic PT-AE4000
The Panasonic PT-AE4000 projector delivers 1080p full-HD images with remarkable clarity, 1600 lumen brightness, 100,000:1 contrast ratio, and 100Hz Intelligent Frame Creation blur reduction technology.
Best Pro Photo Projector: Epson EH-TW5500
The Epson EH-TW5500 reaches an outstanding contrast ratio of 200,000:1 and incorporates 3LCD panel technology, delivering images that are sharp, bright, and crystal clear. In addition, ISF certification allows the video projector to be calibrated by an Epson dealer to ensure it is expertly fine-tuned for optimum performance.
Best Photo Software: Adobe Photoshop CS5
Adobe's Photoshop has been the undisputed standard for professional digital imaging software for a long time. Photoshop CS5 builds on this reputation further with innovative new features such as Content-aware fill, a new Content-aware spot healing brush, and various new 3D functions.
The new Lens Corrections, based on a lens database or on one's own lens profiles, are also exciting news for any serious photographer.
Best Photo Scanner: Epson Perfection V600 Photo
The Epson Perfection V600 Photo scanner creates high-quality images thanks to its 6400dpi optical resolution and 3.4 Dmax optical density. The Epson Perfection V600 Photo features a built-in Transparency Unit that supports full panoramic medium format film. A unique feature of this scanner is Digital ICE dust and scratch removal, which works not only when scanning film, but also when scanning photos.
Best Imaging Innovation: Fujifilm FinePix REAL 3D W1 Technology
Fujifilm's 3D technology offers an uncomplicated way for consumers to create and view 3D images and movies. Advanced 3D digital shooting is as easy as 2D photography with the FinePix REAL 3D W1 camera. The camera allows immediate display of the 3D visual captures. The Fujifilm 3D photo display frame shows the images outside of the camera in a larger size. Finally, 3D prints can be produced with lenticular sheets that create the 3D effect.
Best Accessory: Manfrotto RC2 Joystick Heads Series
The latest Manfrotto joystick heads offer a uniquely ergonomic way of quickly unlocking, moving, and locking a camera so the photographer can frame and reposition freely. The latest generation of Manfrotto joystick heads makes full use of new technologies and materials to improve both design and technical specs. The heads have been optimized to provide intuitive, fast operation, improved comfort, and reduced weight.
Best Digital Accessory: Wacom Cintiq 21UX
Designed to meet the demanding needs of professional photographers, designers, artists, and animators, the Wacom Cintiq 21UX is capable of capturing the slightest nuance of pen pressure against the LCD surface, as well as offering 2048 levels of pressure sensitivity. Eight fully programmable ExpressKeys, located on each side of the display's bezel, help to improve workflow and productivity by placing application-specific commands at the user's fingertips.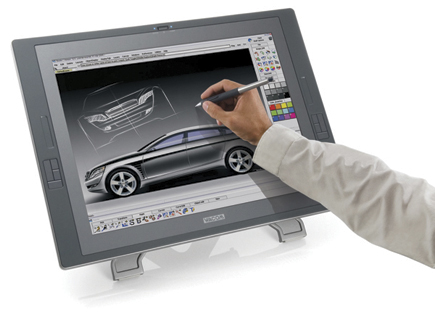 Best Photo Frame: Sony DPF-X1000N
Sony took advantage of the TruBlack technology to reach the high contrast and low reflection required to show high-quality photographs on an LCD display. The Sony DPF-X1000N photo frame comes with a 2GB built-in memory and special software that optimizes skin tones, thanks to a face detection feature. An additional feature is a smart search function that makes it easy to find a picture in the entire archive. The frame can also be connected to an HDTV to enjoy slide shows on big screens.
Best Storage Media: SanDisk Extreme Pro Series
The SanDisk Extreme Pro CompactFlash card series was designed to create an enhanced workflow for professional photographers. Ranging from 16GB to 64GB, the series offers up to 90MB/sec read/write speed, allowing continuous burst shooting with professional D-SLRs of Raw+JPEG images or long HD video recording sessions. The SanDisk Power Core Controller distributes image data across the card more rapidly. SanDisk Extreme cards operate at temperatures from -13?F (-25?C) to 185?F (85?C).
Best Storage Backup System: LG Electronics NAS N2B1
The LG NAS N2B1 is a device previously only available in the world of business: a NAS storage device with a recordable Blu-ray in a network environment. The LG NAS N2B1 has two bays for hard disk drives of up to 2TB each, which can be configured individually and are "hot swappable." It has USB 2.0, e-SATA, and Ethernet up to 1GB interfaces, as well as a card reader for SD, MMC, MS, and xD, making it very convenient for any advanced or professional user.
Best Entry-Level Camcorder: Samsung HMX-H205
The Samsung HMX-H205 boasts an impressive list of advanced features, offering unparalleled value to consumers looking to experience high-quality, full-HD video recording at a competitive price. The new H205 camcorder features a new BSI CMOS imaging sensor, designed to absorb more light than other conventional sensors and deliver exceptional low-light performance. The H205 utilizes a Solid State Drive (SSD), which offers a substantial advantage over the use of Hard Disk Drives (HDD) in a digital camcorder.
Best Expert Camcorder: JVC Everio GZ-HM1
In the area of low-light performance, the JVC GZ-HM1 provides superior results thanks to a new CMOS sensor that boosts sensitivity to 4 Lux. JVC also made improvements in camera shake compensation.
Best Mobile Imaging Device: Kodak Playsport
Pocket camcorders are becoming more and more popular among regular users of social sites. The Kodak Playsport pocket camcorder offers a water-resistant body (down to 3 meters). It also features 1080p HD video as well as 5-megapixel stills, with easy-to-use buttons in an attractive and sleek but tough design.
Best Flash System: Multiblitz PROFILUX PLUS Series
The Multiblitz PROFILUX PLUS flash series, with its 200 ws, 400 ws, and 600 ws performance classes, deliver new technological standards. The units can be either AC or battery operated on location. The integrated 16-channel radio receiver photo cell ensures flexible remote operation. The PROFILUX PLUS series features short flash durations from only 1⁄3000 sec and recycle times from 0.2 seconds. A step-less output control over seven f/stops with PROFILUX PLUS and six f/stops with PROFILUX PLUS 400/200 enables the finest adjustments.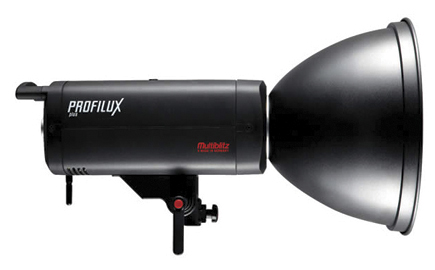 Best Photo Bag: Vanguard Up-Rise Series
The Up-Rise series comes in five solutions and breaks the mold of camera bag standards with its ability to expand in size to accommodate your changing lens and gear needs. Every Up-Rise model expands with one easy zipper motion and shrinks back down when you don't need the room. Up-Rise bags have a removable rain cover, multiple pockets for extra memory cards and lens caps as well as an orange interior, making it easy to spot loose gear.
Best Photo Monitor: EIZO ColorEdge CG243W
Designed to handle both still and moving images equally well, the 24.1" widescreen EIZO CG243W monitor features an in-plane switching LCD panel with a native resolution of 1920x1200 pixels. The monitor boasts wide 178? horizontal and vertical viewing angles. Its wide gamut reproduces 98 percent of the Adobe RGB color space. The ColorEdge CG243W offers hardware calibration, so the monitor itself is calibrated rather than the computer's graphics card.
Best Photo Service: Blurb, Inc.
Blurb offers the unique combination of professional-quality photo books with up to 440 pages and an online store to sell these books. The Blurb books feature commercial-quality four-color printing on 80 grams coated matte paper or on 100 grams silk-finish paper. The Blurb hardcover dust jacket books include durable library binding and 8 pt. black linen hardcover cases with laminated four-color dust jackets.
Special Award: The Impossible Project
TIPA honors the initiative of The Impossible Project to bring classical instant film for usage in traditional Polaroid cameras back to the market. Instant film has been and still is an important media for artistic photography, but disappeared after Polaroid decided to end production. The Impossible Project's instant film material subtly combines the characteristics of traditional analog instant film sensitivity and manipulability with a unique, new appearance of silver-based monochrome shades. Supported by Ilford Photo, UK (Harman Technology Limited), The Impossible Project currently offers two monochrome PX film packs and already announced a new color instant film.

LATEST VIDEO