Tiffen's Dfx Filter Software; A Famous Filter Maker Goes Digital Page 2
Plug-In Or Stand-Alone
Incidentally, when you run Dfx as a plug-in for Photoshop or Photoshop Elements, the main difference is that it does not include layers or tools, since Photoshop has both. The dialog box also changes slightly, too--the whole right-hand side column now shows the Parameters settings for each filter while the Presets settings now reside in the left-hand side column rather than on the right. This arrangement makes things a bit more convenient because you can always see the Presets and Parameters functions without having to click back and forth as you do with the stand-alone version. Otherwise, the Photoshop plug-in is operationally the same as the stand-alone.

Masking Made Easy
Another area where Tiffen's Dfx really struts its stuff is masking, the ability to limit a filter effect to specific areas of the image and control its qualities (this feature is only available in the Complete stand-alone edition). To select masking, direct your attention to the vertical toolbar on the left-hand side of the image thumbnail in the Effect window and click on the Add Mask icon at the bottom of the tool array (the other tools are for cropping, rotating, or re-sizing the image). You can now choose one of seven types of masks to be applied to an image layer--Gradient, Spot, Path, Snap, EZ Mask, Selection, and Paint. The Blend mode, which is only active when more than one mask has been applied, controls how the current mask is combined with the previous mask. Incidentally, Dfx masks, which are available only in the Complete stand-alone suite, cannot be exported to other applications such as Photoshop. However, the Complete Photoshop plug-in version uses the Photoshop masking system, which provides an even greater range of masking-control options.

Perhaps the easiest mask to use and the most fun is (what else?) the EZ Mask, which essentially makes a mask by sampling foreground (what you want to isolate) and background pixels marked by simple mouse strokes on the image. This clever system works by using a trimap--a pre-segmented image divided into foreground, background, and unknown. Basically, by roughly drawing a tight and a loose border around the subject you can create a remarkably accurate mask almost instantly--one that not only includes the basic shape of, say, a dog, but even includes fine details like tufts of fur around its periphery. Alternatively, you can use EZ Mask to create an accurate mask by tracing the outline of your subject and filling it in. To see how any new foreground, background, or unknown strokes affect the mask, click the Generate Mask icon in the toolbar again.

As you've probably guessed, the multilayering ability of Tiffen's Dfx extends to masking functions as well, and more than one mask can be added to each image layer. A good example is the Spot mask. Here's how it works: Select an image, choose an obvious filter effect, click Add Mask, and choose Selection. Now click the Add Mask icon again and select Spot. A Spot mask thumbnail now appears to the right of the Selection mask and is combined with it. You can, of course, change the size and location of the circular spot, thereby altering the size and location of the effect within it. To see the results of the two masks, view the Mask channel. When you have multiple masks, the mask with the gray border around it is the active mask, and its controls are displayed in the toolbar. To change the active mask, simply click on the thumbnail of another mask. Note: I have gone into some detail in describing the masking capabilities of Dfx because I believe it's one of the most important attributes of the system that sets it apart from other filter-effect software on the market.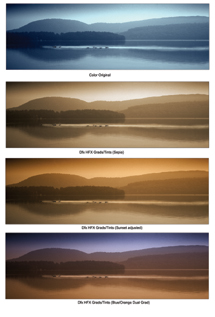 Tiffen's Dfx Vs. Nik's Color Efex Pro 2.0?
Before I actually had a chance to use the Complete stand-alone version of Tiffen's Dfx, I naively assumed, like many in the imaging industry, that it was designed to go up against Nik's Color Efex Pro 2.0--and that these arch-rivals, the two leading omnibus plug-in filter-effect systems, were destined to duke it out for market share. After using them both I have come to a different conclusion--that they each have their place and are more complementary than combative. Nik's Color Efex Pro 2.0 offers many unique and useful effects that are not available in Dfx, such as Weird Dreams, Weird Lines, Stairs, Pop Art, and my personal favorites, Monday Morning (in blue, green, violet, and sepia) and Old Photo (in both black and white and color). However, the range of soft-focus effects in Dfx is far greater, and the ability to control (for example) soft focus, warming, and graduated ND filters individually within a single dialog box is a big plus. In short, creative art photographers will find great tools in Nik's special effects portfolio, wedding/portrait photographers will love the super-flexible control interface and subtle variations possible with Dfx, and everybody else, including many pros and serious enthusiasts, may want to have both.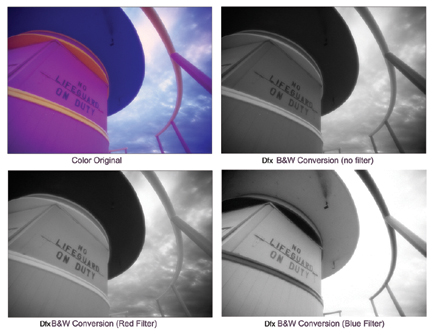 While optical filters still have characteristics not possible to replicate perfectly in an electronic medium, Dfx offers many filter-effect choices that correspond quite closely with Tiffen's Hollywood/FX, Soft/FX, Pro-Mist, Black Pro-Mist, Smoque, and Rosco Gels that are not available elsewhere. And the plug-ins can provide a greater range--e.g., Glimmerglass in Dfx is available in strengths from 1-10 but only in strengths of 1-5 as optical filters. The fact that Dfx is an outgrowth of Tiffen's Hollywood division, a main supplier of filters to cinematographers, also means that Dfx is compatible with video and film postproduction software, including Adobe's After Effects, Avid's Editing Systems, and Apple's Final Cut Pro.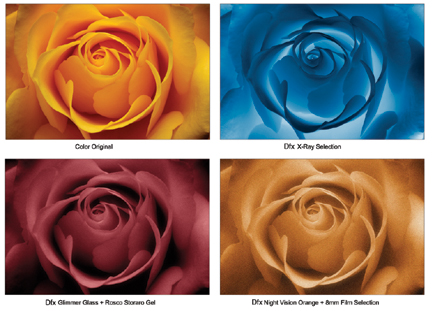 Obviously it's not possible to detail all the fine points and capabilities of Dfx in one (relatively) short article. Fortunately, they're all admirably covered in the clear, comprehensive 544-page (!) Dfx manual. Suffice it to say that as a photographer who cut his eyeteeth in the film era, I miss some of the things I used to do in film, and like many, I curtailed my use of optical filters when I switched to digital. With Dfx that hole is now filled and those abilities have, to a great extent, come back. No, there's no filter-effect system that can ever replace my trusty quartet of glass filters, but using them in tandem with Dfx opens up an unimaginable new world of creative possibilities.

Note: If you want to check out Tiffen's Dfx for yourself, a free, unlimited 15-day trial version is available by going to www.tiffen.com.

For more information, contact The Tiffen Company, 90 Oser Ave., Hauppauge, NY 11788; (631) 273-2500.

FEATURED VIDEO