Thinking Differently On The World Wide Web; And Now For Something Competently Different…
"In order to be irreplaceable one must always be different."--Coco Chanel

My method for selecting websites for this column is no secret; I've talked about it here before and in case you missed it here's how it goes: I look at all of the sites suggested by Shutterbug readers but that doesn't mean they'll make the cut. I consider sites recommended by previously reviewed photographers, although double dipping is not allowed. Because of the cost of shipping magazines out of the country, I will only be reviewing American shooter's websites in the future, so you've seen your last Icelandic photographer's homepage for a long time. Mostly I scour the web using search engines looking for something different. It could be a different kind of design or just the photography that's unusual, but typically 50 percent of the sites I contact refuse to appear in the column or never respond to my request so it's back to the search engine looking for that elusive site that rises above the norm and shows me something competently different.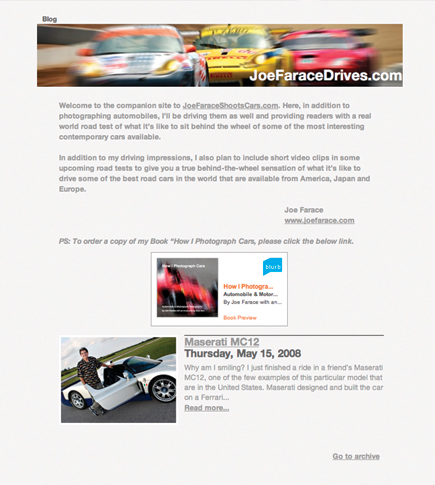 Technical Info: Nikon D200 with a Nikkor 18mm lens; shot in raw format and tweaked minimally in CS3. Exposure: 1/320 sec.
© 2008, Jack McAward, All Rights Reserved
www.robyncumming.com
Robyn Cumming's iconoclastic site design (www.justinbroadbent.com) is fun, creative, and not just more of the same-old, same-old. It's appropriate because Cumming's photography is "not your father's Oldsmobile." Her photographs make you stop and think; think about the nature of photography as well as the photographer who makes these images. I'm guessing that when looking at the portraits and still life photographs found in "Bound" some viewers may be surprised. Instead of over-retouched mall portraits, her subjects are photographed matter of factly surrounded by objects that may have some meaning--all dangling on strings hanging around them. The "In Place" collection takes this not just a few more steps but an infinity of steps beyond "Bound's" concept, placing Cumming's subjects into elaborate tableaux that, I'm guessing here, mean something to them. "In Place" turns the concept of the environmental portrait on its head, creating portraits that are immensely personal yet elaborately theatrical on a Baz Luhrmann scale of 12.

Images in the "Little Legs," "Oh Mother," and "Lady Things" collections take us into Fellini-land where the surreal becomes the commonplace and portraiture and photojournalism become a referential subject, albeit seen 180° from what you might expect. All of these images are executed with consummate technical skill so that the normal language of photography never gets in the way of her message, and that's a message that's wide-open to interpretation by the viewer. Thank you Robyn Cumming for opening my eyes to photography's true potential.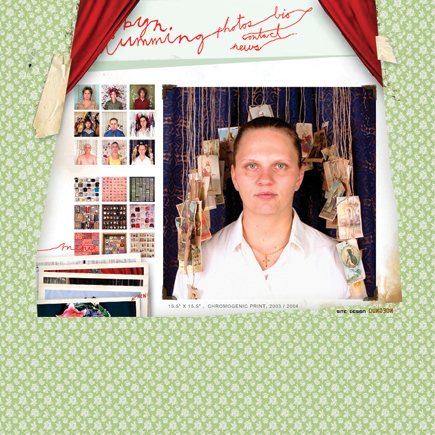 © 2008, Robyn Cumming, All Rights Reserved
www.matthewmahon.com
Matthew Mahon's site turns web design on its head by eschewing traditional forms of menu structure--there is none--with a design that looks like various-sized prints tossed onto a white tabletop for you to move around and examine. Navigation? We don't need no stinkin' navigational aids! Just grab a photo, toss it around, and take a look. Take a good look. Mahon's portraits are straightforward yet transcendent, combining fundamentals of environmental portraiture with elements of a detached reality that's often found in Garry Winogrand's street photography, except in color. Yet Mahon's color and formal composition of non-people photographs echo the work of William Eggleston; but don't get me wrong, Mahon is not a copycat. His vibrant images leap off the screen and have a 21st century awareness, combining elements of irony with a postmodern sensibility.

Throughout the site an attempt is made to keep its unabashed analog flavor and that includes the fact that some images appear as folded and crunched prints while occasionally some sport an "arrow" that when clicked turns the photograph over, providing surprising information about the image and the photographer. Sprinkled among the photographs you will see ticket stubs, (what looks like) driver's licenses, student IDs, and the kind of urban flotsam and jetsam we find in our pockets and purses that here serve as the "About the Artist" portion of the site. While these serve as lagniappe, it's the photographs themselves that tell you that here is a talented photographer with a unique vision whose work combines the best of social commentary with the right amount of humor.
© 2008, Matthew Mahon, All Rights Reserved

LATEST VIDEO