Thanks To The Internet: Giving Thanks For Friends And Images
"I awoke this morning with devout thanksgiving for my friends, the old and the new."—Ralph Waldo Emerson
It's hard for me to believe that it's November already. As I write this, the trees and plants on Daisy Hill are still in full bloom but this column gives me an opportunity to thank a few people who have helped me over this year. Thanks to Tim Fiedler (www.dracophoto.com) who is responsible for the redesign and implementation of my car photography website and blog (www.joefaraceshootscars.com). He also implemented my movie blog (www.ihatepopcorn.com) with an assist from Ralph Nelson (www.ralphnelson.com) who designed the header. Thanks also to Kevin Elliott (www.digitalmd.net), the computer guru who keeps my systems running. And finally I am thankful for the continuing friendship of my pal Barry Staver who started having monthly breakfasts with me 20 years ago ostensibly to share Photoshop tips but has evolved into much more than that.
www.nadinelevinphotography.com
Nadine Levin is known for her renderings of the Old West and her photographs offer a unique perspective because she often makes images while on horseback—not the steadiest of four-legged supports. Her beautiful website is a showcase for stunning work that's collected in three main galleries, with her Western gallery split into B&W and Sepia collections. The top of the site has a slide show showing cropped sections of her images, while another gallery that appears to be a "best of" can be clicked through at the bottom. This gallery contains photographs, such as the poignant "cowboy in the snow" that's not seen in her main collections, but this is one you shouldn't miss. Take the time and click through the pop-up thumbnails and look at the images in this collection.
I checked out Levin's Infra Red gallery first and enjoyed her perspective on that media, from the delicate "Rough Edges" image of flowers (thanks for the titles) to the subtlety colored "Clouds Over Paradise," all demonstrating that these are not your average IR images but ones that are stamped with the graceful touch Levin applies to all her work. Scapes is mostly in color and features a personal take on the landscape genre—we're not talking Ansel Adams here—with an outstanding image, titled "Unsure," that was obviously shot in color but is mostly monochrome-looking. Her quiet B&W collection Western images focus on the reality, not the myth, of the Modern West, although her high-contrast image "Ranch School" could easily be from the film Tombstone. The Sepia collection images, on the other hand, lean toward the myth with her photograph "Heading Out" that has a distinct John Ford look to it. There's not a lot of images on this site but you won't want to miss any of Nadine Levin's take of the West.
www.ronaddlestone.com
The Shutterbug reader's website this month belongs to Ron Addlestone who was born and raised in Charleston, South Carolina, and who has been photographing the city and her surrounding areas for 40 years. His three collections include Charleston & Her Lowcountry that features elegiac monochrome images of the South ranging from images of people ("Basket Lady Hands") to historic mansions ("Sotille House"), all of which are captured with a respect for the subject, whether they are a building or a person. What makes these images even more appealing is that Addlestone offers detailed captions (not about how the photographs were made) that are much more interesting than typical data often found on photographers' sites.
In Southwest-Four Corners Addlestone not only switches from black and white to color but also changes styles from quiet photojournalism to high drama. His image "Messa Arch, Canyonlands" exhibits flawless composition and exposure while resonating with the colors of the Southwest, much as the rest of the photographs in this collection. Switching gears and genres once again, Addlestone's South Texas Coastal Birds collection offers up images of our feathered friends and the only thing I didn't like was that there weren't more of them! All of his images may be viewed individually or as a slide show—highly recommended—that shows off Ron Addlestone's photographs to their best.
http://blankenship.zenfolio.com/
Misty Blankenship Valenta is a photographer whose site was created using Zenfolio (www.zenfolio.com) and houses 12 galleries along with a blog that provides background on many of the images. The wide range of styles that are on display represent the kinds of images often found in what I call Phase 1 (http://bit.ly/iRL46c) photographers who are fearless and enthusiastically explore their world. You'll see that in Project Horror which is dedicated to horror and gore. Valenta's a fan of zombies. Who isn't? Her site displays small thumbnails that when clicked yield screen-filling images and if you're a fan of zombies in the film-within-a-film of Super 8 you'll love her dramatically lit and skillfully crafted portraits.
She goes into another direction with her Red Riding Shoot (definitely not the movie) where images of her model in the forest range from wistful to not so wistful. Her Galleries (I, II, and III) are completely different, filled with artful and artistic seascapes with other images occasionally featuring a touch of the bizarre that would be better served in their own gallery; but what the heck—she's daring. Occasionally her Galleries feature an image that more sensitive readers might consider "nude" (Advisory) but are so delicate that, I feel, they represent more of a study in light and shadow. People/Portraits takes a reportorial approach to portraiture that is honest and direct and Valenta's picture of a kid at the beach with sand on his face is one that any mother would cherish. All of this is the work of a photographer finding her way and Misty Blankenship Valenta is definitely someone to watch while she makes that journey.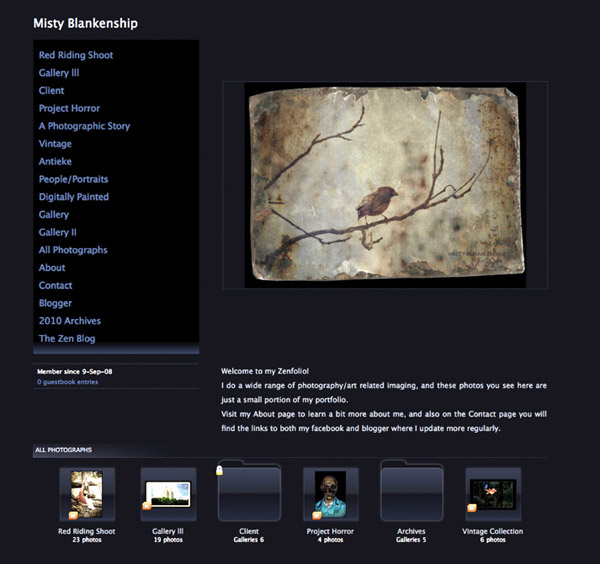 www.thecreativescorner.com
This month's Blog-of-the-Month is The Creative's Corner from Jeff Colburn, an interesting admixture of commentary and imagery, and while I may not always agree with him, essays such as "Digital Photography Costs More Than Film Photography" are thought provoking. On the other hand, it's hard to disagree with his photography as in his series of Monsoon Lightning photographs that were shot in the Cottonwood, Arizona area. Since blogs are by their nature timely, you may have to scroll down to earlier posts to see these carefully crafted and dramatic images. What I especially liked about his blog is that under each post's title he has placed various related subject-clickable headings. For example, in his images of "Dried Mud"—no kidding, these are not to be missed—you'll find links for Fine Art and Photography. Clicking any of those categories takes you to all his posts on that particular subject. He also provides a link so you can leave a comment.
Interested in the gear that Colburn uses to make his fine art and nature images? Some of his posts include a Photo Gear subheading that when clicked shows all posts in that category. I especially like his take on "Inexpensive, But Good, Tripods" where he and I agree 100 percent. Want to see more of Colburn's images? Click on his Stock Photos Arizona link to see 2000 photographs that are collected in 19 galleries ranging from plants to natural disaster, all captured with a strong eye for color and design.