Tamron 28-200mm f/2.8-5.6 Zoom Lens for Sony Mirrorless Review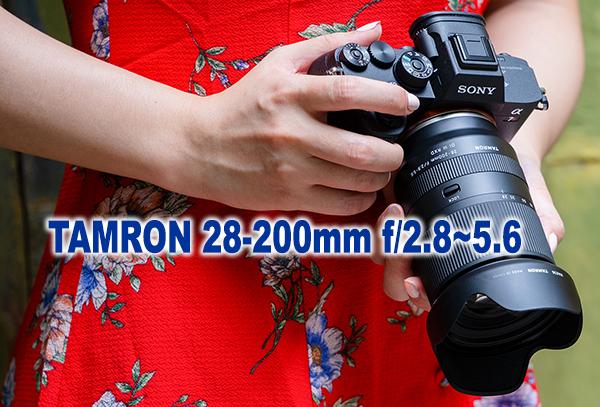 Tamron recently released a fast, super-compact 28-200mm f/2.8-5.6 zoom lens for Sony mirrorless full-frame E-mount cameras. Unique among all-in-one type zooms because the maximum aperture is f/2.8 (at the wideangle 28mm setting) the lens has other attractive features that we evaluate in this review.
Specifications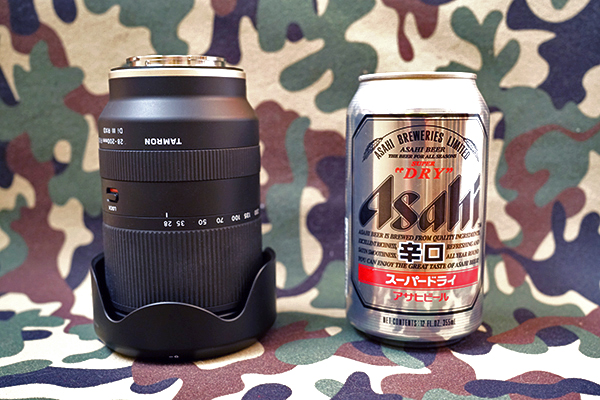 First Impressions
It's small—like really small. Like 12-ounce beer can small. And it's fast: f/2.8 at the 28mm wideangle setting. Unlike most extended zoom lenses, the Tamron 28-200mm f/2.8-5.6 zoom can focus as close as 7.5 inches, so it's useful in a wider variety of shooting situations, including close-up pictures of dinner. That's important to me because when I travel, I hate to be forced to change lenses just to shoot my lunch. So there are several reasons why we felt the spark of attraction toward this zoom right from the get-go. But, the big question in our mind, frankly, was "It's small and well made, but is it sharp?"
We used a Sony Alpha a7RII mirrorless camera body, which has a 42-megapixel full-frame image sensor, to assess lens performance. From our experience with this camera we knew we'd be able to critically evaluate the image quality, including resolution, acuteness, contrast, color fidelity and correction for aberrations, in addition to other product characteristics like handling, build quality and so forth.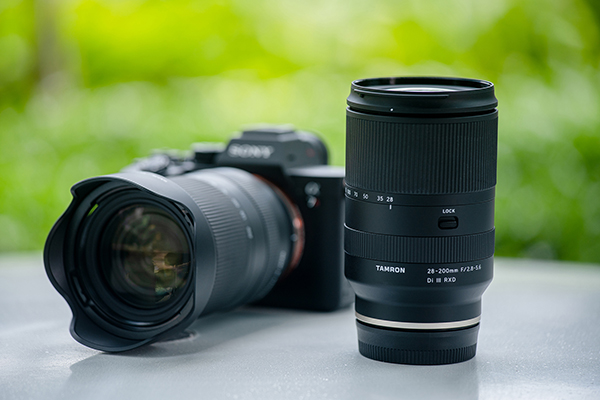 Backstory
About 28 years ago Tamron disrupted the camera accessory lens marketplace with the release of the AF 28-200mm f/3.8-5.6 Aspherical (Model 71D) zoom lens. It was compact and lightweight, and Tamron labeled it "All-in-One" which more than made sense. Like gangbusters, Tamron has dominated this genre of extended-range zoom lenses for the nearly three decades that followed. The full name of the new lens is Tamron 28-200mm f/2.8-5.6 Di III RXD (Model 071). The Model 071 designation is a sentimental nod toward the original groundbreaking Model 71D, the 28-200mm zoom Tamron built in 1992.
Construction
Externally, the Tamron 28-200mm f/2.8-5.6 zoom lens is just the right size. Held in the left hand, your thumb and forefinger fall perfectly on the ribbed rubber zoom ring while the tip of the middle finger meets the full width of the narrow focusing ring. Weight is balanced neatly on the palm and the camera-lens combination is very comfortable when held at eye level.
The zoom ring arcs from 28mm to 200mm in one-quarter turn and is equipped with a lock (which frankly seem unnecessary as I have not experienced any zoom creep). Overall, build quality is excellent.
Inside, the AF drive system is powered by Tamron's proprietary RXD (Rapid eXtra-silent stepping Drive) stepping motor unit. It's fast and quiet. Technically speaking, the RXD uses an actuator to precisely control the rotational angle of the motor. This allows it to drive the focusing lens directly (i.e., without passing through a reduction gear). Additionally, there is a sensor that precisely detects the position of the lens. This enables high-speed and accurate autofocus, two necessary ingredients when you're shooting moving subjects or recording movies.
For added protection against the elements, the Tamron 28-200 zoom has environmental seals at the lens mount and at other susceptible locations. This moisture resistant construction is supplemented by a coating of Fluorine on the front element. Fluorine is hydrophobic and oleophobic—it repels water and oil. So it's simultaneously safer, easier and less necessary to wipe the front element clean.
Optical Design
The optical design of the Tamron 28-200mm zoom consists of 18 elements in 14 groups and contains a mixture of special lens elements—including LD (Low Dispersion) and XLD (eXtra Low Dispersion)—whose purpose is to greatly suppress chromatic aberrations. As seen in the diagram, the formula also includes hybrid aspherical and molded glass aspherical elements.
The diaphragm aperture is circular. Round aperture openings contribute to more pleasant bokeh partly because they do not impart a weird polygonal shape to defocused highlights.
All glass-to-air lens element surfaces are treated with Tamron's own BBAR (Broad-Band Anti-Reflection) coating. The purpose of lens coating, generally speaking, is threefold. Coating reduces internal reflections (flare), suppresses ghosting and slightly increases light transmission.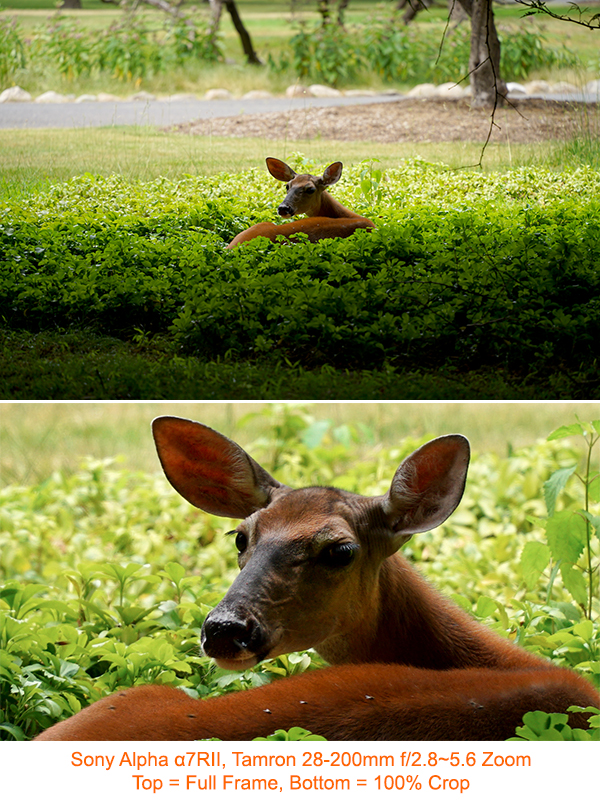 Leverages Features Built Into Sony Mirrorless Cameras
Tamron was able to keep size, weight and cost remarkably low partly by taking full advantage of special image-correction features that are built into Sony mirrorless cameras. It was unnecessary to build Vibration Control into this lens because Sony full-frame mirrorless camera have the highly effective SteadyShot in-camera image stabilization. Why spent money on waterproof socks when your boots are waterproof?
Tamron's new 28-200mm zoom is compatible with many of the advanced Sony camera features including Fast Hybrid AF, Eye AF, Direct Manual Focus (DMF), in-camera lens correction (shading, chromatic aberration, distortion) and ability to install camera-based lens unit firmware updates.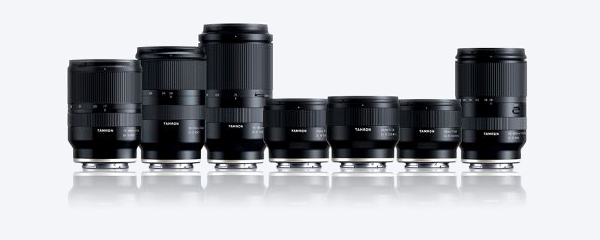 Special Features
The following paragraph is copied nearly word-for-word from our review of the Tamron 70-180mm f/2.8 zoom—and for good reason. This special feature applies to every Tamron lens in this series (i.e., Tamron's lineup of seven lenses specifically designed for Sony mirrorless full-frame E-mount cameras).
All seven lenses share the same filter size: 67mm. The benefits are manifold if you own two or more lenses. All of your 67mm filters and caps become universal. You can use the same expensive Circular Polarizer or Neutral Density filter on your Tamron 35mm f/2.8 and on this All-in-One Zoom, for instance. Lens caps are 67mm and interchangeable, so that's one less thing to fumble with. Smart, convenient and moneysaving.
Performance Summary
Some photographers set lower expectations of quality from all-in-one-type, extended-zoom lenses, compared to what they expect from a zoom lens with a more conservative zoom range. I've heard consumers say, "Hey, you're getting an extra-long zoom range, so you have to give up something." Rest assured that this is not the case with the Tamron 28-200mm f/2.8-5.6 zoom.
In the field I found Tamron's new 28-200 to be tack-sharp at the 200mm tele end as witnessed by the images of bristling chipmunks and reclining white-tailed deer (Odocoileus virginianus). The lens performed equally as well at 28mm for wide shots and close-up photography, too. I was especially pleased that when seated at an outdoor picnic table I was able to go from a close-up shot of my plate to a distant 200mm shot of a bird—all with the same lens.
Having a fast f/2.8 aperture at the 28mm wide setting is another huge plus. Normally we tend to use zooms at the wideangle setting when indoors, the place where we need the extra light-gathering virtues of the large aperture the most. Unless you live in an enormous house, it's difficult to get far enough away to use the telephoto end of the zoom inside. Outside, we tend toward telephoto where a smaller aperture is just fine—and usually necessary in bright light anyway.
In other areas, like AF speed and noise, I give the lens high marks. And although I used manual focus only a few times, the DMF (Direct Manual Focus) feature made it a snap.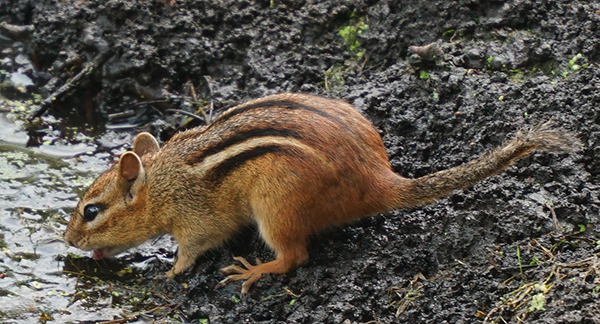 Conclusion
Tamron has clearly pushed the all-in-one zoom lens concept up to a new level. What started with Tamron nearly 30 years ago as a pretty good idea to pack a broad zoom range into one extra-compact lens has grown to become a lens that is all of these: a capable 28mm wideangle, a fast f/2.8 lens for indoor shots of groups, a portrait zoom that makes composition easy and keeps things sharp, and a 200mm telephoto that produces excellent results and focuses fast enough to capture the action.
The Tamron 28-200mm f/2.8-5.6 zoom for Sony full-frame (and crop-frame) mirrorless cameras fits so many niches. It's the ultimate lens for travel and perfect as the first accessory lens purchase. It's great to have in the backpack "just in case," and it takes up so little space.
Most importantly, in addition to being portable and all that, it is sharp. That's the question we set out to answer at the onset.
Price and Availability
Available now in Sony FE mounts only (for full-frame as well as APC-size crop-frame Sony mirrorless cameras). Price at Amazon is $729.
—Jon Sienkiewicz
(As an Amazon Associate, Shutterbug earns from qualifying purchases linked in this story.)

FEATURED VIDEO