Tamron 150-500mm f/5-6.7 Di III VC VXD Review: Powerful Zoom for Sony Full-Frame Mirrorless Cameras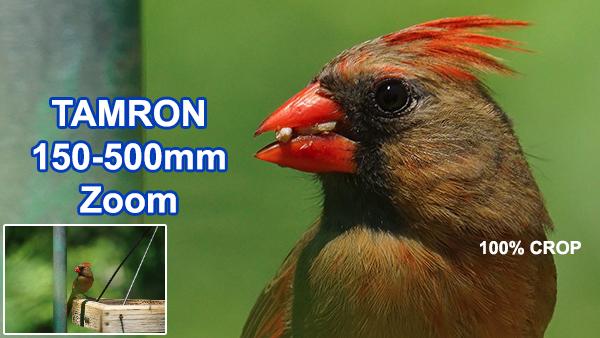 Tamron just released their new 150-500mm f/5-6.7 zoom and we received one of the first samples for review. Where would you take such a lens? We went to the NJ Audubon Center, a Somerset Patriots baseball game (they're the NY Yankees' Double-A minor league farm team), a nearby nature preserve and the patch of bee-attractant flowers in my back yard. Here's our review and lots of pictures from these four venues.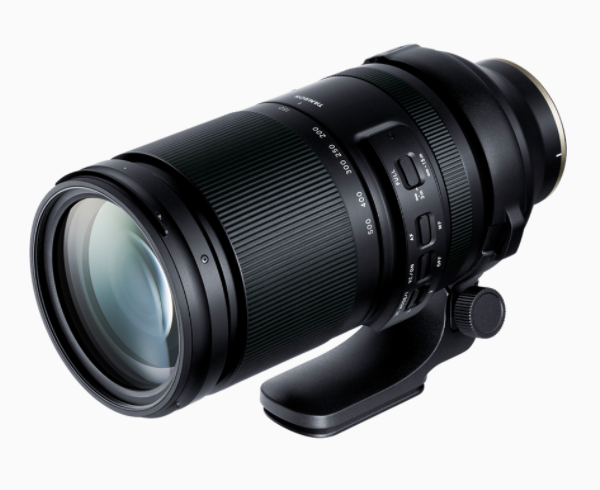 Priced at $1399 and available now, the Tamron 150-500mm f/5-6.7 Di III VC VXD zoom lens comes with a blue ribbon pedigree, but I wanted to check three things firsthand. How sharp is it at 500mm and wide open? How easy (or difficult) is it to shoot handheld? And finally, does it handle and focus fast enough to shoot fast-action sports, moving birds and skittish animals?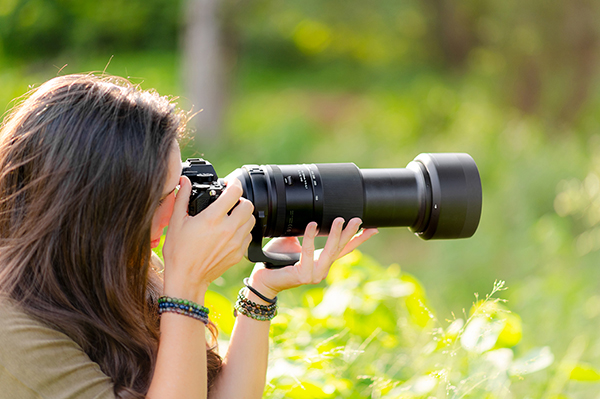 Overview & Feature Summary
Summed in a single word—small. For a 150-500mm long-reach telephoto zoom, this Tamron lens is very compact, just 8.3 inches (210 mm) in length with a girth of 3.6 inches (93 mm). When fully extended to 500mm, it's only 11.1 inches (283 mm) long. It's nicely balanced and is shipped with an Arca-Swiss compatible, rotatable tripod mount that can double as a haul handle. More details on that later.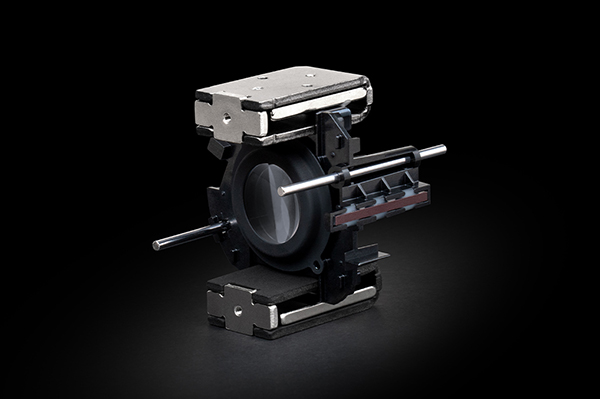 Attached to a camera and into the field, the mechanical performance is lively and crisp. In more concrete terms, autofocus is very fast and accurate. The 150-500 zoom is equipped with Tamron's proprietary VXD2 linear motor focus mechanism. The AF operation is fast, very responsive and very quiet, quiet enough for video applications.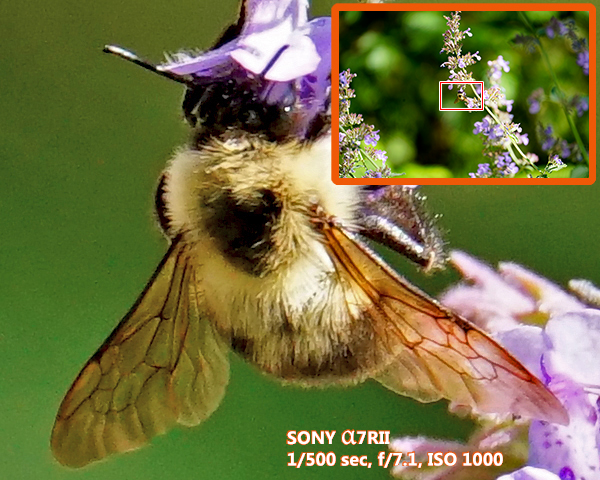 This long zoom lens focuses as close as 23.6 inches (0.6 meters) when zoomed to the 150mm focal length. Tamron calls this spec "MOD" for Minimum Object Distance, but no matter what you call it, focusing to less than two feet is freakily amazing. Even at the 500mm position, MOD is impressive—just 71 inches (1.8 m)—less than six (6) feet.
This is a welcomed trend from Tamron these days, maximizing the close-focus capabilities of the lenses in their Sony lineup. For example, the MOD of the 28-200mm zoom (here's our review) is 7.5 inches, and for the 70-180mm f/2.8, MOD is just 10.6 inches (we reviewed that lens, too).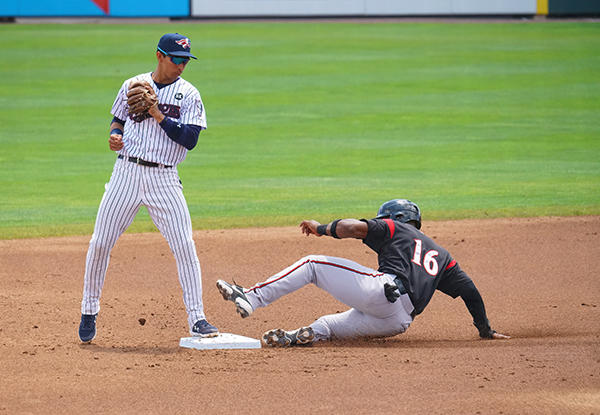 With any powerful zoom, a legit concern is camera shake. To nullify camera movement, the Tamron 150-500mm f/5-6.7 features VC (Vibration Control). There are three VC settings, selectable via a dedicated switch on the lens barrel. Mode 1 is standard VC. Mode 2 is used exclusively when panning the camera. Mode 3 also stabilizes the image in the camera's electric viewfinder for more convenient composition. Changing settings is as easy as sliding a finger.
Along with the VC mode selection and VC on/off switches there is a switch that toggles between AF and MF. A fourth switch permits the user to limit the focusing range to speed-up what is already a fast AF in situations where close-focusing is not being pursued. The truncated range is 15 meters (about 49 feet) to infinity. The switches are nicely designed and comfortable to operate.
To lock the zoom at a preferred focal length during use, simply slide the zoom ring forward, exposing a white ring that helps you remember to undo the operation when finished. I found the zoom lock very useful at the ballpark. Also, a small but nice feature, the lens hood has a rubberized protective front portion.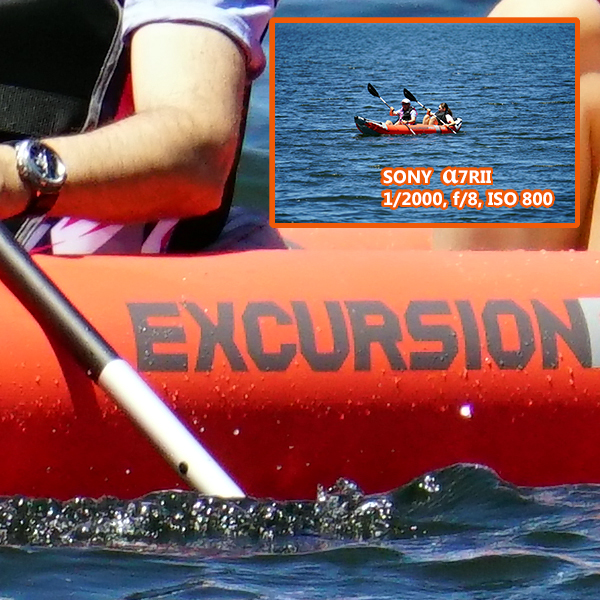 Tamron 225-750mm f/5-6.7 Zoom Lens
The 150-500mm Tamron tele-zoom is designed for full frame sensor cameras. When used on crop-frame (APS-C) sensor Sony cameras (e.g., Sony a6600 or the older Sony NEX 7) the 1.5X lens factor comes into play. The zoom lens becomes the equivalent of a 225-750mm f/5-6.7 zoom lens.
Specifications
Construction
Build quality is outstanding. The gentle knurling on the rubberized focus and zoom rings is pleasant to the touch, and the zoom mechanism is smooth and certain. Buttons are positioned conveniently, including the lock switch that is used to prevent the lens from unintentionally extending while being carried pointing down.
Like many other Tamron lenses, extra protection against the elements is provided by moisture-resistant construction; lens mount and critical areas are sealed. The front element is coated with oliophobic Fluorine to repel greasy fingerprints and facilitate dust removal. Filter size is 82mm.
The 150-500mm f/5-6.7 zoom's AF drive system is equipped with the VXD (Voice-coil eXtreme-torque Drive) linear motor focus mechanism. Tamron developed this component to provide exceptionally responsive performance and enhanced tracking capability. The linear motor dampens drive noise and vibrations during focusing, so the zoom is great for shooting video as well as stills, and being quiet about it.
Tripod Mount and Strap Attachment Slots
When using any long or heavy lens, it's better to attach the lens instead of the camera to a tripod. This prevents abnormal stress on the camera's lens mount. The Tamron 150-500mm zoom comes with a removable tripod collar that allows the camera to be rotated quickly from landscape to portrait position. It's Arca-Swiss style, assuring compatibility with all high quality tripod heads and ball heads. Nice touch—the foot of the tripod mount has slots to attach a camera strap. If you must carry the camera-plus-lens by a neck strap (instead of cradled in your arms) connect the strap to these slots—not to the camera's strap lugs.
Optical Design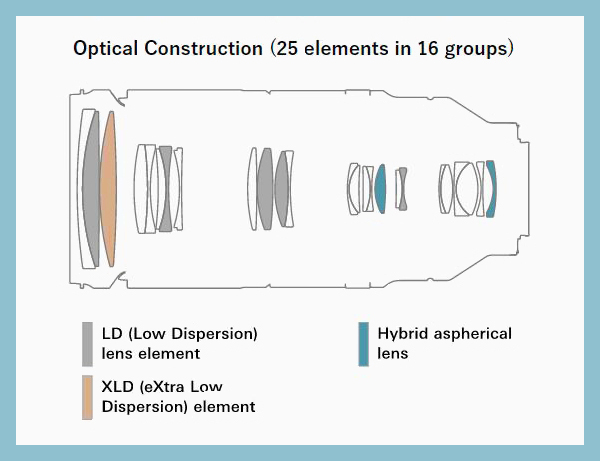 The design deploys 25 individual elements in 16 groups. The optical formula features five (5) LD (Low Dispersion) lens elements, one (1) XLD (eXtra Low Dispersion) element and two (2) Hybrid Aspherical elements.
Lens surfaces are coated with Tamron's BBAR-G2 (Broad-Band Anti-Reflection Generation 2) multi-coating to suppress ghosting and flare. I did not encounter either of these soul eaters during testing.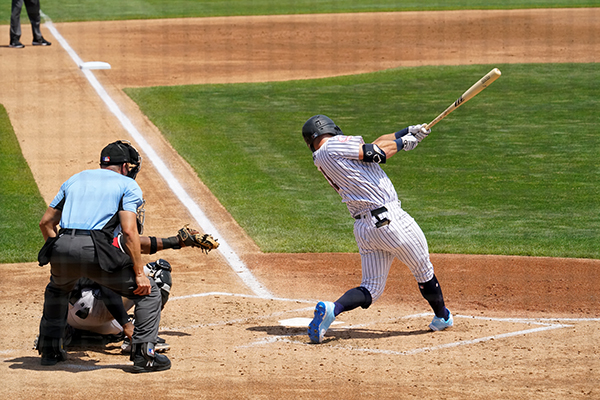 Leverages Sony Camera Features
We tested the Tamron 150-500mm zoom on a Sony Alpha a7RII mirrorless body. It's a 42.4-megapixel mirrorless (not to be confused with the Sony Alpha a7II which boasts 24.3-megapixels). This camera, which is one of the best bargains available today priced at just $1298 on Amazon, has several image-enhancement features built in, including reliable 5-axis image stabilization.
Tamron's VC stabilization functions collaboratively with the camera's built-in stabilization. The zoom also parlays many of the other advanced built-in features, including Sony's Fast Hybrid AF, Eye AF, Direct Manual Focus (DMF), camera-based lens firmware updates and in-camera Lens Corrections. The Lens Corrections include countermeasures against shading (also called vignetting), chromatic aberrations and angular distortion.
Performance Summary
Did the Tamron 150-500mm zoom measure up to the three performance tasks I established at the beginning of this review? Is it sharp at 500mm wide-open? Yes, extremely sharp. Look at the images in this story for confirmation. Is it easy to use handheld? Yes, very. And last but not least, does this zoom handle and focus fast enough to capture sports and wild animals? Yep. Look for yourself.
Overall optical performance, including sharpness, color fidelity and contrast, is superb. Images, even those shot at the largest aperture, are crisp. Colors are rich and well saturated, and true to life. I did not test extensively for pincushion or barrel distortion, but neither did I encounter any.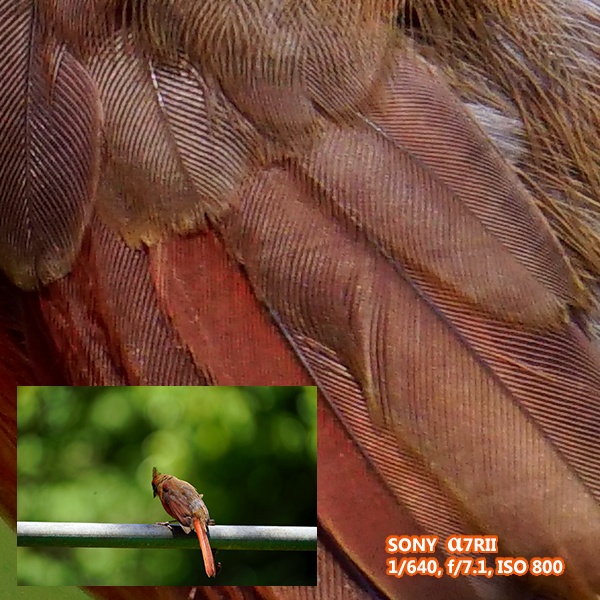 Bokeh is very pleasant. Personally I think that chasing bokeh is overrated, but since it is an inescapable part of some images, it's good to have pleasant bokeh. The Tamron 150-500mm zoom features a circular aperture diaphragm to enhance bokeh.
Shooting a 500mm lens handheld requires good work habits, but this is true when using any telephoto lens—or any lens, really. Tuck your elbows in, breathe evenly, and gently press the shutter. I was able to shoot wary bullfrogs handheld, at shutter speeds of 1/500 sec, wide open. I normally boost ISO a bit when shooting a long tele, to enable faster shutter speeds. But the frog pictured somewhere in this article was shot at ISO 640 in a very shady pond. The detail visible in his reflective eye is incredible at 100% magnification, as shown here. And I gotta tell ya, from where I shot this picture it was nearly impossible to even see this frog with the naked eye.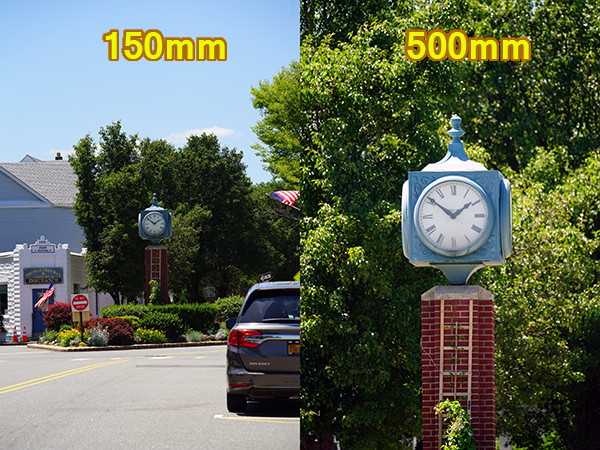 The Tamron 150-500mm zoom handles fast. The autofocus system is very fast, and very quiet, too. I had no trouble photographing jittery honeybees. And the AF was fast enough to capture all of the action at the baseball stadium. Even zooming is fast because the zoom ring rotates only 75°. To appreciate the significance of this last specification, think of a clock face. When the second hand moves from the 12 to the 3 it travels in a 90° arc.
The very close minimum focusing distance (MOD) is an intriguing performance feature. Typically, when you think about a 500mm ultra-telephoto zoom you think about photographing things that are far away, like animals, quarterbacks or airplanes. Getting amazing results when focusing on close—very close—objects makes this zoom lens more versatile and more fun.
Conclusion
Sony Alpha mirrorless camera owners are lucky. Tamron offers a growing number of prime and zoom lenses to fit the Sony E-mount, from a 20mm f/2.8 ultra-wideangle to this ultra-telephoto zoom. We've evaluated several and the results have been consistently outstanding.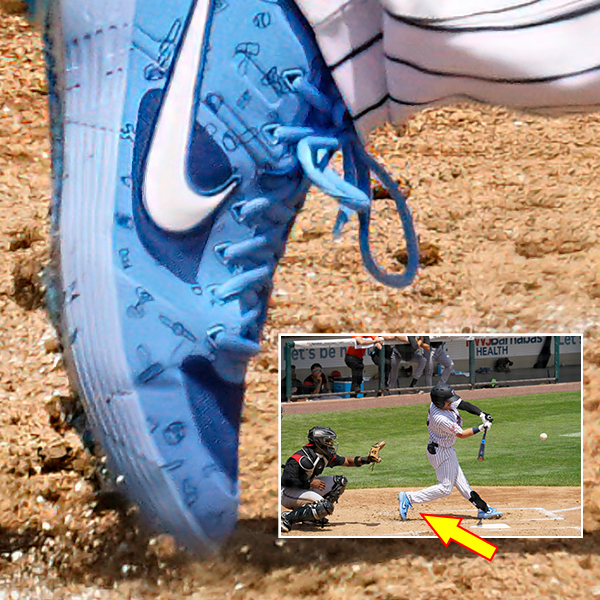 The Tamron 150-500mm f/5-6.7 is sharp, fast and compact. It handles easily and the built-in Vibration Compensation enhances its versatility when used handheld. Autofocus is fast and accurate, and color fidelity is sublime. Images are eye-popping—like the photo of the batter's shoelaces. That's exceptional performance for any handheld 500mm lens.
For sports, wildlife, auto racing, birding, air shows—and many other applications—the Tamron 150-500mm f/5-6.7 is an exceptional lens that consistently delivers outstanding results.
Price and Availability
The Tamron 150-500mm f/5-6.7 Di III VC VXD zoom lens is available now and can be ordered from Amazon for $1399. Tamron lenses purchased from an Authorized Tamron Dealer enjoy a 6-Year USA Limited Warranty.
The Sony Alpha a7RII used in this review can be ordered from Amazon. Price is $1298.
—Jon Sienkiewicz
(As an Amazon Associate, Shutterbug earns from qualifying purchases linked in this story.)

FEATURED VIDEO