Tamron's SP AF70-200mm F/2.8 Di LD (IF) Macro; A Digitally Optimized, Wide Aperture Pro-Grade Zoom With Close-Focusing Ability
Because of the increasing number of D-SLRs with full-frame sensors, Tamron is upgrading several of their multi-platform lenses to the Digitally Integrated standard. The most recent model, the 70-200mm f/2.8 Di, is optimized for D-SLRs regardless of the sensor size but also provides outstanding results with 35mm SLRs. This zoom has benefited from several improvements, including closer focusing ability and a focus "clutch" that allows for quickly switching from AF to MF. Extensive use of multiple layers of "Internal Surface Coatings" (plus a large hood) help to minimize flare from a highly reflective digital sensor and from external light sources.
Initially available in Canon and Nikon mounts, this lens will also be built in Pentax and Sony versions at a later date; all include a removable tripod-mounting collar. (The Nikon mount model is equipped with the focus motor necessary for AF with the D40, D40X, and D60.) Although the very wide maximum aperture does increase the size, this f/2.8 lens offers a valuable benefit over the f/4.5-5.6 zooms. It allows for shooting at faster shutter speeds at a lower ISO level, great for low-light or action photography.
The Tamron 70-200mm zoom is a pro-caliber lens capable of producing images with exceptional color rendition, contrast, and resolution. Particularly in images made in the mid range of apertures, sharpness and definition of intricate details are very impressive. (This JPEG was made with the EOS 40D at 200mm and f/8, using a Bogen/Manfrotto tripod.)
All Photos © 2008, Peter K. Burian, All Rights Reserved
Features And Design
Since it's a high-grade product, this zoom is very rugged but not particularly heavy. In order to minimize weight, the engineers specified barrel parts made of engineering plastic materials with the stability and strength required for professional applications. The matte black finish and extra wide rubberized focusing and zoom rings exude a professional look and feel; the operation of both rings is very well damped for plenty of friction for a familiar "feel."

A full three LD (Low Dispersion) elements result in superior image quality, particularly noticeable at wide apertures, with very high sharpness/contrast and freedom from color fringing around subject edges. An internal focusing mechanism provides two benefits: fast autofocus and a non-rotating front barrel (to ensure that a filter's effect never changes). That feature, plus internal zooming, also allows for a non-extending barrel; the center of gravity always remains constant, useful particularly when this lens is used on a tripod.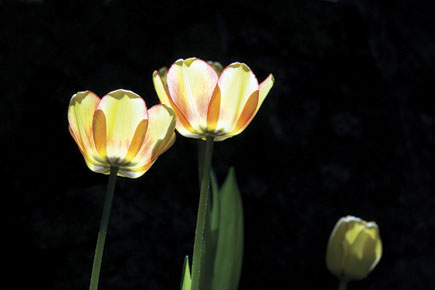 Like all Di and Di II lenses, the 70-200mm f/2.8 model benefits from extensive use of multiple "Internal Surface Coatings" to minimize flare from a highly reflective CMOS or CCD sensor. This feature is also useful when shooting in strong sidelighting or backlighting, helping to produce snappy images. (This image was made with the EOS 40D at f/8, using a Bogen/Manfrotto tripod.)
In-Use Evaluation
While shooting stock images during several trips and events, I gave this Tamron zoom a good workout, using a Canon EOS 40D and occasionally an EOS 5D with a full-frame sensor. The advanced optical formula and digital optimization allowed the lens to produce images with snappy contrast as well as incredibly high sharpness across the entire frame. Optimal performance was provided in the 70-140mm range at f/8 but I never hesitated to shoot at f/2.8 at any focal length when necessary. By f/4 edge sharpness matched central sharpness and the images made for gorgeous 13x19" prints.
As the macro designation hints, the 70-200mm f/2.8 lens can focus as close as 3.1 ft, providing an impressive 0.32x magnification at the 200mm end. By comparison, most other zooms of this type are limited to about 0.17x magnification. In images of colorful blossoms at the longest focal length sharpness was excellent, particularly in the f/5.6-16 range. This Tamron zoom is also remarkably well corrected for shading or vignetting. By f/4, corner brightness matches central brightness, whether it's used with a D-SLR with a small sensor or a full-frame size sensor.
(Left): While one of the more "portable" Tamron zooms (with smaller maximum apertures) will satisfy many families, the 70-200mm f/2.8 model targets serious photo enthusiasts who insist on the finest image quality. (This photo was made with the EOS 40D at 200mm and f/5.6.) (Right): Image quality at maximum aperture is very good, particularly in the 70-140mm focal length range. As with any lens, depth of field is shallow at f/2.8 so only the focused plane is sharply rendered. For the best results, focus carefully on the most important subject area. (This image was made with the EOS 40D at 70mm using ISO 400 and 1⁄60 sec.)
Both of the EOS cameras are equipped with fast AF systems and that allowed the lens to focus quickly in action photography. While an ultrasonic focus motor might be even faster, I was able to shoot long series of sharply focused images of the competitors during a marathon and a horse-jumping event. Because the wide f/2.8 aperture transmits a lot of light to the AF sensor, autofocus remained reliable even in the low light of a theater.

LATEST VIDEO