Tamron's SP AF70-200mm F/2.8 Di LD (IF) Macro; A Digitally Optimized, Wide Aperture Pro-Grade Zoom With Close-Focusing Ability Page 2
That's when the wide aperture was particularly useful, allowing me to shoot the performances using ISO 800 instead of ISO 1600 or 3200 required with an f/4 or an f/5.6 lens. Since flash was not allowed, I generally worked at a 1/125 sec or faster shutter speed in order to "freeze" camera shake and subject movement. Since image quality is always better at a lower ISO level, the f/2.8 aperture was a definite asset. After the audience left, I made a series of portrait photos of individual performers. It was great to be able to switch quickly from AF to MF by pulling the focus ring back by about 1⁄4 of an inch. This allowed me to fine-tune focus quickly in situations where the AF system insisted on setting focus for the subject's nose instead of the eyes.
The "macro" designation refers to close-focusing ability or a minimum subject distance of 3.1 ft. Particularly at long focal lengths, that allows for frame-filling images of small subjects without the need to move in excessively close to achieve high magnification. (This image was made with the EOS 40D at 200mm at f/11, using a Bogen/Manfrotto tripod.)
The Bottom Line
Anyone who still doubts that a zoom can match a "prime" lens should certainly try this one. It's an eye-opener. In spite of the remarkably competitive price, it's a first-class performer in terms of sharpness, resolution of intricate details as well as freedom from flare and color fringing. Overall, this multi-platform Tamron lens' optics, autofocus, and rugged construction make it ideal for those who want a superior "fast" telephoto zoom. On cameras with a typical APS-C sensor size, the effective focal length is 112-320mm (Canon) or 100-300mm (other D-SLRs), but the lens also accepts the Tamron SP AF Pro tele-converters.
No camera's AF system can read your mind and sometimes, it will focus on the most reliable "target" and not the most important subject area (such as an eye). The ability to switch instantly to MF allows for quickly fine-tuning focus before switching back to AF operation. (This image was made with the EOS 40D at 200mm at f/6.3.)
Check out this zoom in person to determine whether you'll be comfortable in carrying and handling a 2.5-lb lens. Frankly, some shooters will prefer something like the 15.2 oz AF18-250mm F/3.5-6.3 Di-II LD Aspherical (IF) Macro zoom, exclusively for D-SLRs with the APS-C size sensor. Though not intended for everyone, the multi-platform Tamron SP AF70-200mm F/2.8 Di LD (IF) Macro model will satisfy serious photographers. Considering its level of performance, this zoom offers excellent value; used with the right shooting techniques, it will pay dividends in terms of pro-caliber images.
For more information, contact Tamron Lenses USA, Inc., 10 Austin Blvd., Commack, NY 11725; (800) 827-8880; www.tamron.com.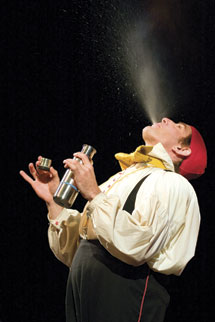 Even in a dark theater, the EOS 40D had no difficulty in autofocusing thanks to the amount of light transmitted to its AF sensor by the wide f/2.8 aperture. At this f/stop, shutter speeds were adequately fast at ISO 800 to freeze subject motion, precluding the need to shoot at higher ISOs where digital noise is more problematic. (This image was made at 1/160 sec.)
Technical Specifications
Format: For 35mm SLRs and D-SLRs regardless of sensor size
Minimum Aperture: f/32
AF System: Internal focusing; clutch for shifting between AF and MF
Lens Construction: 18 elements (including three low dispersion) in 13 groups
Angle Of View: 34.21 to 12.21?
Minimum Focusing Distance: 3.1 ft (1:3.1 reproduction ratio at 200mm)
Filter Size: 77mm
Dimensions/Weight: 7.6x3.5"; 40.6 oz plus tripod mount
Accessories: Lens hood and removable tripod-mounting collar included
Available Mounts: Canon and Nikon; Sony and Pentax mounts in future
Average Street Price: $699
A long-time "Shutterbug" contributor, stock photographer Peter K. Burian (www.peterkburian.com) is the author of "Mastering Digital Photography and Imaging" and several "Magic Lantern Guides" for Pentax and Sony D-SLRs. He is also a digital photography instructor, teaching two online courses at BetterPhoto.com.

LATEST VIDEO