Tamron's SP AF180mm F/3.5 Di LD (IF) 1:1 Macro; A Macro Tele Lens For 35mm, APS-C, And Digital SLRs With Full-Frame Sensors Page 2
Plusses And Nits
One useful feature found on the Tamron 180mm f/3.5 Macro is a striated Filter Effect Control (FEC) ring at the very front of the lens barrel. Turn it clockwise and a geared internal mechanism causes the front filter mounting ring to rotate counterclockwise (and vice versa), making it easier and more comfortable to control the effects of polarizers, graduated filters, and those special-effects filters that provide variable effects. The FEC control ring has a very smooth action, and it's certainly easier to grab this 3/8"-wide ring than the narrow rings found on most filters. We also liked the legible distance scale, which displays both footage and metric distances in white-on-black, and magnification ratios in orange-on-black, all under a plexiglass cover window. The abbreviated depth-of-field index (f/32 only!) is kind of useless except that it highlights the focusing index, and we note that one casualty of having a removable tripod platform (which we like) is that this one lacks vertical and horizontal orientation detents--there are only orientation dots on the barrel--no great loss.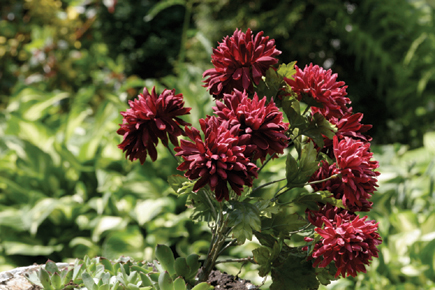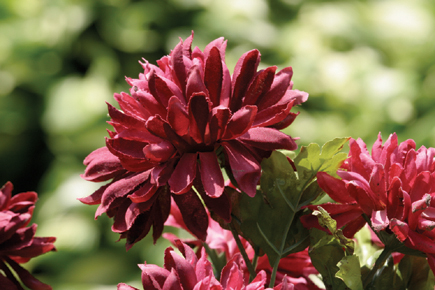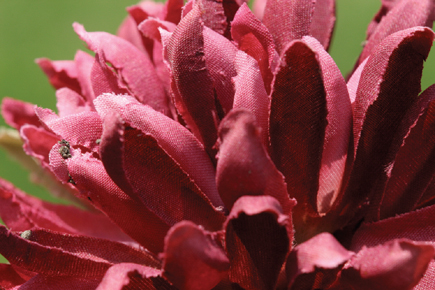 As you get closer it becomes clear that the green foliage is real, but the flowers are not! Clincher is the last shot taken at 1:1, which clearly shows texture of the flowers' fabric. Note smooth quality of out-of-focus image (e.g., good bokeh) in next-to-last shot. All photos made with Tamron's 180mm f/3.5 Macro at f/5.6 on Canon EOS 20D.
The Tamron 180mm f/3.5 Macro is beautifully finished in satin black with gold accents and comes with a substantial (4" long!) and very effective lens hood. Happily the big hood is very light, and it stows by bayonetting in reverse position over the front of the lens. We shot hundreds of pictures with and without the hood, and the only time we noticed any visual benefit was in shooting in extreme high flare situations, e.g., with harsh light striking the front surface of the lens at an acute angle.

The Bottom Line
Overall, we were very impressed with the imaging performance of the Tamron SP AF180mm F/3.5 Di LD (IF) 1:1 Macro. It is certainly capable of delivering superb sharpness over the entire aperture range along with excellent bokeh (that is, smooth out-of-focus image quality with defocused images retaining their shape). We would therefore recommend it for consideration by any serious enthusiast or pro shooter who takes macro shots of small distant subjects, or who requires an excellent quality 180mm telephoto that provides outstanding close-up capability.

While lenses having about twice the focal length of a normal lens (the 85-105mm range in 35mm) have long been regarded as the ideal portrait lenses, the longer Tamron 180mm also acquitted itself remarkably well for outdoor portraiture. It provides a pleasing perspective, excellent definition, and a shallow depth of field that helps make the subject "pop off" the agreeably soft background. For those who prefer to carry the lens separately (as I do) it comes with a good quality soft, padded zipper case with strap. No, I'm not about to trade in my 90mm macro anytime soon, but after shooting with the Tamron 180mm f/3.5 Macro for about a month it's now at the top of my "next lens" list.
Technical Specifications
Focal Length And Maximum Aperture: 180mm f/3.5
Minimum Aperture: f/32
Closest Focusing Distance: 18.5" (0.47 meters)
Filter Size: 72mm
Max. Diameter Length, Weight: 3.3x6.5", 32.5 oz
Street Price: $699, with padded case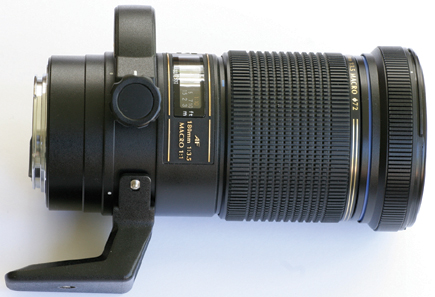 Tamron's 180mm f/3.5 Macro: Largish but fairly light in weight for its class, it features an easily removable tripod collar, a push-pull AF/MF switchover mechanism in the wide, well textured focusing collar (shown in blue ring-coded manual focus position), and a handy Filter Effect Control ring at the front of the barrel (see text).
For more information, contact Tamron USA, Inc., 10 Austin Blvd., Commack, NY 11725; (631) 858-8400; www.tamron.com.

LATEST VIDEO

SPONSORED VIDEO
Testing Tamron's SP 150-60mm G2 lens while capturing birds and alligators in Apalachicola, Florida.