Tamron's AF18-270mm F/3.5-6.3 Di II VC LD Aspherical (IF) MACRO; A Lens For All Seasons And Reasons Page 2
The supplied corner-cut lens hood—plus the anti-reflection coatings on the optical elements—proved to be very useful. Even when I was shooting photos of a newly married couple at their wedding in strong sidelighting, flare was rarely a problem. When using manual focus, I found operation to be convenient and quick because the ring needs to turn less than 45? from infinity to the minimum focus distance.
While an all-purpose lens with small (variable) maximum apertures is not the ideal choice for tracking erratic, high-speed motion in low light, it's fine for more common types of subjects in outdoor photography. Particularly at moderate focal lengths—where the wider maximum aperture allows more light to reach the camera's AF sensor—tracking performance is quite acceptable. (Nikon D90 at ISO 200.)
While reviewing my first batch of JPEGs, I was particularly impressed with the consistency at all apertures, a benefit you don't get with every all-purpose zoom. During my final review of a thousand photos on a professional monitor, I made the following observations:
Shading (darkening at the corners) is minimal and noticeable only at wide angle focal lengths; even then, the corners are bright by f/5.6, a much better than average result. Contrast seemed a tad low in most of my images, but that was easy to solve by boosting contrast with an in camera override or with Auto Contrast in Photoshop or Elements. While barrel distortion (bowing outward of lines) was visible in the 18-24mm range, this would be a problem only in serious architectural photography. I was pleasantly surprised at the image quality in "macro" focusing, especially at f/11 to f/16, apertures that are useful for adequate depth of field.

Images made at very long focal lengths are a bit soft, though quite acceptable at f/11. After I applied a high level of Smart Sharpen in Photoshop CS4 or Elements 7, these photos made good 8x10" glossies. Image quality was more impressive at shorter focal lengths, particularly 18-200mm. Center sharpness was high at all apertures, and very good at the edges, particularly at f/8 or f/11. After they were optimized for printing, my best photos made for 11x15" prints that look great as wall decor. During the past five years, I have tested a half dozen broad range zooms and found that this one was definitely better than average in the multipurpose category.
During the horse jumping competition at Toronto's Royal Winter Fair, I was often able to shoot from a position close to the action, making long focal lengths unnecessary. As discussed in the text, tracking AF performance was quite good in the 18-190mm focal length range. (This series was made at 100mm, a 200mm equivalent, at ISO 1600, with a Nikon D90.)
The Bottom Line
Far more versatile than an 18-200mm zoom, this Tamron 15x model is not much larger but provides a 29-432mm equivalent on an EOS camera or a 27-405mm equivalent on a Nikon D-SLR. It would be a great companion whenever you don't want to carry a full camera bag. The Vibration Control system adds definite value. By minimizing the effects of camera shake, the stabilizer allows for using lower ISO levels where digital cameras provide better resolution. If you would appreciate a true "all-in-one" lens, be sure to check out this Tamron 18-270mm VC zoom with maximum versatility, rugged construction, and premium-grade optical formula.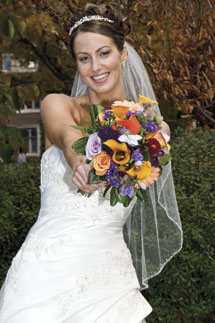 While testing the 18-270mm VC lens, I had an opportunity to shoot a wedding thanks to the courtesy of a friend who is a pro photographer (Mario Mule of www.1cmp.com) as well as the couple (Josh and Kelly). Everyone was pleasantly surprised with the image quality provided by the consumer-oriented 15x Tamron zoom; my technically best photos made for beautiful 11x15" prints. (Nikon D90 at ISO 400.)
Technical Specifications
Maximum Aperture: f/3.5-6.3
Construction: 18 elements in 13 groups
Filter Size: 72mm
Dimensions/Weight: 3.8x3.15"; 19.4 oz
Accessories: Lens hood included
Mounts: Canon and Nikon; includes the necessary motor for AF with the D40/D50/D60
Street Price: $600
For more information, contact Tamron USA, Inc. at: www.tamron.com.
A long-time "Shutterbug" contributor, stock photographer Peter K. Burian (www.peterkburian.com) is the author of books such as "Mastering Digital Photography and Imaging" and a series of "Magic Lantern" guides to D-SLR camera systems. He is also an online digital photography course instructor with BetterPhoto.com.

LATEST VIDEO