Tamron's 17-50mm F/2.8 Lens; A Constant Aperture, Image Stabilized Zoom Page 2
Field Shooting
As soon as I stepped out the door, I found that I was challenging myself to create some truly dynamic images with this lens, particularly under low-lighting conditions. I don't normally hand hold a lens for half a second, but found I was doing that with aplomb, albeit with the lens at its 17mm setting, with VC engaged. Granted VC didn't give me blur-free images 100 percent of the time, but there was a visible improvement when I did use it, compared with images made without VC. More to the point, a tripod or flash is not always available or practical, and this lens let me capture images I would otherwise have never attempted.

I also wanted to see how readily I could work with a circular polarizer with the lens shade attached. Thankfully, the petal-shaped lens hood is short enough to accommodate a finger carefully rotating the filter. In several instances, I added a Nikon SB-900 shoe-mount flash to illuminate subjects in the foreground, while setting the camera in Manual mode. That allowed me to capture the sunset tapestry of color and "magic hour" blue in the sky as my backdrop. I also tried the camera's built-in flash with this lens, but soon learned that it's viable for more distant subjects and preferably with the lens shade removed (so it wouldn't block the light toward the bottom of the frame).
Using A Polarizer Plus Flash

Church Interior

(Left): I exposed in Manual mode for tighter control and added a shoe-mount flash to bring out the color of the berries and a polarizer for the sky. Focal length was set at 22mm to capture the church in the background (ISO 200, f/8, 1⁄60 sec). Because this was late in the day, the effect of the polarizer was attenuated toward the horizon.
(Right): I stopped into a church to shoot an interior, reasoning that this was a lens well suited to this task. And I was right. Setting the lens at 17mm and exposure (in Auto: ISO 200, 1⁄5 sec, f/2.8), I activated Vibration Compensation for this handheld capture.

Tamron's Tri-Axial Vibration Compensation
Tamron actually uses the term "tri-axial Vibration Compensation" to more fully define their stabilization system, explaining: "The VC mechanism employs a three-coil system, whereby three driving coils activate the shake-compensating VC lens group electromagnetically via three steel ball bearings. This unique system achieves an ultra smooth compensating movement with virtually no friction." Essentially, the process involves two gyro sensors for pitch/horizontal movement and yaw/vertical movement. A Tamron representative explained further: "If you look at the diagram you'll see that the system operates on two gyro sensors. However, there are three driving coils and position detection sensors. This detects the VC lens position. The CPU then calculates the gyro information along with the position of the VC element. Then there are three actuators that actually move the VC lens to the correct position via three steel ball bearings. So the tri-axial (meaning three axes) is derived from the three driving coils."
Vibration Compensation (Schematic)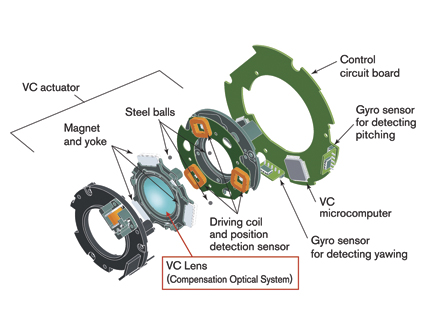 Tamron's brand of image stabilization, known as Vibration Compensation, controls unintentional movement along three axes, effectively dampening most vibration effects—in theory, up to four stops.
Courtesy of Tamron
Tamron states that Vibration Compensation is effective for up to four stops. I've achieved sharp results with VC engaged at shutter speeds down to between three and four stops from the optimum. The upshot of all this is that you don't always need to use a tripod or excessively high (noise-inducing) ISO levels. And the only reason to use flash would be for fill or effect, not to prevent blurring the subject.
When using this lens with a sturdy tripod, be sure to shut the VC function off. It reduces the battery drain, which is minimal to begin with. But more importantly, according to my tests with the lens at the 50mm setting, the VC function may actually introduce camera shake—but only with shutter speeds that exceed that four-stop window.
Technical Specifications
Tamron SP AF17-50mm F/2.8 XR Di II VC LD Aspherical (IF)
Lens Construction: 19 elements in 14 groups
Minimum Focus Distance: 11.4"
Filter Thread: 72mm
Length: 3.7"
Diameter: 3.13"
Weight: 20.15 oz
Diaphragm Blade Number: Seven (rounded diaphragm)
Minimum Aperture: f/32
Standard Accessory: Flower-shaped lens hood
Compatible Sensor: APS-C
Compatible Mount: Canon, Nikon (with built-in AF motor)
In the end, I now have numerous pictures to add to my portfolio. To my way of thinking, when a lens not only allows but also inspires you to be creative, that's a good lens to own. And I can easily say that of this Tamron 17-50mm F/2.8 VC optic.

For more information, contact Tamron USA, Inc. at: www.tamron.com.

LATEST VIDEO

SPONSORED VIDEO
Testing Tamron's SP 150-60mm G2 lens while capturing birds and alligators in Apalachicola, Florida.