Talking Pictures
School Portrait: Sunnyside School, 1871-1946
I had passed this long-abandoned, one-room prairie schoolhouse near Elk City, Kansas, hundreds of times over the years and each time I resolved to stop the next time to photograph it. Except for the chimney and tin roof, there had been no apparent effort to preserve the building, which is now on private property. Finally, on a hot, cloudless July morning, after 25 years of procrastination, I stopped to get my photo. I had taken a couple of shots when I noticed horses shuffling about inside. I whistled, nickered, clucked, and called, all in a futile effort to get one of them to come to the door. Eventually I gave up. I capped my lens and was about to move on when this gray mare came around the corner. She paused by the door while I fumbled to take the cap from the lens and reset the camera, then quietly disappeared into the cool, dark interior of the old school. Serendipity.
—Gerald Warren
Belle Plaine, KS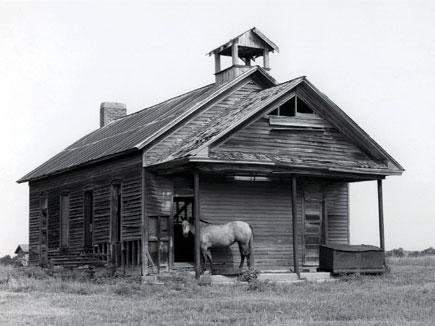 Technical Info: Photo taken with a Canon EOS 20D and a Canon EF 28-135mm IS lens at 28mm. Post-processing was done in Adobe's Photoshop CS2, using Duotone mode, Black and PANTONE Warm Gray 6 C.
© 2010, Gerald Warren, All Rights Reserved
Please Read This
The premise of "Talking Pictures" is that every picture has a story. We invite you to send quality prints (only) and a short narrative on why you took the picture or how, in retrospect, it brings up thoughts and feelings about the subject.

We do not return submissions. By sending us an image and text you grant us permission to publish it in this magazine and on our website. If you have any questions, please e-mail us at: editorial@shutterbug.com.

Send submissions to: Talking Pictures, Shutterbug, 1415 Chaffee Dr., Suite #10, Titusville, FL 32780.

FEATURED VIDEO