Take A Hike... With The Pentax 33WR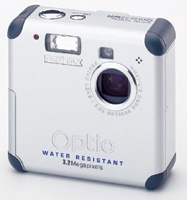 When we first saw the Pentax Optio 33WR it was at a photo trade show inside a goldfish bowl...filled with water. This is not the usual or recommended storage for a digital camera, especially with all the circuits and batteries etc. inside. This eye-catching display got our attention, so we thought it might be worth exploring this 3.2-megapixel digicam. The WR, you see, stands for Water Resistant and this square, palm-sized camera is rated at Class 7 JIS. This does not mean submersible (despite the display) or that the camera can be used to capture those curious barracuda on your next dive. It does mean that this is an ideal camera for hikers, boaters, and the like, who understand that getting splashed or rained upon need not evoke a panic attack about getting their 33WR wet. It also means that the camera can take a brief dunking, although, as they say, it doesn't float. Note that the interior is not waterproof, and that any water that gets inside will wreak havoc with batteries and the internal circuits, but it is better sealed than most.
You can often judge how well a camera's image processor and sensor work together in scenes that display a range of highlight to shadow values. This shady area caught some late day sun and shows how well the 33WR handles a range of brightness values. There's texture in the tree bark as well as details in the shadows. Exposure was made on multi-segment program with no exposure overrides.
Photos © 2003, George Schaub, All Rights Reserved
Built For The Outdoors
That said, we thought that this camera would be ideal for those who like their digital outdoors, especially hikers, kayakers, and the like who previously would hesitate to let their digital camera (or any camera for that matter) be exposed to the elements. The size, features and options the 33WR affords are best for the snapshooter; those who like to make visual diaries of their adventures. It is not a basic digicam, although it does not allow for much shutter speed or aperture control. Of course, there are ways around that, such as using the tele setting on the 2.8x zoom and getting close to soften backgrounds and raising the ISO (from 50 to 400) to get a better shutter speed for low-light, albeit with some noise coming in at the higher settings.
Camera Handling
The camera starts up quickly enough to capture images when needed, an improvement over previous models and over a number of other digicams we've used. Hit the On button and you don't even notice a lag. The menus are straightforward and offer all the options for altering the JPEG only images you capture. There's autofocus from about a foot to infinity and a close-up range in macro that will appeal to those who like to get very close to their subjects (4" at wide zoom setting). You can choose from three metering modes (spot, center-weighted and multi-segment), a host of Program Picture modes (including Panorama Assist and optimizing snow, sunsets, fireworks etc.) and white balance sets. There's also a Manual focusing mode that enlarges the view on the LCD for precise control. Shutter speeds range from 4 sec to 1/2000 sec. In short, you have lots of leeway when you shoot. The Picture Mode selection is quite cute, being a rotating menu on the LCD that you access by hitting the Mode button on the back toggle control. The 33WR is eminently portable and while a bit thicker than some of the slim-jims we've seen of late will not encumber your pack or deep pocket.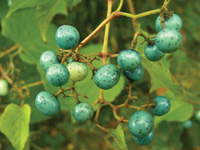 You can get quite close with the camera in either normal or macro mode. The first shot in this series was made on normal, and then we got even closer using macro mode second shot. Both images are very sharp..
In The Field
When we worked in the field with it there was nothing that jumped up as untoward or cumbersome in operation. Moving from option to option through the body controls or menu was simple enough. Like most digicams the best bet is to frame your image, press lightly on the shutter release and then push all the way down to make the image. This locks focus and exposure and actually displays the effect of exposure on the LCD screen.

For example, say you are photographing a scene with a bright sky and darker ground. If you perform the above recommended procedure you can see right away if you are overexposing the sky, thus causing it to be burnt up in the captured image. Rather, lock onto the sky or in the middle of the two brightness levels, touch the shutter release lightly and see if the sky value is better. This is a real bonus in this camera and ensures that exposures will be more in the ballpark. This is especially valuable if you are photographing in contrasty light or with a bright subject in a shadowed scene, although the camera does handle a range of bright to dark values nicely.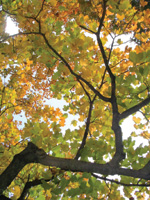 The camera handles most daylight scenes very well, and having the ability to preview or at least ballpark exposure with slight pressure on the shutter release is an added bonus. This backlit scene recorded just as we saw it in nature.
When photographing on auto white balance pictures have pleasant warmth and rich colors (we prefer to add image attributes like saturation, sharpness and contrast later in the digital darkroom). The same cannot be said of flash pictures, which in our tests came out quite "cool" or with a bluish cast. There is no "flash" white balance setting per se, and you would be better off setting white balance at "shade" for flash shots to get some neutral color cast. Of course, this bluish cast can be corrected later, but it is a bit of a nuisance, especially when you use fill flash outdoors on occasion.

All in all the Optio 33WR is a great camera for hiking, camping, kayaking, boating, and general knocking around in places like Seattle and London, where it rains more than not. At around $300 it's competitive with other 3-Mp+ cameras, with the weatherproof feature a decided plus.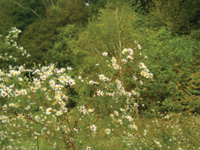 Although there are no depth of field or shutter speed settings per se, you can use Picture modes, ISO settings or zoom range settings to get pretty much any image effect you desire. Here, to get a softer background, we stepped back, zoomed close to our subject on the tele setting and focused on the foreground.
Facts
· Sensor: 3.2 effective megapixels
· Format: JPEG, with 4 compression modes; motion, (MOV), 2 compression modes
· Memory: SD cards
· ISO: 50, 100, 200, 400
· Lens: 5.7-16mm (37-104mm equivalent), 4x digital zoom
· Exposure: Program, with Picture Modes; 3 Metering patterns
· EV Compensation: +/- 2EV (exposure lock in shutter release)
· Drives: Single, continuous, self-timer, interval shooting
· Power: CR-v3, 2 AA, optional AC adapter
· Weight: 7.3 oz (fully loaded)
· Size: 3.2x2.9x1.2"
· Price: $300 street price
In general the 33WR delivered images with pleasing warmth and excellent color rendition. This is very pleasing for outdoor images as well as for most portraits.
Contact
Pentax U.S.A Inc.
1-800-877-0155
www.pentax.com


LATEST VIDEO

SPONSORED VIDEO
Testing Tamron's SP 150-60mm G2 lens while capturing birds and alligators in Apalachicola, Florida.