Super Lenses
Your Guide To Extreme Optics
The Sigma AF 800mm f/5.6 APO EX lens with Hyper Sonic Motor. This lens as well as the 300mm f/2.8 EX and the 500mm f/4.5 EX lenses feature a new extraordinary low dispersion glass developed by Hoya.
Photos © 1999, Joseph A. Dickerson, All Rights Reserved
You read a lot today about extreme sports. Extreme kayakers paddle previously unexplored rivers with class VI (considered impassable) rapids, extreme mountain bikers make 70mph descents of world class downhill ski courses, and even the relatively sedate sport of golf now has its extreme practitioners. Well, fellow shutterbugs welcome to Shutterbug's world of extreme photography.

Don't fret, I'm not suggesting you shoot a 20 roll brick of 35mm film while running an Olympic length marathon or go through a pack of Polaroid film while swimming 10,000 meters. We're just going to talk about choosing and using lenses that many photographers would consider extreme. These lenses are a bit wider, longer, or faster than most of us would carry in our gadget bags. I realize that one photographer's extreme is another's standard issue but, for most of us at least, lenses shorter than 20mm or longer than 300mm and/or lenses with very fast maximum apertures could qualify as extreme. Let's see what makes these lenses tick and perhaps find some new ways to apply them.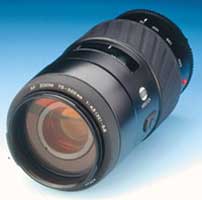 You've heard and perhaps been put off by some of these buzzwords; Apochromatic, low dispersion glass, aspherical elements, floating elements and multi-coatings. So we'll address some of these issues as we go along. The first issue to be raised is why should we even consider using extreme optics. After all, didn't Henri Cartier-Bresson use only a standard focal length lens? The obvious answer is that we need these lenses to achieve the framing or composition we want. An example of this would be architectural interiors where standard wide angle lenses, those in the 24-35mm range, simply aren't wide enough. The only alternative, short of taking out a wall, is to use a 20mm, 17mm, or even shorter focal length. Likewise, a photographer normally chooses a long lens because the subject is too distant or too hazardous to approach with a shorter focal length. Wildlife and sports photography immediately come to mind. And, of course, any beginning photographer can tell you that fast lenses are useful when you are shooting available light photographs in low-light situations. Concerts or museum exhibits where flash photography is prohibited are examples. These are some of the textbook uses of extreme lenses but let's look further and see if we can find different ways to utilize them and perhaps bring a new dimension to our photographs as well.
The Carl Zeiss 300mm f/2.8T.
Not too many years ago extreme lenses had so many inherent distortions and aberrations that they were considered strictly a last resort. Today, thanks to new types of glass and other aberration taming strategies, they have become more practical and affordable. One of these developments, pioneered by Canon in the 1970s, was the advent of aspherical elements. Spherical aberrations are caused by the fact that light entering the lens at the edge must be bent (refracted) to a greater degree than that entering in the center. By making the lens surface aspherical, or non-spherical in shape, the spherical aberrations are eliminated or, at the very least, brought within acceptable levels.
The Pentax SMC FA 20mm f/2.8 wide angle lens.
Another problem solver was the advent of low-dispersion glass (UD, ED, LD, or ELD, depending on the manufacturer) to help eliminate chromatic aberrations. These improved lenses often carry the designation Apochromatic (APO) and their advantage is that they will focus all three colors of light, rather than just two as is the case with non-Apochromatic lenses, at a common point. This greatly improves color rendition and sharpness. More and more modern lenses are being designed with floating elements, elements within the lens that are repositioned as it focuses or zooms to help optimize sharpness and cancel aberrations. By applying these and other improvements the designers have given us lenses with greatly improved optical qualities. Yet, our tendency is to use them as we always have, ignoring many of the creative possibilities they offer.
The 500mm lens is used to isolate the subject against a neutral background. It was possible to get closer and shoot with a shorter lens but the background started to come into focus and became too busy.
Let's see if we can find some fresh ways to apply these exciting optics to make our images more creative and expressive.

Instead of reaching for wide angle lenses only if room is at a premium why not grab one for close-ups. For example I often use a 20mm or 17mm for macro photography of wildflowers. By using a short extension tube and getting the camera right on the ground underneath the flowers the blooms tower over the viewer. Depending on the lens and extension tube combination you may actually be able to focus on blossoms that are touching the front of the lens. I guarantee your friends at the camera club will be wowed by this gopher's eye view of the world. By including the sun in the frame and selecting a small lens aperture you can create a star burst effect giving the final touch of spice to a unique image. Extreme wide angle lenses, when focused close, can also create near-far compositions with an incredible range of focus and a strong perspective. To optimize the depth of field to achieve this effect you want to first make sure that your subject contains some element in the foreground, flowers or textured rocks for example, and another important element in the background. Rather than focusing directly on either of these objects you will adjust your lens' focusing scale so that the infinity mark (8) is opposite the f/stop you're using on the depth of field scale. This technique will focus your lens to the hyperfocal distance which will give you the maximum depth of field for that particular aperture setting.
The Sigma AF 14mm f/2.8 EX Rectilinear ultra-wide angle lens.
Let's take a moment and put to rest a misconception about perspective. Perspective is effected by the camera to subject distance and not the focal length of the lens. The exception to this rule is fisheye lenses which have uncorrected barrel distortion. So the foreshortening or telephoto perspective that we often see in photos taken along a country lane that stacks up telephone poles or fence posts is a function of the camera position, not the lens focal length. In fact, any focal length lens, at that specific camera position will exhibit the same perspective. Understanding this we can use perspective to our advantage to seemingly change the relative size and spatial relationships in our images. By choosing an extreme telephoto lens and placing the camera at a greater distance from the subject the distance between near and far objects and their size relative to each other, will seemingly change. This altering of reality gives us yet another tool by which we can control the expressiveness of our photographs. The narrow angle of view of a long telephoto lens also reduces the amount of background allowing us to eliminate potentially distracting elements from our images.
The Canon EF 300mm f/2.8L super telephoto lens.
Another lens control that is often thought of as merely technical, not creative, is aperture. This is especially true of very fast lenses. Of course these fast or wide aperture lenses allow us to shoot in low light or available darkness situations, you know, that black-cat-in-a-coal-bin-at-midnight stuff. But they also can help us to isolate our subject against an out of focus background. For example many sports photographers will use a 300mm f/2.8 lens as opposed to the much less expensive f/4 models. Even in good light where the f/4 aperture would be adequate they prefer the softer more abstracted background created by the f/2.8 aperture and its reduced depth of field. Another reason for selecting telephoto lenses with faster maximum apertures is the speed advantage when using tele-extenders or tele-converters. If you have a 300mm f/2.8 lens and couple it to a 1.4x tele-extender the effective focal length is 420mm and the maximum aperture becomes a still relatively fast f/4. With a 2x tele-extender on the same 300mm f/2.8 you would have a 600mm f/5.6. A full f/stop faster than if you had started with an 300mm f/4 lens. You not only have a faster lens but one that will knock the background further out of focus while allowing extreme compressed perspective effects.
The Leica Noctilux-M 50mm f/1 lens.
While tele-extenders themselves do not qualify as extreme lenses they can be used in concert with them to greatly enhance their versatility. By combining two tele-extenders you can get an effective focal length that is the aggregate of all of the devices. For example, by combining a 300mm lens, a 2x tele-extender and a 1.4x tele-extender your effective focal length is a whopping 840mm. The results will be best if you place the 2x extender closest to the camera body. Of course there is a price to pay. First, you will lose three f/stops in effective lens speed and it also follows that there will be a loss of sharpness. However, if the prime lens and the tele-extenders are of good quality the overall sharpness should be acceptable. An added plus is that you retain the close focusing ability of the prime lens. Another advantage becomes obvious when you price an 800mm lens. One caveat however, not all tele-extender and lens combinations will physically fit together and even those that do may not focus at infinity so you'll have to play with your equipment a little to see if this technique will work for you.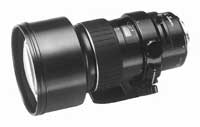 The Tamron SP AF 300mm f/2.8 LD (IF) internal focus lens.
By keeping your mind open to the possibilities and utilizing extreme lenses in new and different ways you will find your photography growing as your creativity expands. I haven't listed specific lenses as your list will surely differ from mine and new lenses are being introduced all the time, but if you wish specifications and prices of some of these exciting lenses check the Shutterbug Buyer's Guide, available on newsstands in mid September.

In King Richard III Shake-speare states, "Extreme fear can neither fight nor fly." I'm almost certain that he didn't have in mind fear of extreme lenses but I hope you'll forgive the stretch if I suggest you put aside your trepidations about them and get out there and play a bit. I bet that you will soon find your photography exhibiting a creative fresh look.
This is a standard application for an extreme lens, in this case the Canon EF 500mm f/4.5L. The long focal length allows tight cropping from a safe distance and at almost 200mph I wanted to be as distant as possible.
Manufacturers/Distributors
Canon USA
One Canon Plaza
Lake Success, NY 11042
(800) 423-2366
fax: (516) 488-6700
www.usa.canon.com
Contax (Yashica)
2301-200 Cottontail Lane
Somerset, NJ 08873
(800) 526-0266
fax: (732) 560-9221
www.yashica.com
www.contaxcameras.com
The Nikon AF-S 28-70mm f/2.8D ED.
Leica Camera Inc.
156 Ludlow Ave.
Northvale, NJ 07647
(800) 222-0118
fax: (201) 767-8666
www.leica-camera.com
Minolta Corporation
101 Williams Dr.
Ramsey, NJ 07446
(201) 825-4000
fax: (201) 327-1475
www.minoltausa.com
Nikon Inc.
1300 Walt Whitman Road
Melville, NY 11747
(800) 645-6687
fax: (516) 547-0362
www.nikonusa.com
Olympus America Inc.
Two Corporate Center Dr.
Melville, NY 11747
(800) 622-6372
fax: (516) 844-5262
www.olympus.com
The SMC Pentax F 600mm f/4 (IF) Internal Focus lens.
Pentax
35 Inverness Dr.
Englewood, CO 80155
(800) 877-0155
fax: (303) 799-9213
www.pentax.com
Sigma Corporation of America
15 Fleetwood Ct.
Ronkonkoma, NY 11779
(516) 585-1144
fax: (516) 585-1895
www.sigmaphoto.com
A Canon EF 300mm f/4L combined with a Canon Extender EF 2x was used to reach out to this prong horn antelope. The resulting 600mm effective focal length not only gives an intimate view of a shy animal but the blurred background enhances the sharpness of the subject.
Tamron Industries, Inc.
125 Schmitt Blvd.
Farmingdale, NY 11735
(516) 694-8700
fax: (516) 694-1414
www.tamron.com
THK Photo Products, Inc. (Tokina lenses)
2360 Mira Mar Ave.
Long Beach, CA 90815
(800) 421-1141
fax: (562) 494-3375
Vivitar
1280 Rancho Conejo Blvd.
Newbury Park, CA 91320
(805) 498-7008
fax: (805) 498-5086
www.vivitar.com
Zeiss, Carl Optical Inc.
1015 Commerce St.
Petersburg, VA 23803
(804) 861-0033

FEATURED VIDEO