Stock Strategies For Studio Photographers; An Interview With Bill Bachmann Page 2
SB: What about high school seniors?

BB: You guys doing seniors could be making a significant amount of money selling images if you just took a slightly different approach. There's always a market for fresh images of young people. Here's what I'd do: call up one of your attractive seniors. Ask her to get together a few of her friends, male and female. Tell her you're going to take them all out for pizza, get signed releases from the parents, and hit the beach, park, downtown, or whatever and take lots of casual, interactive, lifestyle photos. Nobody is doing that and they're missing a big market.
Bio
Bill Bachmann has traveled on location to over 170 countries on all seven continents, worked with four US Presidents, and photographed over 1000 magazine covers. His clients include many of the world's major advertising agencies, travel companies, cruise ships, magazines, airlines, and Fortune 500 companies.
Renowned as one of the top five stock photographers in the world, he continues to prolifically produce salable stock images regularly. With his prestigious array of worldwide stock agencies diligently representing his work, his images are published weekly in most of the developed countries on our planet. His stock file contains business, minorities, lifestyle, world travel, medical, Caribbean, abstracts, beaches, sports, and many other subjects.

With over 600,000 images in his collection, he has more pictures than many medium-sized stock agencies.

Remember the Joy is Bachmann's latest book. In it, he explains how you can shoot and sell the types of images you enjoy taking, even in this world of low cost stock images. The book goes into contracts, model releases, and the benefits and problems of Royalty-Free (RF), microstock, selling yourself, and Rights-Managed (RM) in great detail. To learn more about the book, go to http://billbachmann.com/books.html. If you place an order, mention Shutterbug for a 20 percent discount.
Handling Model Releases And Payments
The following is how Bill Bachmann handles dealing with model releases and payments:
"I do not use contracts or paid residuals for stock. I say on the model release that I will give them either prints or CDs with pictures in exchange for usage by me in stock worldwide. I have, from time to time, paid a really good model for stock usage (something like $500 extra) but this is rare. If you ever try to do percentage of sales, it becomes a logistical nightmare. I would rather pay them up front. But most people do not want extra money, just pictures and the hope of being on tear sheets.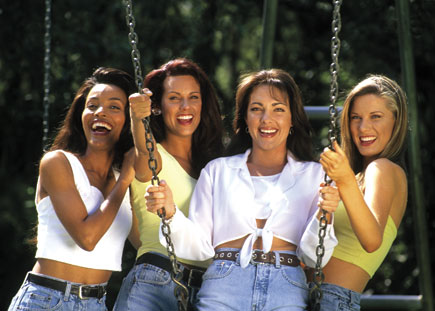 All portrait shooters can just hire friends of clients and shoot for stock. Bill Bachmann shot this four miles from his house in a park, and it has sold so well.
"If I can't get a signed model release, I either don't shoot them or don't send to stock. Same goes for minors, I must have a signed release by a parent or I don't use it. I never shoot 'on the street' in the US and then send to stock. I tend to control and create the shot over for my usage. There is a lot of 'pretending' in my world…people pretending to play tennis, pretending to open Christmas presents, etc.

"It is always a bigger problem to get people to sign a release in the US because we all think about suing each other. One trick I use is to have multiple lines for models to sign on one shoot. I always have people I know will sign first, or have an assistant or two sign first. Then others have no fear to just add their name under those. Everyone is afraid to be the first one to sign a blank model release and wants to read it all and ask questions. When they are third on the list, it calms the nerves. By the way, it never is a problem when out of the US. I have my guide explain it is for 'permission to use the images' and no one has a problem with that. So all my foreign people have signed releases with no problem."
To see more of Bill Bachmann's work, visit his website at: http://billbachmann.com.

LATEST VIDEO