Special Report: photokina
Tripods--New Materials And Designs
The best remark I overheard this photokina was, "My tripod, it has three legs." Um, yes. This is one of the problems when you are reviewing new tripods. They all have three legs. But what makes a tripod special is the material it is made of, the way it folds up, or a new design of leg lock. This year I found all three.

Gitzo (distributed by Bogen Imaging Inc., www.bogenimaging.us) led the way with six tripods made from a completely new material, plus a new design in carbon fiber. The new material is basalt, a volcanic rock: hence their advertising line, "rock solid tripods." The basalt is crushed and then melted at 1500Þ C (over 2700Þ F) before extrusion to form continuous fibers which are shaped into tubes via a resin impregnation bath in much the same way as carbon fiber.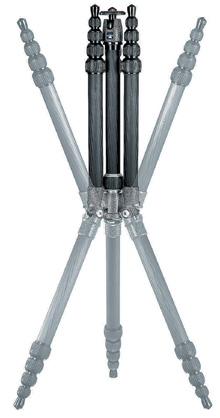 The new material is cheaper than carbon fiber and 20 percent lighter than aluminum, and absorbs vibration very well. It is also very pretty. Basalt tripods cannot support the same loads as Gitzo's Classic aluminum tripods, but the weight saving should make them very popular. There are two small "Weekender" tripods, two medium-sized, and two larger ones for cameras up to 5.5 kilos (12.1 lbs). If I did not already have more tripods than any reasonable person could use, I would seriously consider one of these.

The carbon-fiber tripod, the Traveler, has legs which fold through about 152Þ. On most tripods, the legs fold out from parallel with the retracted center column, through at most 75Þ or 80Þ. Here, the center column stays up and the legs fold through a much greater arc. At 36cm (14.2"), Gitzo reckons that it is 25 percent shorter when folded than a conventional tripod of similar maximum height. It weighs just 1 kilo (2.2 lbs); will support up to 2 kilos (4.4 lbs); and has five-section legs. Maximum/minimum heights are 146cm (57.5") and 35cm (13.8").

Manfrotto (also distributed by Bogen Imaging Inc.) had a new design of leg lock. Pull the legs out and they lock automatically; a leg lock release button on each leg allows you to shorten or retract the leg. The variable-splay leg sections are reversed so the tripod can be used in shallow water. Maximum height is 156cm (61.5"), but a two-part center column allows you to get as low as 10cm (4"). The tripod itself weighs 2.4 kilos (just over 5 lbs) and holds a maximum weight of 6 kilos (just over 13 lbs).
Berlebach, who make handsome wooden tripods and are distributed by HP Marketing Corp. (www.hpmarketingcorp.com), showed a new tripod which is more suited to astronomy than to photography, but may be of interest to users of ultra large format cameras or the current generation of overweight 35mm SLRs: it can support a staggering 200 kilos (440 lbs).

Tripod heads were a growth area. As digital stitching programs get better and better, panoramic plates and tripod heads become increasingly popular. Although I am not a great fan of pan-and-tilt heads I saw a prototype at Velbon (www.velbon.com) which could change my mind. It is very compact and the handle can be used right- or left-handed or in the center. Built-in bubble levels allow you to check both vertical and horizontal leveling. It also has a built-in quick-release plate. There will be two sizes, which should be ready for market next summer.
Quick-release plates are increasingly popular, too. Gitzo had three new quick-release ball heads, a quick-release adapter, and a new low profile pan-and-tilt head with a quick release. Novoflex (also distributed by HP Marketing Corp.) have a small, but strong, secure, and very elegant quick-release system and Manfrotto's Horizontal Grip Action Ball Head (introduced at PMA) has a built-in quick release and can be fitted with an auxiliary quick-release plate if you want to use it vertically. And there are always Arca-Swiss (www.arca-swiss.com) heads at the top of the market as well as the top of the tripod.

Although it isn't actually a tripod, Tiffen's new Stroboframe Compact Folding (flash) Bracket seems somehow to fit under this heading. It folds up small (8.5x3x3.75") for easy packing and has multiple camera mounting slots to fit almost any camera/flash combination. It weighs about 9 oz. To learn more, visit www.tiffen.com.

FEATURED VIDEO