Sony Cyber shot DSC S85
Great Value In A Fully Featured 4 Megapixel Camera
Close-up of a flower was captured with the camera set on manual focus. Unsharp Mask (80 percent, 0.6, 1) was the only modification made in Photoshop.

Photos © 2001, John Rettie, All Rights Reserved
Sony has been the most successful seller of digital cameras in the last few years, with the largest share of the market for any camera maker. Considering a digital camera is more akin to a computer than to a camera that is perhaps not so surprising--after all, Sony is one of the most popular makers of consumer electronics.
Until recently, though, Sony's digital cameras have not really had much appeal to camera aficionados. The Mavica line became popular largely because they used floppy discs for storing images. As a floppy can only hold 1.4MB of information, it meant that Sony cameras were restricted to producing low quality images. They were ideal for capturing quick images for use around offices and for posting on the Internet, but that was about it. Newer models in the Mavica range have added Sony's Memory Stick storage cards and some models even have the ability to record straight onto CD-Rs.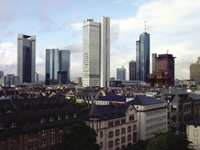 A wide angle shot (9mm) of the impressive Frankfurt skyline was significant as it was taken on the morning of September 12 and several of the buildings had been evacuated due to concerns following the previous day's events in New York. Auto Levels and Unsharp Mask (80 percent, 0.6, 1) were the only modifications made in Photoshop.
All along, however, Sony has shown it is serious about photography by using Carl Zeiss lenses on many of its cameras. Zeiss has a long tradition of producing some of the best lenses in the world and as the pixel count goes up in digital cameras the importance of having good quality lenses increases.
More Photo Appeal
In the last couple of years Sony has started producing cameras in its Cyber-shot range that are much more likely to appeal to serious photographers. Although digital cameras can be designed differently from film cameras, as they do not have the same design constraints, it seems that ideal digital cameras are not all that different in look and feel from their film brethren.
The Cyber-shot DSC-S85 camera is just such a camera. At first glance it looks just like a compact point-and-shoot 35mm camera. As its name suggests it is derived from the S75, which was introduced early in 2001. It is essentially the same as the DSC-S75 but with a 4-megapixel CCD in place of the S75's 3-megapixel CCD.
On maximum zoom (21mm) the camera faithfully captures the detail in this shot of a building in Frankfurt. Unsharp Mask (80 percent, 0.6, 1) was the only modification made in Photoshop.
It feels substantial with a reasonably good-sized handgrip, though it could still be bigger for carrying convenience. The metal body is finished in a charcoal gray color. The camera is fairly compact in size (5x19/16x21/2") when closed but the 3x f/2.0-f/2.5 (34-102mm equivalent) Carl Zeiss zoom lens does extend by almost an inch when it's powered up.
The camera has an optical viewfinder, which adjusts the view in conjunction with the zoom. As one is not viewing the image through the lens there are some parallax problems on close-ups. In those situations it's better to use the large LCD monitor on the back. If you're like many digital camera users you'll probably end up relying on the LCD monitor for image composition in many conditions when the ambient lighting is not too bright.
Memory Stick
Unlike other manufacturers' cameras, the S85 uses Sony's unique Memory Stick storage cards that are incompatible with other cameras, although they can be used in other Sony electronic equipment. The S85 comes standard with a 16MB stick that is good for about eight images at the lowest JPEG compression and maximum resolution (2272x1704 pixels). At the time of this review the largest capacity Memory Stick is only 128MB, which is also inconvenient for those who need to shoot a lot of images at high resolutions/low compression.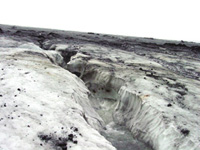 It's not the camera's fault, but this stream running down a glacier in Iceland does not sparkle as it was a gloomy day, nonetheless detail is good. Auto Levels and Unsharp Mask (80 percent, 0.6, 1) were the only modifications made in Photoshop.
At first glance it looks as though the camera has a flash hot shoe. Unfortunately it is a dummy and is only used to hold Sony's own external HVL-F1000 flash that is connected to the camera through a cable plugged into the accessory port. The camera can be hooked up to a computer through the USB port and a TV monitor via an AV cable.
Image Options
There are plenty of buttons for operating various functions as well as the zoom toggle, a jog dial, and a five-way control button. Although some of the functions are straightforward, a new user absolutely needs to read the Owners Manual in order to utilize all the options beyond a fully automatic mode. For example, there are three ISO settings (100, 200, and 400) as well as auto. White balance can be left on auto or switched to indoor or outdoor. Image size can be set to 2272x1704, 2272 (3:2), 1600x1200, 1280x960, or 640x480. Images can be stored in numerous formats, including a TIFF uncompressed file that can be saved along with a JPEG compressed file. In text mode a black and white GIF file is recorded. The e-mail setting records a small thumbnail JPEG file along with the full file already selected.
The camera has the usual selection of capture modes, including shutter priority, aperture priority, scene selection, and automatic. The three scene selection modes are Twilight, Landscape, and Portrait. Shutter speeds can be set for 8 sec to 1/1000 sec and aperture from f/2-f/8. A Burst mode allows the camera to shoot three frames about half a second apart. This same Burst mode can also be used to shoot three images with the exposure shifted in each frame from between +/- 1.0 EV in 1/3 steps.
The menus displayed on the color LCD screen on the rear of the camera are functional and easy to read.
Video Options
In addition to capturing still images the camera can also shoot MPEG video. The video is recorded directly onto the Memory Stick so the length of video clips is only limited by the available capacity on the Memory Stick, rather than the size of the camera's buffer, as is the case on many other cameras with a video capture feature. Unlike other still cameras that can double up as simple video cameras the Sony is also capable of recording sound through a small microphone on the camera body. Sounds can be recorded to accompany still images as well, which can be useful for on-the-fly captioning.
An additional "pseudo" video mode is the Clip Motion mode. This records still images one after the other as the shutter button is depressed and then plays them back in a continuous sequence. Images are saved in the GIF format for this mode so they do not have the resolution or full colors of regular still images. It's more useful for producing animated clips one sees on web sites as a piece of graphic art rather than a video or photo sequence.
Other special processing effects can be applied to images in the capture mode. These include Solarize, where the image appears like an illustration; Black and White; Sepia, which makes the image appear like an old photo; and Negative Art, where the colors and brightness are reversed.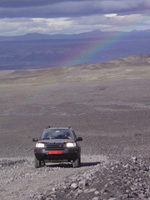 This freshly made landscape on the approach to a glacier in Iceland looks more like a scene from the moon--but that's a Land Rover Freelander and you'll never see a rainbow on the moon. Rotation and Unsharp Mask (80 percent, 0.6, 1) were the only modifications made in Photoshop.
Smart Batteries
One feature that Sony has been praised for in its line of digital video camcorders is the intelligent batteries that tell you exactly how much time is left before the battery will run flat. This feature has been incorporated in the NP-FM50 InfoLithium battery included with the S85. As it's being charged it displays the number of minutes required to reach a full charge. Then, once it is in the camera the minutes count down the remaining time before it's discharged. On full charge on the test camera it indicated a usage of 180 minutes. Unfortunately, on a still camera the number of minutes remaining is kind of meaningless as it cannot take into account how much usage the camera will get and what features such as flash and LCD will be used. On a camcorder the time remaining is obviously much more meaningful as it indicates how much tape can be recorded. Whichever way you look at it, it is a much more friendly "gas gauge" than a bar graph one finds on most cameras. The battery is kept in the camera for charging via an AC adapter, which is included with the camera rather than the usual high cost addition with many digital cameras.
Camera Performance
In use the camera is on par with most cameras in this price range. It takes about 6 sec from switching the power on before the first photo can be taken, mainly because of the time taken for the lens to extend. Autofocusing takes over 1 sec, but once that is accomplished the shutter is almost instantaneous. At the best image setting one has to wait about 3 sec for the image to be recorded before the camera is ready for the next shot.
I had trouble at times with the autofocusing mechanism, which seemed to be slow. It had difficulty focusing in low contrast conditions. Quite often it appears that I tripped the shutter before the camera had focused properly without realizing my mistake. I seemed to get a rather large number of soft images during the time I had the camera. Manual focusing has limited usefulness as an alternative, as it can only be set to predetermined distances and cannot be focused manually in real time. It is difficult to see the image on the LCD unless one is in a darkened room and the optical viewfinder cannot be used for focusing. In reality manual focusing is only useful for landscape images shot at infinity and close-up still shots where one can carefully position the camera into focus.
Menu Options
Menu selections are fairly easy as the information is clearly presented on the LCD monitor. Most of the important information, such as image size and capture settings, are shown on the small LCD screen on the back, obviating the need to have the main color LCD screen on when shooting with the optical viewfinder. The five-way control button takes some getting used to as one moves around by pressing on the edges, and to select an item one has to press the center. If you're not careful it is easy to inadvertently press one of the edge buttons instead of the center button.
Playback of captured images on the color LCD screen is good, as the screen can be seen in daylight quite easily. One can zoom in to 5x by using the control button. It is possible to quickly review the last shot using the five-way button on the back without going into the playback mode. Slide shows can be set up in playback and images can even be rotated before viewing them on an external TV screen.
Overall, the Sony DSC-S85 is a pleasant camera to use. In the final analysis my feeling is that the image quality is above average, but nothing exceptional. The colors are good and the images are free of noise. There is some chromatic aberration on the edges of bright highlights, but that's a problem with just about all digital cameras. At a street price of $800 the DSC-S85 is priced competitively with 3-megapixel cameras, so it makes sense based on its robust build quality and wide array of features, such as MPEG movie and sound recording capabilities, which are absent from most cameras in this price range.
For more information, contact Sony Electronics Inc., 1 Sony Dr., Park Ridge, NJ 07656; (201) 930-1000; www.sony.com.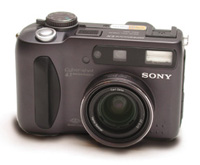 The Sony DSC-S85 camera looks similar to a high quality compact point-and-shoot 35mm camera.
Imager: 1/1/8" 4.0 effective megapixel SUPER HAD CCD, 4.1 gross megapixel
Lens: Carl Zeiss, 3x f/2-f/2.5, 7-21mm (35mm equivalency: 34-102mm)
Digital Zoom: 2x
Autofocus: Contrast detect
Manual Focus: Yes, 13 step
White Balance: Auto/InD/OutD/1Push
Shutter Priority (range): 8-1/1000, 40 step
Exposure: Automatic AE three mode program, Manual with EV indicator
Flash: Auto/Forced/Off, redeye reduction
Burst Mode: Three frames, 3 fps
Capture Modes: TIFF/JPEG/GIF, Clip Motion Animated GIF, Voice Memo, Movie Mode (MPEG EX)
There are plenty of buttons and switches for full control of the camera. Some of them function without the color LCD monitor being turned on, while others require its use for viewing the associated menus.
Picture Effects: Four modes: Sepia, Black and White, Negative Art, and Solarize
Storage: Memory Stick (16MB supplied)
Connections: AV/USB/AC power
Battery: Infolithium NP-FM50
Supplied Software: Windows: MGI PhotoSuite 8.1, MGI VideoWave III SE. Mac: MGI PhotoSuite SE v1.1.
USB Driver Compatibility: Win 98/98SE/Me/2000, Mac OS 8.5.1/8.6/9.0/9.1.
Size: 5x19/16x21/2" (125x39x62mm)
Weight: 10 oz
Price: $799.95

FEATURED VIDEO