Sony Announces 42.4MP Full Frame A7R III Mirrorless Camera with 10 FPS Continuous Shooting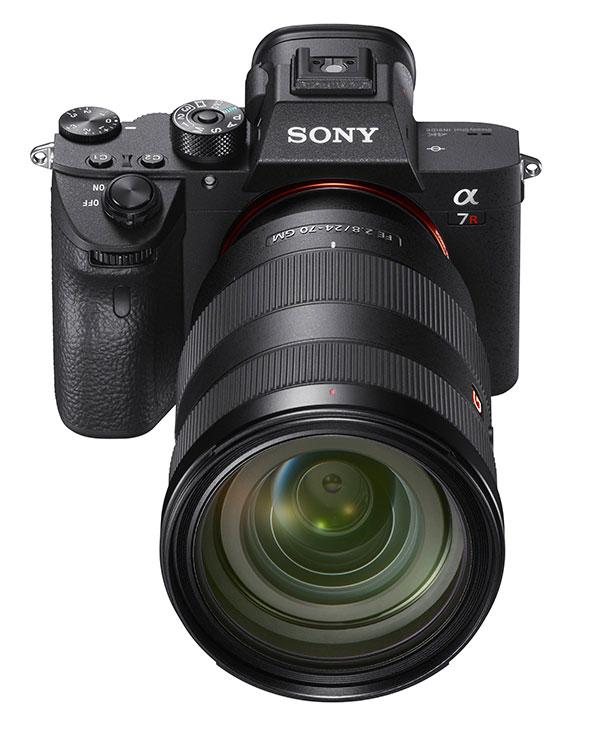 Sony was back at it this morning, unveiling the A7R III, a 42.4MP full frame mirrorless camera with the ability to shoot 10 frames per second continuous bursts at full resolution with a faster, revamped autofocus system. The Sony A7R III (model ILCE-7RM3) also boasts what Sony claims is 15 stops of dynamic range for image capture, and can shoot 4K video across the full width of the full-frame image sensor.
The announcement of the Sony A7R III, which is the follow-up to the A7R II from 2015, comes on the heels of Sony announcing the RX10 IV, an all-in-one super zoom camera, and the Sony A9, a speedy sports camera.
The new Sony A7R III actually uses the same 42.4MP Back-Illuminated Exmor R CMOS image sensor as the two-year-old A7R II. However, according to Mark Weir, Senior Manager for Technology at Sony, the physical design of the circuitry in the A7R III has completely changed, giving the new camera the same "imaging pipeline" as the A9 but nearly double the resolution and more dynamic range.
"This is the highest picture quality of any camera we've ever made," Weir said in a pre-release press briefing last night. "This is not the speed of the A9 [which shoots 20fps] but it can achieve a level of picture quality which the A9 cannot."
Thanks to the design of this mirrorless, interchangeable lens camera, the Sony A7R III can shoot at 10fps either with the Mechanical Shutter or in Silent Shooting mode at full autofocus/auto exposure tracking, which will help wildlife photographers capture wary animals without the sound of a noisy shutter clacking away. (The A7R III's predecessor could shoot only five frames per second at full resolution.)
"There's no mirror shock, no shutter shock, and silent shooting makes the A7R III different and unique from DSLRs," Weir noted.
The Sony A7R III's buffer size when shooting Raw compressed images is 87 frames before the camera slows down to catch up. When shooting uncompressed Raw images, the buffer size drops to 28 frames.
The Sony A7R III's autofocus system has 399 phase-detection AF points covering 68% of the image area, according to Sony. There are also 425 contrast AF points and it has an approximately two times more effective Eye AF system, which helps the camera focus in on a human's eyes for sharper portrait photography, Weir said.
"It's a quantum leap in AF performance," Weir said. "It's not the same autofocus system as A9 but it has the same number of AF points and subject tracking performance is unmatched in any camera in its class."
The Sony A7R Mark III has essentially the same, relatively lightweight, 23-ounce camera body as the previous model and looks pretty much the same. It's powered by Sony's Bionz X processor, which Sony says boosts the camera's processing speed by approximately 1.8 times compared to the A7R II.
The Bionz X processor also enables the camera to shoot lower noise images across the ISO range of 100-32000 (expandable to ISO 50-102400 for still images) while offering its 15-stop dynamic range at "low sensitivity settings." Weir was not able to answer specifically at which ISOs the Sony A7R III can achieve 15 stops of dynamic range.
This new A7R III has no optical low pass filter to help maximize resolution, and it can output 14-bit Raw images. It has 5-axis optical image stabilization built into the camera, which results in 5.5 steps of image correction for hand shake to help combat image blur.
There's also a new low-vibration shutter designed to reduce vibration and image blur in all modes, including when shooting 10fps bursts. There are several enhancements to produce more accurate color reproduction of skin tones for better portrait photography, Sony said.
In terms of video, the A7R III can shoot 4K across the full width of its full frame sensor. When shooting in Super 35mm format, the camera can achieve full pixel readout without pixel binning, which lets it actually collect 5K of video image information. It then oversamples this 5K info to produce higher quality 4K footage.
The A7R III can also shoot full HD at 120 fps at up to 100 Mbps, letting footage be reviewed and eventually edited into 4x or 5x slow motion video files in ull HD resolution with AF tracking.
The new Sony A7R III adds a touchscreen on back; a rear multi-selector joystick for making quick changes to settings including shifting AF points; and an "AF ON" button to activate autofocus when shooting stills or movies. There are also dual SD card slots with support in one slot for UHS-II type SD memory cards. Photographers have options for storing their content on the A7R III, including separate JPEG / Raw recording, separate still image / movie recording, relay recording and other configurations.
Battery life has been extended as well, with the new camera utilizing Sony's Z series battery, which has approximately 2.2 times the capacity of the W series battery in the A7R II. The new camera also adds a SuperSpeed USB (USB 3.1 Gen 1) USB Type-C terminal.
The new Sony A7R III will go at the end of November 2017 for $3,200 US and $4,000 CA, which is essentially the same price as its predecessor when it initially went on sale in 2015. More info on the A7R III here.

FEATURED VIDEO