Sony and Olympus Introduce New Premium Lenses at PhotoPlus Expo in New York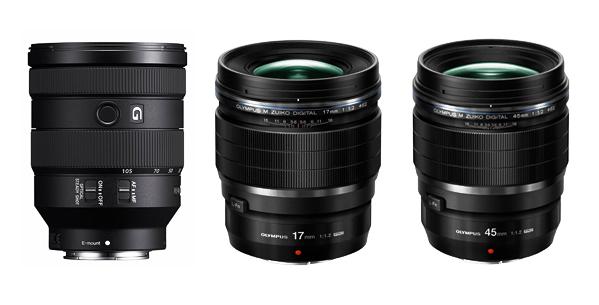 Amidst all the excitement at the PhotoPlus Expo show in New York today were notable new lens offerings from Olympus and Sony. This morning we covered the big Sony news, the introduction of the 42.4MP Full Frame A7R III mirrorless cameras, so let's take a look at their new lenses, as well as those from Olympus.
New from Sony is the latest addition to their full-frame E-mount lens lineup, in the form of the FE 24-105mm f/4 G OSS zoom. This versatile focal length is ideal for everything from landscape photography to portraiture, and Sony says the lens delivers excellent corner-to-corner sharpness and bokeh throughout its zoom range.
The new Sony FE 24-105mm f/4 G OSS features an advanced optical design with four aspherical elements and three extra-low dispersion (ED) elements that combine to minimize chromatic aberration. Weighing just 23.4 ounces, this compact mid-range zoom is said to be the lightest lens in its class. Incorporating an advanced direct-drive autofocus system, the FE 24-105mm f/4 G OSS zoom is expected to ship next month for about $1,200.
Sony also announced that a new G Master 400mm f/2.8 GM OSS telephoto lens is in development, with a target shipping date of summer 2018. This fast super-telephoto has been long awaited by sports and wildlife photographers, and we'll let you know when we have more information regarding price and shipping date. You can find more information on all the new Sony gear by visiting their website.
The new glass from Olympus includes the addition of two premium Micro Four Thirds (MFT) prime lenses to their Pro lens line, both of which have f/1.2 maximum apertures for high performance under low-light conditions.
The new M.Zuiko Digital ED 17mm f/1.2 Pro features a 35mm focal length equivalent of 34mm, and offers extreme depth of field in addition to great low-light capability. The lens is constructed with 15 elements in 11 groups, and utilizes a newly developed ED-DSA formula that incorporates the characteristics of both extra-low dispersion (ED) and what Olympus calls "dual super aspherical" elements for minimizing flare, distortion and color bleeding.
The M.Zuiko Digital ED 17mm f/1.2 Pro also features a dustproof, splashproof and freezeproof design, and is expected to ship in late January 2018 with a price of $1,200.
Olympus also introduced the M.Zuiko Digital ED 45mm f/1.2 Pro, equivalent to 90mm in the 35mm format. This lens is constructed with 14 elements in 10 groups and, like the new 17mm f/1.2, features proprietary coatings that are particularly useful for eliminating ghosting and flare when photographing backlit subjects.
The M.Zuiko Digital ED 45mm f/1.2 Pro also incorporates rigorous sealing against the elements and, like all lenses in the Olympus Pro line, features a smooth, precise, and fast autofocus system. This lens will be available late next month for $1,200. You find more details about the Olympus introductions by visiting their website.

FEATURED VIDEO