Sony's Alpha A700; A Remarkably Fast 12-Megapixel D-SLR
When Sony introduced the A100 in June 2006, the company made a commitment to develop the Alpha system to include a full line of products. Since then, many Sony and Carl Zeiss ZA T* series lenses have been released, and now, the second camera is available. (A third D-SLR, targeting professionals, will be announced in 2008.) The new A700 maintains compatibility with Maxxum as well as Sony AF lenses, but this new 12-megapixel Alpha model is entirely different than the A100 in most other respects. A "prosumer"-level model, it provides superior resolution, versatility, and performance as I discovered while shooting over a thousand images.
Design And Features
A rugged, weather-resistant D-SLR with an aluminum chassis, magnesium body, and carbon-fiber shutter, the A700 is a mid-size camera with a contoured grip that seems just right for small or large hands. Sony also markets an optional VG-C70AM battery grip that accepts one or two of the lithium batteries. This accessory is equipped with a full set of secondary controls, including an ideally placed shutter release button. While it increases body size substantially, the grip really makes for more convenient portrait format operation, particularly with vertical data display on the LCD monitor.
In spite of its vast range of options for modifying every aspect of an image, the A700 can produce pleasing images at default settings, although exposure compensation is often useful with light-toned scenes. (Image made in P mode with JPEG Fine capture; default DRO on; +2/3 exposure compensation level; Hoya Pro 1 circular polarizer.)
All Photos © 2007, Peter K. Burian, All Rights Reserved
The A700 is equipped with many well-marked analog controls, a large all-glass penta-prism, and a very bright/contrasty (interchangeable) "acute matte" viewing screen. The new 3" anti-reflective LCD monitor--with incredible 920,000 pixel resolution--provides shooting data and menu displays in an oversized font; the read-out switches to vertical when the camera is used in portrait orientation. While the massive wide-view screen may be power hungry, the Stamina battery lasted all day when I was shooting and reviewing images frequently.
While the A700 clearly targets the photo enthusiast with prior SLR experience, it can also serve as a camera for the entire family because Sony has included six subject-specific Program modes. Select the one that seems most appropriate and all settings are made automatically, often providing very nice photos for an album or scrapbook. (Image made with Scene modes; Hoya Pro 1 circular polarizer.)
The mode selector dial includes six automatic Scene modes that family photographers will appreciate, but the specifications list confirms far more advanced features for serious photography, including some that may seem esoteric. Hence, the A700 is not "simple" to use but it is intelligently designed; the multi-controller joystick is particularly convenient. Although the purpose of some functions will require study of the instruction manual, plus some experimentation, anyone with previous digital experience should find operation to be logical. The electronic menu (with a full 13 "pages") can be intimidating, but it's rarely required after the initial camera setup. While shooting, I typically used only the external controls, including the Fn button for quick access to a sub-menu with the 11 most frequently needed functions.
The Standard "Creative Style" (Color mode) provides moderately high contrast, sharpness, and saturation suitable for a wide range of subjects, but Sony provides numerous user-selectable options for creating entirely different effects. For this shot, I turned DRO off, switched to the Vivid style and set +2 for Sharpening to make a more striking image. (JPEG Fine mode; ISO 200; 75-300mm ED zoom; f/8 at 1/160 sec; Hoya Pro 1 circular polarizer.)
An increasing number of D-SLRs of other brands provide a live preview feature but the Sony designers believe that the current technology is not satisfactory, particularly when used with autofocus. A Sony rep indicated that they won't implement Live View until a highly effective and convenient system is developed. Since the A700 is intended for enthusiasts with SLR experience, they doubt that many buyers will miss a feature that's most appealing to those who are first trading up from a point-and-shoot digicam.
Konica Minolta manufactured millions of Maxxum lenses and every one of those should be compatible with the high-tech A700. The camera's Super SteadyShot system will also stabilize virtually all of those lenses, making a Sony D-SLR a fine choice for anyone who already owns Maxxum lenses and/or Maxxum D-series Program flash units. (I made this image with a friend's old Minolta Maxxum 75-300mm zoom at 300mm; ISO 400; f/10; +2/3 exposure compensation; Hoya Pro 1 circular polarizer.)
The camera does provide many new features, including a PC cord socket, additional overrides to modify the "look" of an image, a High ISO Noise Reduction (NR) intensity control, Compressed Raw and Extra Fine JPEG capture modes, an ISO 6400 option plus RGB histograms in Playback mode. Fans of high-tech features will appreciate two other amenities. True High Definition (HD) 1080i output (with an optional HDMI cable) is available when using a Sony Bravia widescreen television and the (included) A700 remote controller. The Bravia's PhotoTV HD mode is visibly superior to standard HD, exhibiting better color, contrast, and clarity of intricate detail. The A700 also allows for remote control when tethered to a computer with a cable. Set it up in a preferred location and you can operate the camera from the computer, view images on your CRT or LCD monitor, and save the photos to the hard drive.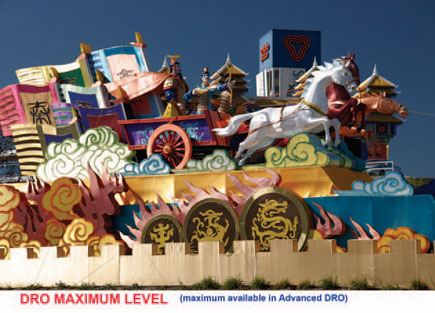 While the difference may be subtle in a small printed photo, the various Dynamic Range Optimizer (DRO) functions can provide improved shadow detail and contrast, most useful under harsh lighting. In Advanced DRO, several intensity levels can be selected; for the most natural-looking results, it's wise to avoid the maximum level. (ISO 100; f/11; 16-105mm ED zoom; Hoya Pro 1 circular polarizer; at Ontario Place, Toronto.)

FEATURED VIDEO