Software
Programs For Every Need
There was all kinds of software at PMA 2004, but I would like to pass along some advice to would-be developers who want to get rich making under-$100 software for Windows that lets users manage, edit, print, and do all kinds of tricks. Fuggedaboutit. ACD Systems owns this market. While the Mac OS version of ACDSee is lame, at least they took the time to make one. And Kodak gives away EasyShare software for Mac OS and Windows that works with all their digital cameras, so what's the big deal?

What we really need is an inexpensive cross-platform program I call ImageSifter that lets digital photographers quickly edit their "takes," sorting them into "ins" and "outs" that can be burned to disc in various combinations. ImageSifter should include a digital loupe and a way to examine and compare similar shots to select the best one and tag, caption, and file it. I have talked to several companies about this and they all patted me on the head and said, "Be a good boy and go sit in the corner," because they were coming at this from a computer users perspective, not a photographer's view of the process.
Jasc Paint Shop Photo Album 5
At PMA, Jasc Software, Inc. offered a sneak preview of Paint Shop Photo Album 5, the newest version of their digital camera software, which has a completely redesigned interface that follows the digital camera user's workflow and puts the tools they need most right at their fingertips. Jasc's PhotoSafe Archiving System, that's part of Paint Shop Photo Album, is designed to make sure that users will never lose another photo. As I write this you can download a free Public Beta version of the program from Jasc's website.
ArcSoft Varieties
ArcSoft is a company that makes so many interesting software programs for Mac OS and Windows that after reading this you should check them out on their website, www.arcsoft.com. Media Card Companion is a Windows-only application that automates the process of transferring files from digital cameras, card readers, or removable media. You can preview images, transfer all files with only two clicks, automatically re-name files based on your input, and print individual photos or proof sheets. There are flexible options that let you specify print sizes and number of copies as well as create an e-mail message that can include the proof sheets.
StudioLine 2
StudioLine Photo 2 has been upgraded to include extensive back-up and off-load functions to recordable CDs and DVDs and includes support for JPEG 2000. It supports Windows 98, Me, NT (SP5), 2000, or XP and costs less than $50.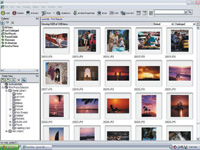 nik Color Efex Pro 2.0
The latest from nik multimedia, Inc. isn't just an upgrade; it's a whole new product that includes more functionality and better features, along with more filters and effects. The package includes two sets--Traditional and Style--of 16-bit filters with controls that protect the image's highlights and shadows. In the "ya gotta see this to believe it" category, there's a series of reflector filters that control and add light similar to using conventional photographic reflectors during a shoot.

A Selective module enables users to apply any filter quickly and easily to any part of an image, while taking advantage of pressure sensitivity when used with a Wacom tablet. There are more than 30 new filters including Color, Black and White, Thermal, and Cross Possessing (both C41 in E6 and E6 in C41). An Advanced Panel, available in some of filters, provides a histogram that enables you to identify potential problems. nik's "True Light" Color Engine preserves the relationships between color, contrast, and detail, allowing you to achieve better enhancements with more natural results. In the "finally and at last" category, there are larger and expanded preview options, but you still can't hit the return key to apply a filter.
Picasa Image Organizer
Picasa is that odd duck that looks like a Mac OS X application but only runs on Windows. What's new is an add-on called Hello, that works with or without Picasa 1.5 and is so well integrated with it that it doesn't make sense to use it any other way. To share pictures with Hello, you simply select the pictures you want to send in Picasa then click the "send to Hello" button and specify the person to receive them. Images immediately appear in that contact's Hello window and you and your gang can chat about them in real time.
Extensis Image Management
Extensis will be rolling out a new version of its flagship image management software, Portfolio 7 (for Windows), and I was able to get a peek. A Mac OS X version will follow. New features include built-in CD burning, batch image conversion, and the ability to embed IPTC (International Press Telecommunications Council) metadata such as caption and copyright data within image files. Portfolio also supports the ability to read and write information using Adobe's XMP (eXtensible Metadata Platform) standard. Portfolio 7's NetPublish feature automates the process of turning Portfolio catalogs into full-blown website pages with no knowledge of HTML or JavaScript required.
A Software Sampler
Triscape's FxFoto is a free, Windows-only program that is designed to create multi-photo collages, add frames and special effects, plus use a variety of text and drawing options. It's free, so give it a try.

Simple Star's PhotoShow Deluxe 2.5 software lets users organize their photos, then edit and print them using Snapfish. The latest version lets users create musical slide shows with their digital photographs. Animated clip art theme packs are available for $9.99 by download and can enhance these slide shows. Their PhotoShow DVD service lets consumers transfer their presentations to a professionally packaged DVD that can be viewed on any standard player.

PhotoShow DVDs will be available in Commemorative or Value editions. Commemorative PhotoShow DVDs provide users with a high-quality case similar to those used for DVD movies. The packaging and disc are customized with full color artwork and include photographs from the show. Value edition DVDs are shipped in a basic sleeve, but contain the same disc options and contents. The Commemorative and Value editions of PhotoShow DVDs will be priced at $29.99 and $14.99 respectively.
Software For Pros
Phase One's Portrait One Sales software lets the professional photographer present images one by one or as part of a slide show to their clients. The images can be shown in true sizes and with accurate color and cropping, either on the monitor or by using a projector. The Windows-based software includes predefined price lists with single units or packages that can be customized to suit user requirements. It's based on Phase One's C1 PRO RAW Workflow software, but has its own interface. Photographers can choose to capture directly into Portrait One Sales. The software supports Canon's EOS-1Ds, 1D, 10D, D30, and D60; Nikon's D1X and D100; and Phase One's own line of digital camera backs. Because of its popularity with portrait photographers, support for Fuji's S2 is planned.
DO Labs' DxO Analyzer software helps professional users obtain data relative to the characteristics and faults of digital cameras. It consists of a Windows-only based application and a test target covered with a pattern of more than 1000 "DxO Spots." Digital images of the DxO Target are taken with the lens/camera that is being tested, then loaded into the DxO Analyzer software. A few mouse clicks produce objective information, such as local, maximum, and average distortion levels; local, maximum, and average values for chromatic aberration as well as full field information for vignetting. DxO Analyzer also lets you measure the perceptual blur (or lack of sharpness) and a measure of noise for a given average gray level in the image.

Except for mags like this or photo geeks who want the bragging rights to say, "My lens is better than yours," the companion software allows you to fix these faults in your digital images as well as analyze them. DxO Optics Pro is a Mac OS or Windows program that uses a DxO Profile specific to each lens and camera model. This means that all corrections are automatic: no setting and no manual user intervention at any stage. It also allows for batch processing of images. DxO Optics Pro can also correct irregular, variable aberrations.
ErgoSoft's StudioPrint software application is optimized for photography and fine art reproduction. Commercial and fine art photographers, as well as fine art printmakers with demand for high-quality prints or layout proofs can greatly enhance their image quality, color accuracy, and print volume with this non-PostScript workflow solution. The new StudioPrint Desktop supports the Epson 2200, 3000, 5000, and 5500 and is priced at $600.

Manufacturers/Distributors'

FEATURED VIDEO