Software, Memory And More
Or, The Stuff That Makes Digital Work
PMA 2003 abounded in lots of digital gear. There were digital camera bags, digital tripods, and so forth so I went looking for digital lens tissue. I failed to find it but found something better from the clever folks at Hakuba (www.hakubausa.com). Their LCD Pad is a microfiber cleaning pad that's designed to wipe finger and nose marks off digital camera preview screens. The Hoodman dudes have a new protective screen (from nose marks, too) for the Kodak DCS Pro 14n (and maybe) for the Canon EOS 10D, too.
A Plethora Of Plug-Ins
Auto FX Software (www.autofx.com), appearing at PMA for the first time, showed me their amazingly cool Mystical Lighting plug-ins. Mystical Lighting lets you improve the look and feel of images by controlling lighting and shading with 16 unique visual effects and works as either a stand-alone application or as a Photoshop compatible plug-in. Effects are resolution independent, allowing you to apply an effect to a small image and get the same result on a different sized or much larger image. You can add an unlimited number of effects, each with independent controls and they layer and interact with each other through Auto FX's SmartLayer design. File loading and saving support is provided for .PSD, TIFF, .BMP, JPEG, and .PNG (does anybody actually use that format?) file formats. Saving in .PSD will let you export the effect onto a layered document with full transparency. Mystical Lighting is optimized for single or dual processor machines on both Mac OS and Windows and runs native in OS X.
Pictographics' (www.picto.com) inCamera Photoshop compatible plug-in makes color calibration of digital cameras and scanners as simple as using a gray card to set exposure. Here's what you do: You place the ubiquitous GretagMacbeth ColorChecker, ColorChecker DC, or industry standard IT8 chart in the shot and then use inCamera to create a custom ICC profile by evaluating the captured color data and comparing it to the chart's known color values. This profile integrates seamlessly into any ICC color managed workflow. If you shoot a slate containing a ColorChecker, followed by your "normal" images, the processed film can be scanned and then allows you to build a "digital camera" profile that can be applied to all other images shot at that same time.
Grain Surgery (www.visinf.com) is one of the best plug-ins available when you need to add, match, or remove film grain or digital camera noise. The Remove Grain function now supports CMYK and Lab images. Add Grain ships with 21 presets that reproduce popular film types and Match Grain allows side by side previewing of the noise source and target images. The new Auto Match Grain automation plug-in lets you automate grain matching operations between any two images, whether open in Photoshop or just saved on disk. There's also a new Sample Grain tool that lets you create a library of your own favorite grain effect (mine is Ilford 3200 exposed at ISO 100!). Four snapshots in each tool let you create, preview, and compare four groups of settings to save to disk and to manage settings in all tools.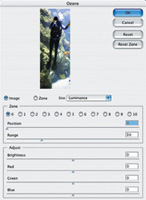 Ozone from Digital Film Tools (www.digitalfilmtools.com) takes the spectrum of image values and divides them into 11 discrete sections--let's call them zones. Each zone is twice as bright as the previous one. Ozone allows you to adjust the color and brightness of each zone independently until you've created a new, dare we say it, "previsualized" image. Light, also available from Digital Film Tools, lets you add natural light as well as simulate camera filters such as Mist and Fog, and glow effects. You can also add light patterns from virtual windows, doors, leaves, and abstract patterns (can you spell kookoloris?) from a built-in pattern library. It's worth the $75 it costs for that one feature.

LaserSoft Imaging (www.lasersoft.com) now offers SilverFast DC 6 for medium format digital camera backs. The software has been adapted for use by digital photographers and combines a Virtual Light Table with SilverFast Ai's image handling and JobManager's functionality. The Virtual Light Table offers file browsing, directory overview, EXIF info, organizing, searching, sorting, drag and drop into work area, placing images into virtual directories, and saving into new directories. But wait, as they say on TV, there's more. The software's editing and processing capabilities include the ability to edit file names, input comments, drag images into JobManager, transfer images into SilverFast for processing as well as the ability to print contact sheets of the directory or work area or images as well as single, high-resolution images. SilverFast DC 6 includes special camera features such as Color Temperature, Exposure Control, and Red-Eye-Tool. Other features of SilverFast DC 6 include Selective Color Correction with Multi-Layers and Masking for handling complex images; ACR (Adaptive Color Restoration), which brings back faded colors and normalizes oversaturated colors; SC2G, a sophisticated function for converting color images to gray scale; and GANE, a tool for eliminating grain and noise while preserving image detail. SilverFast DC 6 supports RAW data formats of Nikon D1; Canon; Kodak DCS, DCR, and ProBack; Fuji; Olympus; Minolta; and Sigma. It will be available for Mac OS 9/OS X and Windows.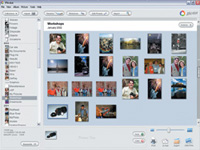 Software For Imagemakers
Roxio's (www.roxio.com) Windows-only PhotoSuite 5 Platinum image enhancement software is designed to make photo editing simple and fun with automated tasks, pro-level image-editing tools, creative projects, and Easy CD Creator burning technology, all integrated into one program. Step by step instructions allow you to immediately begin transferring, organizing, archiving, editing, and sharing photos with family and friends on CD or Video CD. The new Easy CD & DVD Creator 6 Platinum is the only Windows-based integrated software suite that lets you capture, edit, manage, and burn photos, videos, music, and data to CD or DVD.

MatchLight Software (www.matchlightinc.com) is a product that Managing Editor Bonnie Paulk had seen and passed on to me. The real purpose of the program is to match the lighting in any location scene with one shot in the studio so the images can be composited; the program itself does not do the compositing, as a representative told me, "then it's up to the designer." But what MatchLight will do is let you shoot outdoors and by placing a target in the shot, be able to exactly match that lighting in the studio. If you've already shot a product and want to drop it in the scene, you can shoot that target in your studio shot and the software will go on the web and find a stock background that will perfectly match the lighting. Insanely cool? Maybe not, but for the studio photographer who is a perfectionist this is a must-have tool.

If you were wondering where all the software geniuses who created Kai's Power Tools went, look no more. Lifescape Solutions' (www.lifescapeinc.com) Picasa is the neatest bit of software I've seen in a long time. After you install it, Picasa cruises your hard drive cataloging your images and creating albums full of image files. These are displayed on the left-hand side of the screen as an Album List. The right side is an album view, the left is a thumbnail view, and you can drag and drop to rearrange them. If you select an image, and click Edit Picture, you can crop, fix redeye, and enhance the photograph. The Share function lets you print, e-mail, build slide shows, or order prints online. This is the best program that offers these functions that I have ever seen. Yes, Picasa is another Windows-only program, but when I asked a representative if they were going to do a Mac OS version he didn't look at me like Dracula being shown a crucifix before dinner, like many other companies when I ask the same question. "We're working on it," he said, and I believe him. Apple's free iPhoto has scared lots of developers away from this market segment--that's why there is no Mac OS version of Adobe Album--but although I've recently learned to stop worrying and love OS X I still don't like iPhoto even half as much as Picasa.

Pop Quiz: Sony makes? You got it, TV sets. Minolta makes? I'm sorry you're wrong. Minolta makes software, at least that's what they were trying to convince me at PMA. Minolta's DiMAGE Messenger (www.dimagemessenger.com) is a kind of e-mail package that lets users connect text to specific portions of digital images, share the combination with others via e-mail or printed copy, and invite comments from the recipient in a few steps. I know Microsoft Outlook does a lot of this stuff, but hey, give it a try.

Jasc Software (www.jasc.com), one of the grand dames of Windows-based digital imaging, is offering a public beta version of Paint Shop Pro 8 from their web site. If you have not tried the awesome under $100 imaging program, download this beta version and give it a try. Jasc has abandoned some of its previously quirky interface elements to provide a more straightforward but still not Photoshop-like enhancement experience. Nevertheless it is a wonderfully capable program with legions of fans. For users who want something simple but still amazingly flexible, Paint Shop Photo Album is one of the best--maybe the best programs in its class. I was totally knocked out by its predecessor, After Shot, and Album looks like it will be even better for users who want to organize and share their images, including the creation of a CD that will play on your home DVDplayer.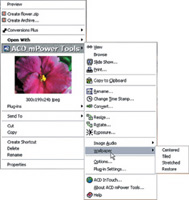 ACDSee's mPower Tools (www.acdsystems.com) makes Microsoft Windows more photo friendly by performing standard management tasks on over 50 image file types without the need to open additional applications. Key features of the product include a dockable media bar that can be hidden and accessed via hot keys for fast searching by camera metadata and other details, quick access to pictures, and the ability to drag and drop files into programs such as Photoshop and Paint Shop Pro. A right-click menu enables editing, printing, sharing, and managing of photo and media files, including previewing images, video, and audio files and performing batch functions such as re-size, rename, rotate, convert, adjust exposure, change time stamp, and print. ACDSee's mPower Tools allows fast viewing of thumbnails or full-size images in Canon RAW, Adobe Photoshop, Kodak Photo CD, AVI, QuickTime, and many other file formats from within Windows. I'll update you on this product in a future Digital Innovations column.

PhoTags (www.photags.com) lets you insert active captions and keywords into JPEG images without altering the file format. This means you can add captions, borders, keywords, or any graphic element to photographs and allows those elements to be displayed to any recipient who can open a standard JPEG file. The user-friendly software will let you create searchable catalogs without using complicated publishing and database programs. PhoTags features search capabilities from anywhere within Windows (yup, it's yet another Windows-only product) with predefined and user-defined fields, and unlike many programs provides the ability to retain original digital camera photo information even after editing.

E-Book Systems' (www.ebooksys.com) FlipAlbum is finally available for the Mac OS. The current Windows version of FlipAlbum is 5.0, but the Mac OS version was launched at 3.0. At $39.95 it is one of the best ways to organize images but this version does not support writing to CDs. Why not? For Windows users happily making CDs with FlipAlbum 5.0 Professional, you'll be glad to know that E-Book Systems is shipping a Shopping Cart plug-in that will let people order various prints from your images directly from the CD to your studio via e-mail. This looks like a wonderful way to help make wedding print and album sales and is a $39.95 add-on.
Memory Cards
Remember Farace's Law #256: No matter how many memory cards you own, you won't have enough to shoot the next insanely cool image that's right in front of your camera. SmartDisk's FlashTrax is a handheld portable device for offloading and storing digital images and music, in case you care about MP3. It can store high
resolution images transferred from any flash memory card onto the built-in 30GB USB 2.0 hard drive and displays them on a 3.5" folding LCD that outperforms tiny on-camera screens. You can change the image, zoom in, zoom out, and scroll, or choose a slide show function, all without a computer. The $499.99 FlashTrax includes a rechargeable lithium ion battery and more than 7000 compressed audio files can be stored and played back through the built-in speaker, headphones, or external speakers.

Speaking of memory cards, Lexar showed me prototypes of the 2GB and 4GB CompactFlash cards that are speed rated at 32x, something they clearly demonstrated to me and Editor George Schaub by capturing images with cameras that can take advantage of these speeds, such as Kodak's DCS Pro 14n. The cards allow you to produce more "throughput"--as the computer geeks call it--or more frames per second, as we shutterbugs prefer. Not a memory card, but a cool storage device to keep in your pocket, Lexar's new JumpDrive Secure is the kind of portable storage device that Arnold Schwarzenegger would take into the field in his Hummer. Password protected and covered partially in rubber armor, this rugged device will be available for Mac OS and Windows users, with bundled security software, in capacities of 64, 128, and the manly-man 256MB capacities.

What's the difference between a Memory Stick and a SD (SecureDigital) or MMC (MultiMediaCard) card? The Memory Stick is a little longer. What's the difference between a Memory Stick Duo and an SD? I don't know but I'm sure a reader or somebody from Sony will explain it to me. After muddying the Memory Stick waters (see Shutterbug, April, 2003) with Duo, and the white MagicGate Memory Sticks for car audio and consumer electronics that are not compatible with the purple Memory Sticks, Sony unleashed Memory Stick Pro and they even got the nice people at Lexar and SanDisk to buy into this madness. Memory Stick Pro borrows from MagicGate technology and is "the evolution of ultra portable IC recording for music and video applications."

And one last word about memory cards. In a previous issue, I speculated that ultimately it would boil down to two kinds of cards, something really tiny (and it looks like SecureDigital will be the winner based on what I saw at PMA) and CompactFlash, which will remain the pro's choice. SimpleTech (www.simpletech.com) offers a fast ProX CompactFlash card capable of a write speed of 4MB/second and for photographers who have cameras such as the Nikon D1X and Kodak DCS Pro 14n that can take advantage of that speed, it's a wonderful tool for the fast-moving pro. However, I get lots of e-mail from readers asking what to do about all this. Here's what I tell them: If you can afford it and your camera takes advantage of these fast cards go for it, but if they don't, do as I do and buy the cheapest, biggest cards you can find.

FEATURED VIDEO