The Sigma 300 to 800mm f5.6 Zoom
Winning The Hearts And Lens Mounts Of Dedicated Wildlife Photographers
When attached to a camera, the new
Sigma 300-800mm zoom is quite an
impressive piece of equipment. This lens now gives any photographer the opportunity of using six different focal lengths (and anything in between) in one finely engineered lens.
As soon as I opened the box I was in hyper-drive. There before me was one very impressive piece of optical gear. Made by Sigma, this new telephoto lens includes useful focal lengths from the ever-popular 300mm to a mind-boggling 800mm. For photographers on the go this just could be the ultimate "one lens" package especially with the new restrictions on both the airlines and world travel today.

As an outdoor writer and photographer I put this lens to good use almost immediately. It came just in time for a trip to Cape May, New Jersey, for the annual birding festival and later for a travel piece on a town in central Massachusetts. Sometimes you really can't visualize a lens like this but after a short time of putting it to the test I found that I could actually see the various angles of view generated by this optical product right there before my eyes. I'm a big fan of fixed focal length lenses, so being able to vary the focal length without changing is a blessing indeed.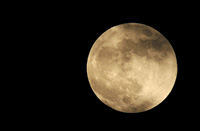 This was the night of the eclipse but this is the best shot we got before the clouds came in. With a Nikon D1X, a 1.4 extender, and a heavy-duty Gitzo tripod, we are looking at 1680mm. Wow!
Photos © 2003, Stan Trzoniec, All Rights Reserved
No Small Lens
Right off the bat I'm going to tell you this is a monster lens by most standards so for the faint of heart a lens bearer might be in order when trekking in new territory. For this I found it easy to place the lens in its own supplied nylon case complete with camera, huff it on my shoulder and carry the tripod in my hand. Once at my destination and placed on my Gitzo #1548 all capped off with a Wimberley head, I found the Sigma well balanced and was very agile in the way it swung on the mount and followed everything I pointed at with its internal lens motor. This Sigma checks in at almost 13 lbs and has an overall length (with the hood) of 25".

Features For Photographers
Feature wise, this lens is loaded. It has all the bells and whistles modern technology can supply, along with some very innovative additions that make it a good choice for anyone looking to take the work out of constantly moving the camera back and forth when faced with an interesting subject. At 300mm the angle of view is 6.9Þ; at 800mm it's an incredible 2.6Þ.
This is the start of a sequence that indicates the power and sharpness of each millimeter. Digital camera magnifications (usually around 1.5x) are shown in the parenthesis. This beginning photo is 300mm (450mm).
But wait, it gets better. When out in the field I took both my F5 and D1X cameras. On the F5, the 300-800mm with the Sigma 1.4x extender is now a 420-1120mm f/8 lens. Factor in a digital camera and you wind up with a stock 450-1200mm lens, with the optional extender you now have a 630-1680mm lens.

Naturally you can also add the 2x extender for some really wild results but the downside of all of this is that you are now dealing with an f/8 lens (with the 1.4x) and an f/11 lens with the 2x. Since the autofocus will not work above f/5.6, manual focus is the order of the day here.
At 500mm (750mm) we start to see the details of both the osprey and its nest more clearly.
Lens Construction
Construction wise, the lens incorporates all of the features that fall into the top of the line Sigma lens category. First off it's an "EX" lens which means that this Sigma is EX-finished denoting a special exterior finish that is both very durable and handsome in appearance. Without you, the reader, personally holding the lens, it almost feels like a coating of velvet has been applied to all exterior surfaces of the lens barrel and hood. Fit and finish was never under debate and both the zoom and focus ring are coated with a ribbed, non slip rubber coating. For accents, there is a gold ring about the front lens element and all markings and numbers are large and enhanced with brilliant white filler.

The lens has 18 elements of glass arranged in 16 groups. For additional correction of chromatic aberrations this is an APO lens. Sigma has included two ELD (Extraordinary Low Dispersion) elements at the front part of the lens group. Additionally this product is rated as an IF (Internal Focus) so it does not change its length regardless of what focal length you are at. Along with a constant aperture of f/5.6, Sigma has also incorporated its version of a Hyper-Sonic Motor (HSM) for instant follow focus on moving subjects.
Finally at 800mm (1200mm) this Sigma 300-800mm lens holds the detail for a frame-filling photograph. Under all conditions and subjects the author found this lens easy and fun to work with.
Quick Response
In Cape May in particular I found this lens combination to be fast, quiet, and very positive on the uptake, locking in on its intended subject without any hesitation. On another day with the wind blowing I had no trouble keeping pace with some egrets at a rookery in Avalon, New Jersey, as they swayed back and forth in the trees as a front rolled by. And if by chance I used the wrong sensor on the camera or I overshot the subject I could touchup the sharpness by simply turning the focus ring up front.

I found two design features on this lens that other manufactures might want to emulate. One is that this lens has a rotating filter draw at the rear of the body so you can actually turn a polarizer (one is supplied with the lens) within its mount without taking it out and trying to figure out the best angle as you replace it. Simply install your filter into the mount--keeping in mind that it can't be more than 5mm thick or it will impede the operation of this internal holder--place it back into the lens and, taking note of the rotating ring just in front of the filter slot, just turn it until you get the desired effect.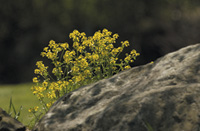 Backlighting is always a good choice on bright, translucent objects and the afternoon sun along with the Sigma lens played a big part in this photograph of a common spring weed during the first weeks of spring.
The other neat thing is the way the Sigma lens hood was designed. On all of my other super telephotos, trying to either install or remove the hood can be a frustrating experience simply because of the narrow front mounting ring and somewhat awkward thumbscrew. On the Sigma, they've machined in a bayonet type of mounting which is a big improvement in not only convenience but in speed and security. The hood is reversible for travel, has a thumbscrew to snug everything up, matches the finish of the host lens, is flocked inside to minimize reflections, and comes with a full leather hood cover.

Other features abound. Since the operation of the Nikon cameras I was using depended on the diaphragm secured at the smallest lens setting (in this case f/32) for correct exposure, there is a lock to keep all of this worry free. The tripod collar rotates and the tripod shoe has finger grooves to make carrying the lens more comfortable.

The only thing I'd like to see is that all of the manufacturers of long, heavy lenses machine this foot with ARCA specifications so you can use the lens right away. I installed a pair of "universal" lens adapters on the Sigma that worked fine on the rather long Wimberley platform. If you opt to carry the lens sans case over your shoulder a strap is also included and attaches readily to special mounts on the lens barrel and tripod foot. For those who use them, distance scales are in both feet and meters and protected by a clear plastic shield.
In The Field
Out in the field I had a blast with this lens especially on moving subjects. If the subject was small, I would zoom back to 300mm, find my target, and then return to 800mm for the shot. The operation of the zoom ring was flawless yet firm to the touch and without any balking as it went through its entire rotation. While some may resist this lens because of its f/5.6 aperture, I found no problems (other than using the camera on manual with an extender) whatsoever in the field. Images were bright and no matter what zoom setting I used there was no darkness in the finder. As an added plus, the lens focuses down to 20 ft, which is really impressive especially at 800mm.

Since I had the chance to use this lens on both a film and digital camera I was anxious to get back to the light table and computer after each outing. Images shot on Fuji Provia 100F or 400F showed without reservations the lens' ability to hold tight, crisp resolution no matter the focal length. Naturally, beginners to this type of photography must use a sturdy tripod, plan their shots, and use a high shutter speed to get the max from a product like this. Digital images shot on a TIFF 7.5MB file were indeed remarkable. As far as a "sweet spot" goes, I recommend either f/8 or f/11, but photographs shot wide-open at 800mm were exceptional and, along with separating the subject from the background, could easily put a new dimension into your pictures.

This brand-new zoom should be a boon to those who like all of the popular focal lengths from 300-800mm but don't want the hassle of carrying more than one heavy telephoto lens around at a time. Besides that, on the economic side, even if I only purchased the 300, 400, 500, and 600mm top of the line AFS lenses, I'd be in the hole for over $27,000! Considering all this, our Sigma lens represents added value whether it be optical, mechanical, or monetary and, in the short time that I was privileged to use it, I found new and exciting ways to open my photographic horizons.

For more information, contact Sigma Corporation by calling (631) 585-1144 or by visiting their website at www. sigma-photo.com.
Technical Specifications
Focal Length: 300-800mm zoom lens
Maximum Aperture: f/5.6
Lens Construction: 18 elements in 16 groups with two ELD elements
Picture Angle: 6.9Þ at 300mm; 2.6Þ at 800mm
Focal Length Scale: From 300-800mm
Shooting Distance Scale: Graduated in both feet and meters
Focusing: Silent Hyper-Sonic Motor with manual touch control
Aperture Scale: f/5.6-f/32
Minimum Aperture Lock: Provided
Diaphragm: Nine blades, fully automatic
Filter Attachment Size: 46mm drop in
Supplied Accessories: Nylon case with strap, rear lens cap, front lens shade, front leather lens cover, 46mm polarizer
Overall Size: 61/2x251/4" (with front lens shade attached)
Weight: Approximately 13 lbs
Lens Mounts Available: Sigma, Nikon, and Canon
MSRP: $5849

FEATURED VIDEO