Sigma 28-200mm f/3.5-5.6 DL Aspherical Macro & 17-35mm f/2.8-f/4 EX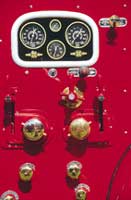 Capable of focusing down to a mere 19.7", the Sigma 28-200mm zoom beats many of its competitors in this category. Image quality is first-class at the mid to small apertures typically used in close-up photography. (At 150mm; f/11; B+W polarizer; Ektachrome E100VS.)
Photos © 1999, Peter K. Burian, All Rights Reserved
The single most prolific lens manufacturer these days, Sigma announced a full 10 new lenses this spring, ranging from an 8mm circular fisheye to the new APO 800mm f/5.6EX HSM. This group included the two zooms tested here, both in the affordable category. I had the opportunity of working with this duo while shooting a broad variety of subject matter: flowers at a botanical garden, Canadian Mounties at a musical ride, US Army band performances in DC, a War of 1812 re-enactment, and various other summer events. These two zooms incorporate the focal lengths I use for 90 percent of my travel and people photography, so I rarely missed longer lenses.

All-Purpose Zoom. The versatile 28-200mm f/3.5-5.6 DL Aspherical Macro is quite compact and lightweight for a broad range zoom with stainless steel mount. Its non-glare ZEN matte finish resists scratches and provides a sure grip. The rubberized 3/4" wide zoom ring includes a very smooth mechanism; a mere 35° rotation extends focal length from 28-200mm. There is no depth of field scale, a common omission with rotary zoom lenses, especially those with a broad range of focal lengths. If you're really concerned about depth of field information, you probably own a camera that has a preview (stop-down) control.

Because it includes elements of low dispersion glass and another with a non-spherical surface, both chromatic aberration (at longer focal lengths) and spherical aberration (at wide angles) have been addressed.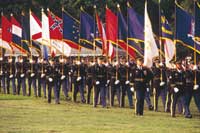 While a "fast" zoom lens like the Sigma 70-200mm f/2.8 APO HSM has advantages in low-light photography, a faster film made the 28-200mm zoom quite useful as well. (At 100mm; f/5.6; Ektachrome Elite 100 at EI 200.)
Like most of its competitors, the Sigma's barrel length increases at longer focal lengths, to 5.4" at 200mm, in this case. Does the lens now become rather "front heavy?" Not at all, since the internal barrel that protrudes is light in weight. Thanks to the internal focus mechanism, the barrel length does not change during focusing. As well, it does not rotate, so the effect produced by a polarizer remains constant, avoiding frustration; this is a real advantage over many zoom lenses.

The 1/2" wide focusing ring does rotate during AF operation; consequently, the mechanism is not as well damped as those of some others, but adequately so. With some care, I was able to hold this compact lens so my large hand did not impede its operation. Autofocus does produce a high pitched hum but this is not loud or disruptive in most situations.
There is a full series of legible distance markings in feet and meters. A rotation of only 30° is adequate to move from infinity to the minimum focus distance. That's a mere 19.7" throughout the entire zoom range so there is no need for a close-up accessory as with some other all-purpose zoom lenses. A few years ago, zooms of this type rarely focused closer than about 6', so the improvement is substantial and valuable for many types of photography.
The Sigma 17-35mm zoom is very well corrected for linear distortion and also offers high sharpness even in close focusing. These are but two of the many qualities that make it a very desirable lens for travel photography. (Left) 17mm; (right): 35mm. (At f/16; Cokin P polarizer; Fujichrome Velvia.)
Performance Evaluation. While shooting with the multi-purpose zoom--and after examining my slides under an 8x loupe--I made the following notes:
· Autofocus response (with a Canon EOS-1N) was best at shorter focal lengths, where the maximum aperture is widest. In decent light, AF had no difficulty tracking the progress of American militia charging after the Redcoats during a mock battle at any focal length. For super-fast (and nearly silent) AF performance in action photography, check out the new HSM series of Sigma EX lenses with a Hypersonic Focus Motor.

· The close focusing ability was definitely useful, when recording details of military crests or a few blossoms in the garden. The maximum reproduction ratio of 1:4.1 (roughly 1/4 life size) is surprisingly high for a zoom of this type. In close focusing, the best results were obtained in the f/11 to f/16 range (good edge to edge sharpness); the f/stops most often used for adequate depth of field. The images are suitable for sharp 8x12 prints or an excellent half page reproduction in a magazine.

· At more typical focusing distances, sharpness/resolution/contrast were especially high from 35-150mm, particularly at f/8 to f/16 where the slides are truly impressive. At the shortest and longest focal lengths, stopping down to f/11 produces comparable image quality.

· At the widest apertures, edge sharpness is not as high but this is academic unless the primary subject is very far off-center. Use an ISO 200 or 400 film, and you can stop down to f/8 in most situations, while maintaining a hand holdable shutter speed. This will ensure that you take advantage of the full optical potential. Although this zoom was not intended for professional applications like the Sigma pro models, you can expect nice 8x12 prints suitable for framing or as entries in a camera club competition.
Wide Angle Zoom. The gold stripe on the barrel plus the EX designation suggested that the 17-35mm is a high performance lens, and this assumption proved to be correct. The Sigma designers specified two aspherical elements for this zoom, in order to produce high image quality at all focal lengths, especially at wide apertures. Such elements offer several benefits: they correct distortion and spherical aberration, for more consistent edge to edge sharpness, reduce comatic flare and linear distortion, and minimize size/weight as fewer elements are required.

Its other features are worth noting as well: internal focusing (for top quality at all focused distances and to prevent rotation of the front element), minimal barrel extension during zooming, depth of field scale, and surprisingly lightweight. This is not an ultra-wide zoom intended for photojournalists. It's not built like a tank (like some of its competitors) and the maximum aperture does reduce as you zoom toward the long end, calling for longer shutter speeds. Still, this Sigma ultra-wide zoom is adequately rugged for photo enthusiasts; its durable EX finish provides a professional look. And this model offers extra focal lengths at the short end, for an angle of view that is substantially wider than you get with the more common 20mm focal length.

If using screw-in filters, consider the "thing ring" type to avoid vignetting of the corners of the image area at 17-20mm. With rectangular filters in a holder system, you'll need the large size because the standard models are too small for the 82mm front filter thread.

I tested the HSM model, with Hypersonic Focus Motor for nearly silent and quick operation with superior starting and stopping response. Unlike the larger Sigma HSM lenses, this one incorporates a new Micro motor that has some peculiarities not found with the others. The focus ring rotates during AF operation; the mechanism is not as well damped for manual focus; and focus cannot be touched up in AF mode. Frankly, the reduced size/weight/cost make these tradeoffs more than acceptable. (The non-HSM model for Minolta uses conventional camera-driven focusing.) We have described the HSM ultrasonic AF technology in several previous Sigma test reports, so I will not repeat that information at this time.

Performance Evaluation. As hinted earlier, the 17-35mm f/2.8-f/4 EX zoom is capable of excellent image quality. Consider my specific observations, as follows.

· Autofocus response was quick and precise, most impressive at the 17-19mm range, where the maximum aperture is f/2.8. With the EOS-1N, the cross-hatched feature of the central focus detection sensor--for focus acquisition on any type of pattern--operates only with lenses of f/2.8 (or wider) aperture, so this was understandable.

· Light falloff at the edges of the frame is minimal and disappears by f/5.6. Even at wider apertures, this is noticeable only when a white wall or clear sky fills the frame.

· In architectural photography, I found minimal barrel distortion (the bowing outward of lines near the edge of the frame) and only at the shorter focal lengths. To render straight lines as plumb and true, with any lens, it is essential to keep the film plane parallel with the subject.

· Peak optical performance (very high) was produced at the mid range of focal lengths at f/8. Resolution and definition of fine detail is so high that I can read the finest lettering in a sign at the edge of the frame under a high power loupe. Corner sharpness matches central sharpness and the slides would make for excellent 11x14 prints or double page spreads in a magazine. The same applies at every other focal length around f/11. At the widest apertures and at f/22, central sharpness is still very high and overall image quality is more than adequate for a fine 8x12 print.

· The same high image quality is maintained in close focusing--particularly at f/11 to f/16--a significant consideration with a wide angle lens. My slides are razor sharp across the entire frame.

· Thanks to the effective corner-cut (notched) lens hood, multi-layer coatings, and other anti-reflection strategies, flare is well controlled. Considering the large front element and many internal elements, this was a pleasant surprise. (Be sure to mount the lens hood correctly, to avoid vignetting.)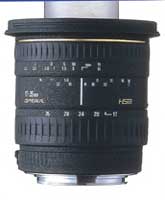 Conclusion. For a highly versatile lens with superior close focusing ability, the Sigma 28-200mm f/3.5-5.6 DL Aspherical Macro zoom offers good value for the (modest) price. It was an ideal travel companion that soon became my family's favorite lens. For vacations, camping, hiking, backpacking, and cycling, this multi-purpose zoom would be a highly logical choice. Add a compact camera with a built-in flash and some top-rated ISO 400 print films, all stashed in a hip pack, and you'll get great pictures with the convenience associated with lens/shutter point-and-shoot cameras.

For more serious photography and ultra-wide angle effects, check out the Sigma 17-35mm f/2.8-f/4 EX zoom. Substantially less expensive than models with a constant maximum aperture of f/2.8 (intended for those who earn their living through photography), it is also adequately rugged for all but pro-level abuse. If you're a photo enthusiast who wants to explore the expanded spatial perspective made possible by an ultra-wide lens, this Sigma zoom is definitely worthy of your consideration.

LATEST VIDEO